Strategy Guide for Diner Dash Hometown Hero Gourmet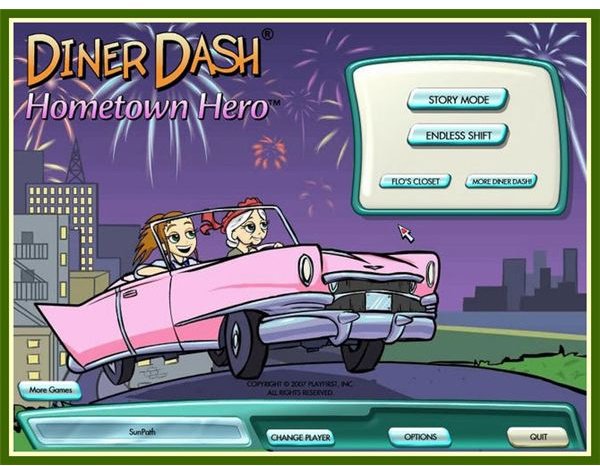 Flo and Grandma Vow to Save Diner Town
In the third installment to the popular Diner Dash game series places Flo and Grandma Florence on a mission to restore Diner Town's once great community hangouts. When Grandma Florence decides to take Flo to the local zoo, they arrive only to find that the place is in disrepair and in need of attracting more people. The girls vow to help and bring back the crowds and improve not just the zoo but four other local community attractions as well.
Hometown Hero is a great addition to the first two classic time management casual games that was developed by PlayFirst for the building up of the Diner Dash series of games. Here we take a closer look at the game play with this strategy guide for diner dash hometown hero gourmet.
Expert Score Strategy - Strategy Guide for Diner Dash Hometown Hero Gourmet
As this expansion of the first two diner dash games, the overall game play is the same. Flo's main job is to serve hungry customers, keep them happy and earn enough money in each shift to make improvements. There are various ways to go throughout the game but the end goal for each shift level should be to earn that expert score rating.
Getting that expert score can happen in many ways and the strategy guide for diner dash hometown hero gourmet approach can help you in decided which level to have Flo focus on certain actions. Not all shift levels are created equal and while one shift level may need more speed to complete that expert score, another shift level may need some extra drinks served to get that expert score goal.
In hometown hero, one of the best ways to get that score is to look at each shift level by customer. This means that if you focus on specific customers needs, types of groupings and patience levels it will be easier to beat the game. The following are strategy tips based on customer type:
Young Lady - orders and eats at average speed, average patience and is an average tipper.
Celebrity - boosts mood of customers seated nearby, impatient, orders and eats at average speed and is an excellent tipper.
Teenagers - order and eat at average speed and are bad tippers, they are always noisy except when flirting and annoy the heck out of all other customers just like the cell phone, is not annoyed by any other customers.
Food Critic - slow to order, eats on an average speed, and is an excellent tipper when happy just like the celebrity.
Cell Phone Addict - fast to order and eat, is a good tipper when happy but annoys other customers, doesn't mind the noise of teenagers or families.
Bookworm - slow to order and eat, is a low tipper and gets easily annoyed by other customers except for the senior citizens.
Jogger - orders and eats at average speed, is an average tipper, never orders deserts and is not annoyed by loud customers such as the cell phone guys or the teenagers.
Lovebirds - slow to order and eat, they are average tippers and they annoy all customers around them when they kiss, they have to be seated at a table that seats 2 people.
Hungry Man - always orders seconds, are low tippers and they get annoyed easily by other customers.
Senior - slow to order and eat, are very low tippers and can't stand to be around any noisy customers.
Families - orders and eats at average speed, are average tippers and will have the baby begin to cry and annoy other customers.
Business woman - fast to order and eat, is an excellent tipper but gets annoyed by any noisy customers around them.
Tourist - slow to order but eats at an average speed, are excellent tippers, will ask to have their picture taken for bonus points.
Keep the customers happy and work for a quick customer turn around in order to make the most money you can on every shift level.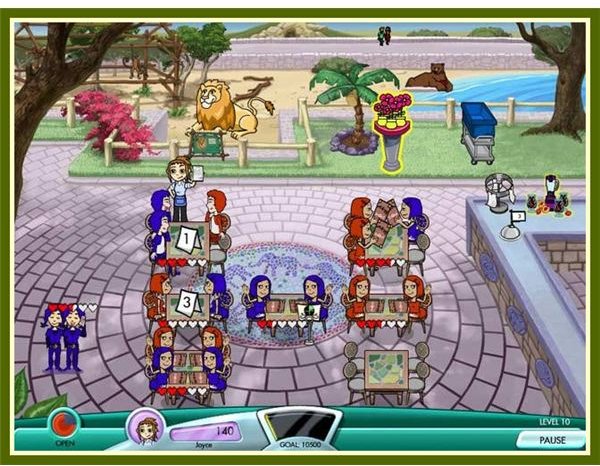 Rack up the money in bonus tips, get an expert score and open up the third imporvemnet for each level that will only be shown after achieving an expert score. In the image to the left is the tenth level of the zoo, showing the expert score upgrades. Click on the image for a larger view.
For more information on game play in this third installment to the diner dash series, see Diner Dash Hometown Hero Game Tips and for more information on other games within this series, have a look at Free Diner Dash Games.
*images are provided by and ©2005-2010 PlayFirst, Inc.