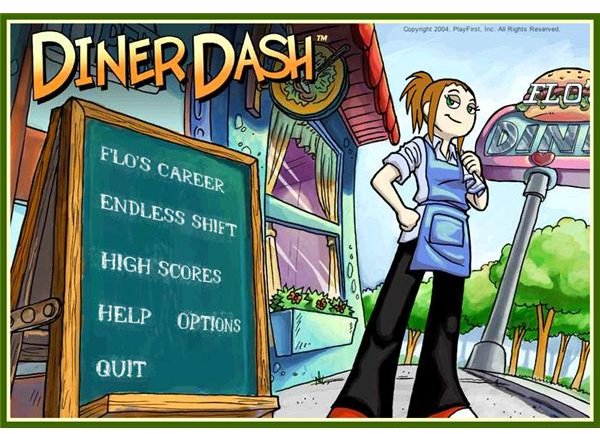 About Diner Dash
The Diner Dash series of games from PlayFirst all began with the spunky main character Flo. Tired of working as a member of the rat race, Flo ditched her day job and decided to start her own business called Flo's Diner.
The game play is a simple time management concept but with fun colors, interesting customer groups and ever increasing difficulty as the levels progress had quickly made Diner Dash one of the most popular casual games around. Here we take a look at some tips for game play and how anyone can enhance the fun with diner dash unlock codes. For more information on the original game and how to play, see Diner Dash General Walk Through.
Unlocking Codes and Cheats
The main goal of any diner dash game is to satisfy customers and earn enough tips to upgrade at the end of each shift level. Now, in order to use some diner dash unlock codes you first have to look at the current level of game play that you are on.
Each of the five restaurants will increase in difficulty has you work up through the ten shift levels in each area. Some code cheats and can only be done with certain upgrades that have already been bought for the start of the next level as an upgrade and some upgrades can only be chosen if the expert level has been achieved by the end of a shift level.
The following are a listing of simple code upgrade items that can help overall game play in the original Diner Dash game:
Drink Station - When flashing, give to the least happiest customers in order to raise their hearts
Snack Station - Customers will request a snack either before a meal or during a meal. Only the joggers will ask for a snack instead of a desert if all their hearts are filled.
Phone - This is used when Flo needs some extra help during a super busy shift. Flo can choose one of the options to help out for a limited time so she can catch up with the demands of all the customers. Options are a performer, a hostess or bus staff.
Stereo - This only works when flashing and all Flo has to do is click on it to make some music play for a limited amount of time. While the music is playing it will increase the patience of all customers who are waiting in line.
Podium - This is the main extra that Flo can use and if often the most helpful when dealing with an overcrowded restaurant. The trick is to get this upgrade as soon as possible and then serve all customers at their tables in succession. Once all the customers are eating, run Flo over to the podium to chat enough and fill up the hearts of all the customers who are still waiting in line.
In the image to the right, you can see an example of the podium in action during a heavy shift level. Click on the image to get a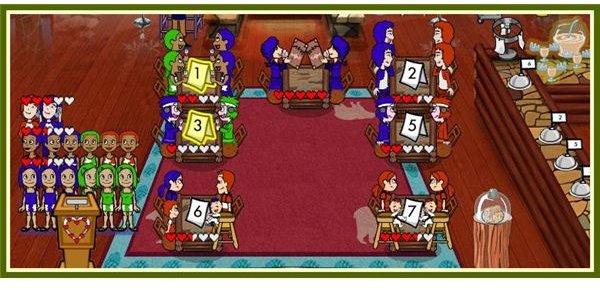 larger view and you will notice that this is a particularly heavy shift. Full tables, full line of orders waiting to be served and a full line of customers behind the podium waiting to be seated.
For more information on Diner Dash and other games by PlayFirst that are in the Diner Dash series, check out Free Diner Dash Games Online.
*images provided by and ©2005-2010 PlayFirst, Inc.