Facebook Party Games: Home Fest Review
Home Fest Basics (3 out of 5)
Home Fest is a Facebook party game and very similar to the popular game Nightclub City. In the game you create a party by supplying DJs, dance floors, seating, and other items for your guests. By adding Facebook friends to your game you'll earn more money. Players can take quests in the game and use a wide variety of different decorations to get their own unique part look. You can play a variety of real life music tracks from multiple genres during your game. Send your Facebook friends gifts as you play and collect your own rewards from your friends. Events occur during game play such as problems with your DJ booth and you'll need to click on the event at the expense of an energy point to correct the problem. Collecting money from your game also uses up energy. Buy game cash to get the better game items in Home Fest.
Customizing Your Game (3 out of 5)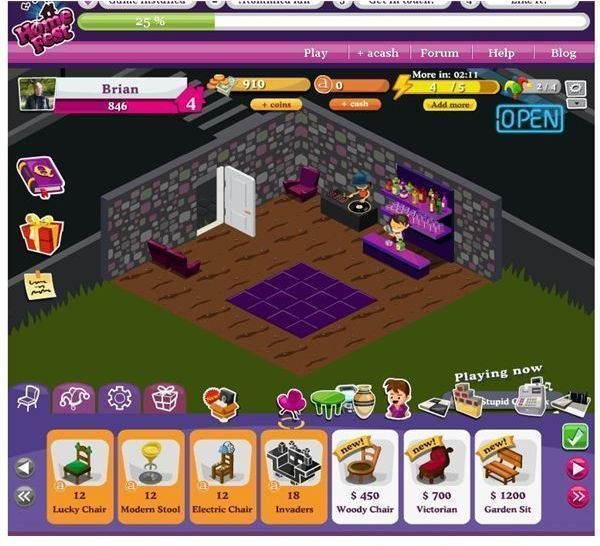 One thing that makes Facebook games like Home Fest fun it the amount of items you can add to your game to make it your own. This game has a lot of options in that area. You have multiple chair types for your guests, a wide variety of colored dance tiles,DJS, and other fun items. Many of the better items cost game cash so you'll need to spend money if you want to acquire all the goodies in the game. You can also change the wall colors, add vases and other decorative items. Home Fest has a good selection of customization options that will keep you busy decorating your game. As you level up you'll unlock more items for your party. Items can be easily rotated and moves around your game play area so you can place things where you want with little effort. Use the cash register to sell any items you no longer want to keep.
Graphics/Sound (2 out of 5)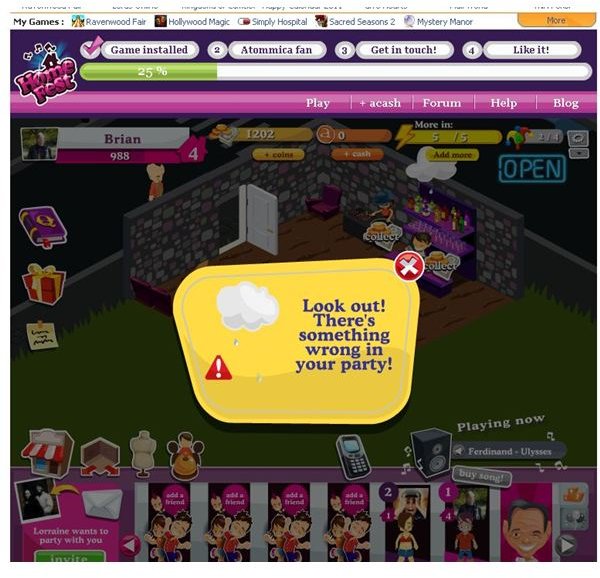 Home Fest allows you to play real life music tracks and this is fine the music isn't the problem with this game. The graphics in Home Fest are the weak point of this game. You start with a very small game play area and even the first upgrade doesn't improve it. The avatars are all small and the graphics are just blocky looking. There are better looking games on Facebook in this genre. While the content is there the graphics bring the game down to a below average level which is disappointing. With an upgrade to the graphics the game could be worth playing
Interface/Multiplayer (3 out of 5)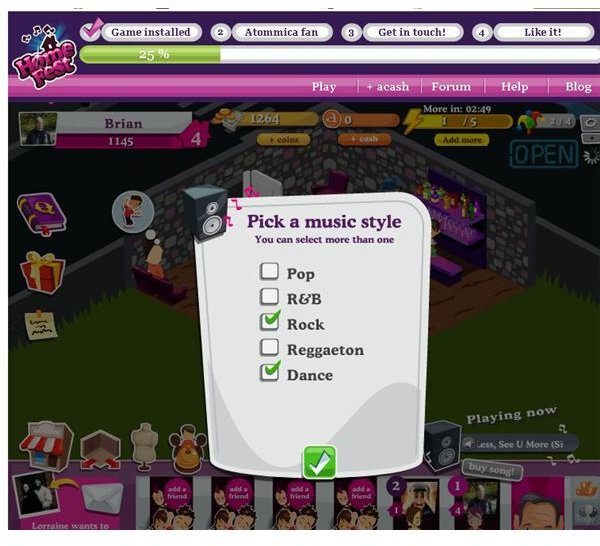 Home Fest has a decent interface and if you are a veteran of Facebook games you'll find the interface easy to use. Yoour main game play icons are all found at the bottom across your screen. You won't have aproblem navigating your way around the game. It's easy to slect items to move them and a little rotate icon comes up when you want to turn something. As with most Facebook games like Home Fest you can visit your Facebook friends and send gifts to them.
Game Play/Conclusion (2 out of 5)
Despite decent customization options, Home Fest fails to delivery anything more than a mediocre game play experience. This style of game has been done before and Home Fest just doesn't do a good job of it. The main culprit with he game is the bland uninspired graphics which look like they came from an ancient console. Game developers on Facebook need to work on graphics because players expect more now from these games. This game might appeal to some but without much effort you'll find better games on Facebook if you're in a party mood. Home fest could improve in rating if the graphics are addressed since it does have a lot of items to work with.
References
All images from Home Fest
Source: Article is author's own experiences playing Home Fest on Facebook.
This post is part of the series: Home Fest
A collection of articles to help guide you through Home Fest for Facebook.