Guide to Zynga Forums for Popular Facebook Games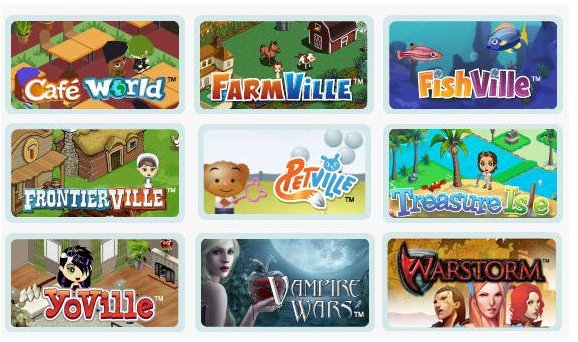 Zynga Games
Zynga games are popular for use on social networking websites such as Facebook and MySpace, but area also frequently used on mobile phone devices (such as the iPhone) as well.
Games that are able to be played on Facebook include: Blackjack, Café World, Farmville, Fashion Wars, FishVille, FrontierVille, Mafia Wars, PathWords, PetVille, Pirates, Poker Blitz, Scramble, Special Forces, Treasure Isle, Vampire Wars, WarStorm, WordTwist, YoVille, and Zynga Poker.
Zynga games that are able to be played on MySpace include: Fashion Wars, Mafia Wars, Pirates, Special Forces, Vampire Wars, YoVille, and Zynga Poker.
Games that are able to be played on the Apple iPhone include: FarmVille, Live Poker, Mafia Wars, Scramble 2, Special Forces, and Vampire Bloodlust.
Zynga games that are able to be played on Yahoo! include: FishVille, Mafia Wars, and Zynga Poker.
Zynga Forums
It isn't always easy to find information on the game you want to play, or perhaps find out if others are experiencing technical difficulties too, or perhaps find new friends to join you in your takeover of the mafia, be a FarmVille neighbor, etc. That is where the Zynga forums come in handy. They have created forums for their users to talk about their favorite games and share advice in the games too.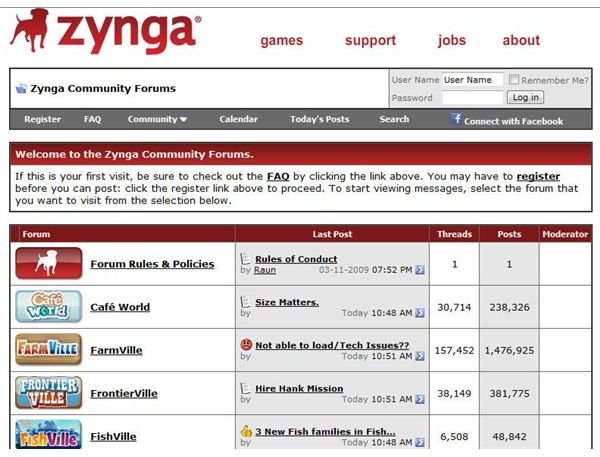 Zynga offers free use of the Zynga forums (https://forums.zynga.com/) for their popular games such as:
Café World
FarmVille
Fashion Wars
FishVille
FrontierVille
iPhone Games (Mobile Games)
Mafia Wars
PetVille
Pirates: Rule the Caribbean!
Poker Blitz
Special Forces
Street Racing
Treasure Isle
Vampire Wars
Warstorm
YoVille
Zynga Poker
Zynga Poker (Chinese)
How to Efficiently Use the Zynga Forums
The forums for Zynga games have a Rules of Conduct page which you should check out before you sign-up to become a member of the forum and start posting. Basically, as long as you follow good etiquette and respect towards others, you will be fine. You know, no spamming, flaming, trolling, advertising, don't post personal information about yourself or others, etc.
The forums have topics that are available for you to post your questions, discussions, or help questions in. Always post your response in the proper subject area.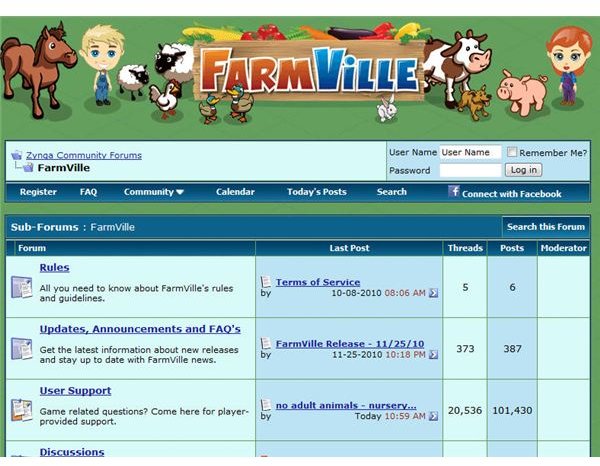 For example, the FarmVille forum has the following topics: Rules, Updates Announcements and FAQ's, User Support, Discussions, Feedback and Suggestions, Bugs & Bug Reporting, FarmVille Landscaping, and Finding Neighbors. That means, if you are looking to find new FarmVille neighbors, you could easily find some new FarmVille friends that are active and also want new neighbors. If you have a bug to report, or see if others are having the same issue, you can post in that section – that is often how they are alerted to those big issues that they then turn off withering and puppies running away.
Another good idea to check out after the forum for the game you play, is to frequently visit the game's Facebook page. The developers and fans often post on this page throughout the day for bug issues, friend requests, and news information about the game.