The Ultimate Facebook Gamer's Guide to All Zynga Games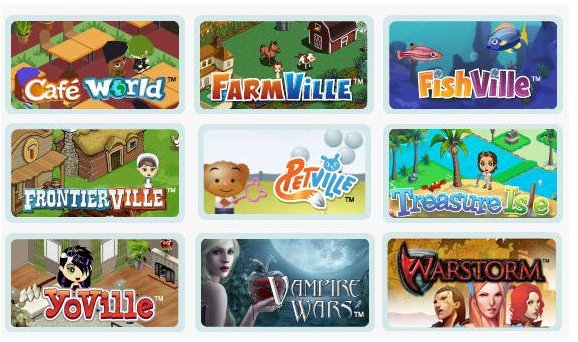 Facebook Games
Facebook is a very popular social networking website where users are able to share things with friends, like their favorite things, and even play social games for free right from their browser. Some of these social games for Facebook have gotten so popular that people make new friends through Facebook through these games (to add as neighbors on their farm or join their mafia).
This article will guide you through all Zynga games for Facebook. Find out which games would be more fun for you, and which ones you could go ahead and block that application for.
All Zynga Games
Zynga is one of the most popular gaming companies that allows users to play their games for free on Facebook, MySpace, iPhone, and Yahoo. This article will however just focus on all Zynga games on Facebook.
Games Available on Facebook:
Blackjack – one of Zynga's card games where you can play Blackjack 24/7. Great for those that love this card game!

Café World – start your own café in Café World and cook dishes for your friends, learn new recipes, hire your friends to work at your café and much more!

Farmville – grow crops, raise animals, harvest trees, start a winery, spa, or bakery, and much more!

Fashion Wars – shop, party, and participate in fashion shows. Fun for those that love fashion.

FishVille – start your very own virtual aquarium! Buy fish, decorate the aquarium, feed them, and more!

FrontierVille – clear the land and start your own homestead in FrontierVille. You have a family and live on the frontier to create a boomin' town.

Mafia Wars – recruit your friends to join your mafia and take down opposing mafias. Build up your mafia by purchasing upgrades, property, and more.

PathWords – falling letter word game, great for those that like to play word games.

PetVille – raise your very own little monster. You get to groom, feed, and decorate their little pad.

Pirates – become a pirate and conquer areas, complete quests, and more in this fun all zynga games!

Poker Blitz – fun Zynga poker game that is perfect for everyone that loves to play poker!

Scramble – word game where you find words in a jumbled grid. Also lets you challenge your friends, play solo, and chat with others.

Special Forces – take part in covert operations in this RPG style game from Zynga.

Treasure Isle – in Treasure Isle your get to search for buried treasure, decorate your island home and more!

Vampire Wars – start your own vampire clan and create the most powerful vampire empire to take town other vampires and complete quests.

WarStorm – fantasy themed collectible style card game where you can build your squads of demons, dragons, elves, knights, and more, to fight against friends and enemies.

WordTwist – find words in scrambled letters in this word game by Zynga.

YoVille – decorate your YoVille pad, buy a new house, dress your avatar, have a pet, and much more!

Zynga Poker – love poker? This Zynga Poker game is for you! Play poker 24/7 in this game where the is always a table available for you to play!