Guide to Finding New Farmville – Zynga Neighbors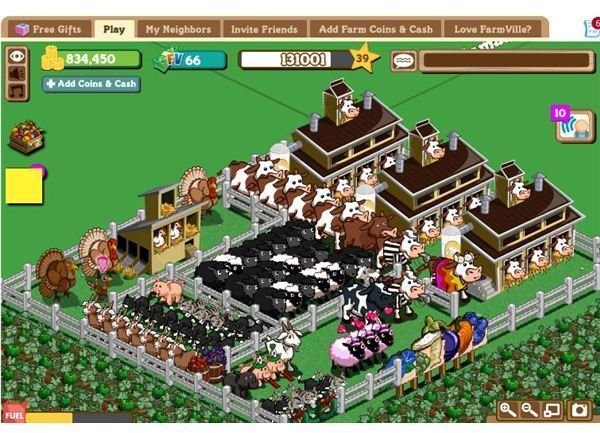 Zynga Games on Facebook
Zynga games for Facebook are free browser games (if you don't purchase the in-game cash). Zynga is a highly popular developer for games such as FarmVille – Zynga and Mafia Wars.
Their games on Facebook include: Blackjack, Café World, Farmville, Fashion Wars, FishVille, FrontierVille, Mafia Wars, PathWords, PetVille, Pirates, Poker Blitz, Scramble, Special Forces, Treasure Isle, Vampire Wars, WarStorm, WordTwist, YoVille, and Zynga Poker.
Farmville – Zynga Neighbors
If you have many Facebook friends, you probably already can tell who plays FarmVille. They post game related things to their wall for their friends, or some of their friends post FarmVille related things on the wall to help their farm. If you haven't already, add these people as your Farmville neighbors. They will be the ones who will probably send you FarmVille gifts and such more often than those who don't play it as often.
Once you have invited all of your relevant Facebook friends as a Farmville neighbor, and you still want more neighbors, you need to seek out new Facebook friends. Note that the maximum amount of neighbors right now is set to 300.
Don't buy Farmville neighbors; instead seek out free places to expand your friend base for the game.
Go to the FarmVille Facebook page and just post that you are interested in more neighbors, or ask some of the other FarmVille Fans if they are looking for a new neighbor, usually they will say yes.

Go to the FarmVille Forum and post in the topic that is about neighbors. This is a great resource for finding new and active FarmVille helpers for your farm! Best of all, these are free ways to add neighbors!
Farmville – Zynga Neighbor Benefits
Farmville neighbors are a great resource for your farm, especially if you have a large amount of active and helpful neighbors.
Here are just some of the great ways to effectively have neighbors help you with your farm:
Expand your farm. When you have a certain amount, you are able to use Farmville coins and expand your farm.

Help out on their farm each day to earn experience points and coins. You can also earn extra coins for giving them animal feed and feeding their chickens (100 coins for each of these actions). While there you may also find extra cans of fuel, chicken eggs, and collection items.

While helping on their farm, you can complete 5 actions such as fertilizing their crops, plowing their field, harvesting a tree or animal, or unwithering their crops. You earn experience and coins for each, except for harvesting, which you only earn coins.

By having a large amount of friends you can also earn the "Local Celebrity" achievement.

Barn Raisings allow you to upgrade your barn, chicken coop, and dairy barns. You don't need wood, nails, and bricks for these upgrades though. You need friends to help you, and without active Farmville neighbors, this is not an easy task. The time to upgrade these buildings is over after 3 days, and you need help from 10 neighbors to complete the upgrade.

Gifting is perhaps one of the best ways that your neighbors will help you. You are able to send them gifts, and they can send you the same thing back, or something they pick out for you that they are able to send. This is especially helpful for those that are building something, and also is perhaps the only way to collect some of the holiday gifts that are available (such as Halloween Candy, Thanksgiving items, Christmas related presents, etc).

Buying and selling bushels and crafting items is also a huge help with a large amount of friends. With a large Farmville neighbor selection, you will have more selection of bushels to buy and then use in your spa, winery, or bakery.