Frontierville Tips & Hints – The Ultimate Frontierville Guide for Pioneer Life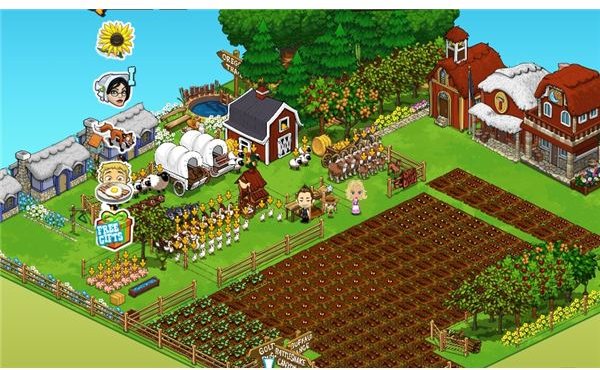 Pioneer Life in Zynga Frontierville - Tips
Frontierville is one of Zynga's most challenging games. Simulated to be a cross between the timeless PC game Oregon Trails and the virtual farming sensation known as Farmville players step into the shoes of a 19th century settler. Frontierville flows much like an RPG featuring various quests centered on the continuing storyline. Players have to clear the land, grow crops, raise livestock, fight wild critters, start a family, and construct their own flourishing frontier town for generations to come. In this Frontierville Guide learn how to tackle difficult quest goals, find collections, gain saltpeter, rare items, deal with freezes, missing neighbors, and family members. Discover some of the best Frontierville tips for more energy, coins, and faster leveling as well. Conquering the Wild West has never been easier.
Tips for Quests & Saltpeter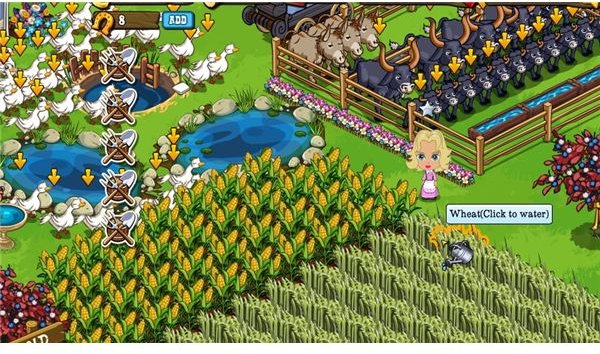 In Frontierville completing daily tasks and quest goals is important. It's the key to leveling up since they all revolve around the storyline. Players have to accomplish an assortment of goals like clearing grass, making clothes, crafting a baby crib, clobbering pesky varmints, or harvesting specific crops to move forward in the game. Always read the mission goals carefully. They can be tricky sometimes. Check the Frontierville tips or hint at the bottom of the quest to avoid wasting time. When attempting to complete a quest that requires collecting multiple items that are part of a collection don't trade in the collection. Once the goal is completed it will automatically subtract the items. Beginner players should try to leave a small section of the wilderness untouched when clearing. There will be clearing tasks that require scaring a certain number of bears, getting rid of cactus, or skull bones. Bears prefer jumping out of massive oak trees so keeping several tall original oaks is helpful. More grass, skull bones, wildflowers, and cactus can grow in open clear spaces but it takes several days if the land has been cleared.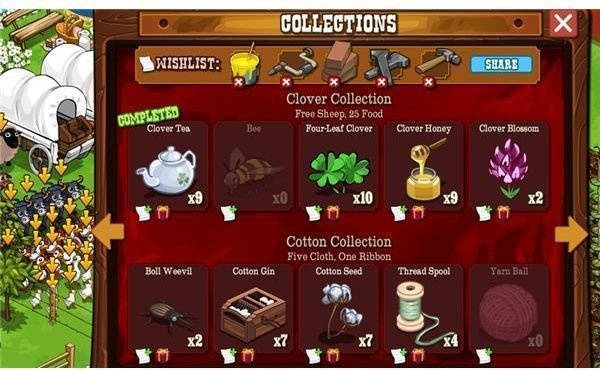 Collections provide various items like Frontierville saltpeter, animals, ribbon, planks, energy, coins, and XP. To gain these items players must tend to specific livestock, crops, or trees on their land or their neighbor's homestead. A difficult collection to acquire is the Manure Collection. This collection rewards players with saltpeter. Tending to chickens, pigs, goats, sheep, and cows will generate most of the collection. The Prairie Pile can only be found by tending to horses and mules. Players will need higher level neighbors who own multiple horses and expensive mules to finish the collection.
Hints, Tools, Gifts, & Help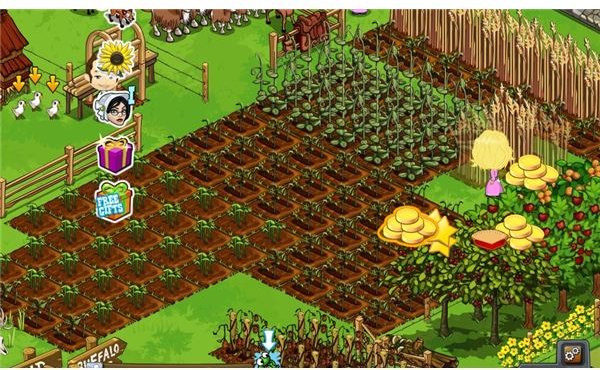 Neighbors are essential in this game. Players have to work together with their friends to survive the harsh wilderness and create a prosperous pioneer town. Visiting other neighbor's homesteads earn players energy, coins, and XP. Tending their crops, trees, and livestock also can generate collection items. One of the best Frontierville tips is to add as many neighbors as possible. Extra neighbors equal additional opportunity for rare items, harvesting, quest help, coins, and energy. For success in this game lots of neighbors are mandatory. In order to build barns, cottages, Inns, and general stores users need various Frontierville tools or supplies. These items must be purchased with horseshoes or received as a gift from friends. Gifting is a great way to get ribbon and other supplies for free. Each player is allowed to receive 30 rewards from fellow pioneers per day. Frequently check your Frontierville friend's wall posts for game announcements and take advantage of them. Cashing in on these rewards can speed up the leveling process.
When I Can't See My Neighbors or Find My Child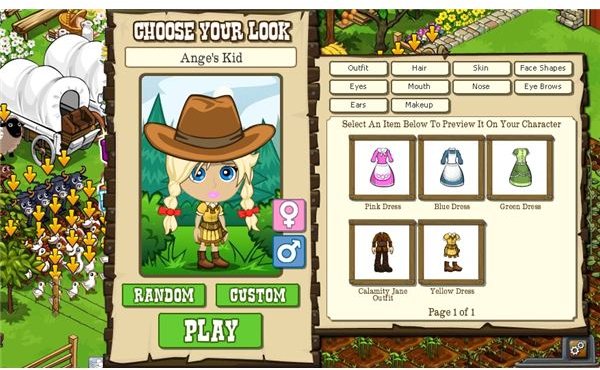 The game is still in Beta so there are numerous glitches. Two of the most common and annoying issues are missing neighbors and family members upon logging in. When new friends are added as neighbors they should appear at the bottom of the screen. If after 24 hours your new friend doesn't appear simply send them another neighbor invite request. Once a player has started their virtual family on occasion seldom used members go missing in action. Try not to feel like a bad parent when you can't find your kid. They're usually hiding behind building structures or trees. A quick Frontierville tip to locate them without rearranging your entire plot of land is to click the backpack icon. Select the Family Album. Find the member you're looking for and click the play button under their avatar. The character will come wandering out.
More Hints for Energy, Coins, and XP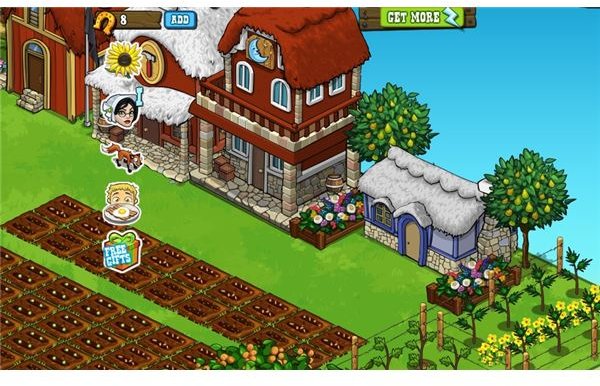 Use these handy Frontierville tips for mastering the great unknown and building a pioneer town worthy of recognition.
Farm and harvest daily. It's the best way to earn coins and gain XP.
Select crops according to your schedule. Don't be afraid of crops that take a longer time to harvest. They yield the most experience points.
Quickly click on coins, items, stars, hearts, and other icons when they appear to gather them. If you need energy more than coins than try to click on pies before coins to lessen the chances of missing out on a valuable resource.
Hire friends to harvest your crops for you to save energy. Players are allowed to hire two neighbors each day. Try to hire higher level players they earn you more coins.
Collect building bonuses daily. Constructing an extra general store is a great way to boost Frontierville income.
For more energy when visiting neighbors' homesteads tend to their peach trees and peanut crops for two to three additional pies.
Focus on trading in collections like corn, pumpkin, goat, pig, and fox that rewards with XP. The Pear Tree and Wildflower Collection both yield 50 XP.
Sell adult pigs and oxen for large amounts of food to restore energy when other resources have been tapped out.
Always utilize your Wish List. Add needed items so friends can know what to send you.