Free MMO's For Kids: Guide Objectives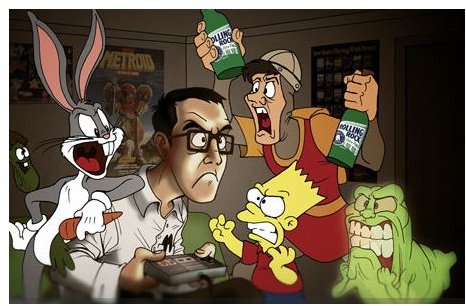 Free MMO's for Kids
Online gaming is a massive industry and there are enough free MMO's in the cyber world to occupy someone for years. But are they any good and are there any games that are appropriate for kids? There are many free online games that are appropriate for children and many of those games can help teach your children not only computer skills, but a variety of life lessons that have been incorporated into the game. Here's a comprehensive guide to free MMO's for kids. And your kids won't even know their learning valuable lessons because the games are also just plain fun (after all, studies show that we learn much better when we are enjoying the lesson).
Games for Kids!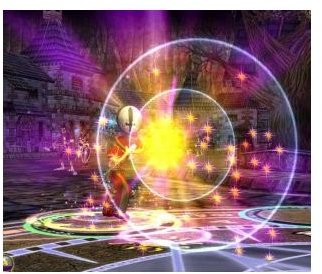 The Guide's Objectives
This guide to free MMO's for kids is part one of a series of three guides that direct readers and gamers to age appropriate games. The games that are included in this list are geared for young gamers between the ages of 6 years old to about the "tween" years and therefore one of the most important aspects of the games for children of that age range will be on the safety features. Also keep in mind that these games are in no way limited to young children. Teens and adults alike may have tons of fun playing these games! Regardless, the following list will inform you of the degree and kind of safety features each games has and also a brief description of what the gameplay is like. Additionally, each of the games mentioned contain links so you can read more information on them (like how to take full advantage of their safety features such as gameplay time limits and safe chatting) and find out how to get playing!
The safety features of each game will also be rated in the following ways:
Loaded- the game has implemented the highest standards of online gameplay safety.
Mediocre- the game has some safety features but they are not necessarily very effective.
Dismal- the game is a free-for-all in regards to online interaction. Vulgar and offensive language/behavior may be seen.
Please keep in mind that adult supervision is always needed when children are online, even with the strictest of safety standards. The creators of online games for kids can try their best to put the toughest safety features into place, but this does not negate the fact that both children and online predators can be extremely creative and resourceful in finding ways around safe guards. As parents it is ultimately our responsibility to ensure the safety of children.
Club Penguin
Club Penguin is one the most played and inventive free MMO's out there. Disney introduced this game when it was clear to game developers that there was a rapidly growing market: MMO's that are geared towards children.
Safety Features: Loaded
You can see the lock down immediately when you begin to delve into the online world of Club Penguin. I don't mean "lock down" to have a negative connotation- it is a very good thing when it comes to allowing kids access to the world of predators that are stalking the web. Predators aside, one of the biggest concerns from parents in regards to online games is the "conversations" that take place in the chat boxes. Some of the language can be highly inappropriate and vulgar. Disney implemented a tool for Club Penguin to eliminate, or at least cut out the majority of this kind of chatting.
The game has two safe chatting features: Ultimate Safe Chat mode (players choose from predefined greetings, emotes, questions, etc.) and Standard Safe Chat mode (players type their own messages and a filtering system makes sure the words come from their pre-approved dictionary of words). There is no other option and both chat modes will not allow the exchange of any numbers or information that could personally identify a player. There is also a team of monitors employed to police the chats taking place. Problem chatters can be banished from Club Penguin "forever". Club Penguin is adamant about the safety of children who want to enjoy the splendor of gaming! They say it is why the game was invented- so there could be a safe, online playground for their children and grandchildren.
Club Penguin- What Kind of Penguin Will You Be?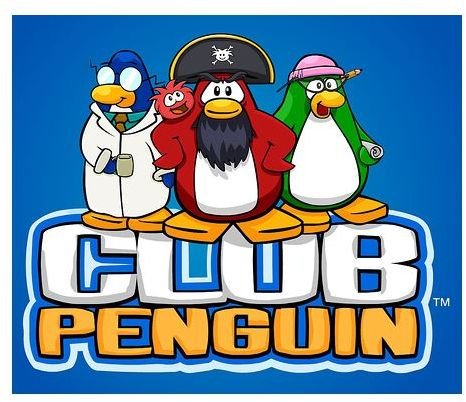 Club Penguin Gameplay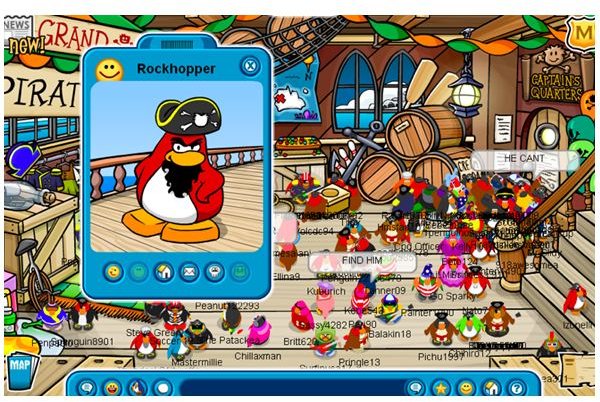 Club Penguin is a super-friendly and light-hearted MMO for kids! Parents will love the safety features as well as the games focal point. In Club Penguin gamers create a penguin avatar of their own- one they can dress and decorate their igloo for. You can invite other penguins over to your igloo for a dance party. You can have a pet puffle! Go on adventures and earn gold coins to buy items out of the Club Penguin catalog. Play mini-games for extra earnings too! The list of interactive and solo play activities in Club Penguin is huge! There is something for everyone!
The creators boast about Club Penguin's educational qualities and are sure to let parents know that in addition to being a fun hobby, the game helps develop math and keyboard skills, and teaches social skills by interacting with others through role play.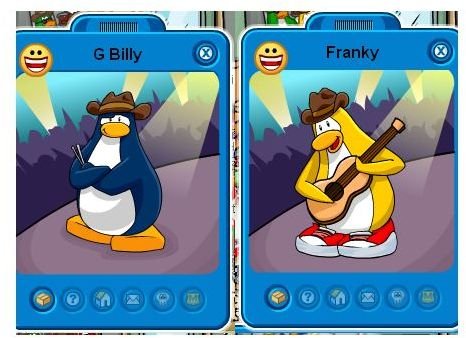 Toontown Online
I've got to really brag about this game- it deserves praise and your kids will love it! But they better get prepared to gather an arsenal of anvils, cream pies and banana peels because that's how they stop the evil corporate Cogs in Toontown!
Saftey Features: Loaded
Just like Club Penguin, Toontown Online has great safety features for your sprouting children gamers. It is also produced by Disney and has two chat protection features as well. Parents can set the degree of safety control over their kids game, allowing them to chat in either Speed Chat Plus mode or True Friends chat mode. With Speed Chat Plus gamers can type in the chat box and their words are filtered through a pre-approved dictionary. If they try to write a word that is not included in the dictionary then the word becomes italicized and they may choose from a selection of replacement words. If they don't choose a replacement word then the unrecognized word will be expressed by an animal sound. If parents set the safety controls to allow for True Friends chat mode then the unrecognized word will remain only for players "true friends" as long as the word is not vulgar or offensive.
The True Friends chat mode was designed for real-world friends (family members, actual friends, etc.) to chat more freely and the messages may only be viewed by true friends. However, an animal sound will always replace any inappropriate words in both Safe Chat Plus and True Friends chat modes. But numbers and other personally indentifying information may be typed in True Friends mode whereas that information cannot be displayed in Safe Chat Plus mode. For someone to become a True Friend a six-digit code must be entered by both players, so parents should use that system to ensure that it is indeed real-world friends they're communicating with in True Friends chat mode. Just like Club Penguin, there are employees monitoring conversations in Toontown and players can be banned from the game if their behavior is rude.
Toontown Online's Screen Shots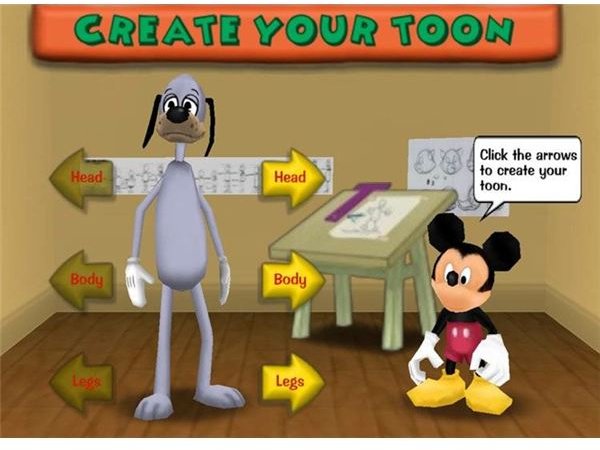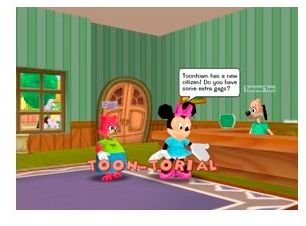 Toontown Online Gameplay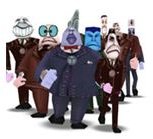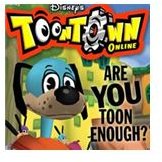 Now we get to the good stuff! This game is so much fun- you really don't need to be a kid to enjoy it. If you are a fan of cartoons, or simply can't resist the nostaglic feelings that they bring, and you enjoy gaming, then please, just give Toontown a try. Play with your kids if you need an even bigger excuse.
Toontown is a turn-based game where you battle the evil corporate Cogs who have taken over and made the cheerful land of Toontown into a dark and dismal place. The Cogs represent different sectors of the corporate world and their desire to control the world: Bossbots, Lawbots, Cashbots and Sellbots. An ironic choice of villains coming from Disney- the massive corporation itself, but nevermind that, the game is great fun! But by defeating the Cogs players increase their Laff points and decrease the Cogs life points. Throw a pie in a Cogs face! Drop an anvil over their head- you'll have a pocket full of gags to take out the life-sucking force of the treacherous Cogs!
Toontown Online's Friendly Play
In addition to battling Cogs, players can engage in non-combat activities. This is a perfect feature of the game for beginning gamers or for children of parents who don't like their kids playing fighting-based games. The activities include trolley games, fishing, gardening, kart racing, mini golf, and toon parties that they can host! Gamers can earn extra Laff points and jelly beans (the curency in Toontown) that can be used in the main part of the game. Jelly beans can also be used to purchase party supplies for Toon parties like fireworks and a jukebox. And unlike many MMO's there is no PvP (player vs. player) gameplay involved in Toontown- another effort on the game's designers part to keep the atmosphere of Toontown friendly.
Roblox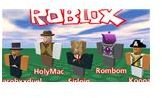 Roblox is an MMO for kids that allows them to use their imagination by building, constructing and creating anything their hearts desire while engaging with other kids online to help develop social skills. Roblox are commonly mistaken for being a part of the Lego brand because it is essentially a virtual building block site for kids, but they are not.
Safety Features: Loaded
The safety features of Roblox are much like Club Penguin and Toontown's. They have moderators on-site ensuring that there are no violators of Roblox rules. They also have two chat modes for parents to select from: Menu Chat and Filtered Chat. The Menu Chat is another chat option where players pick from a pre-determined list of greetings, questions and responses. And Filtered Chat will block out any inappropriate words.
The safety features of Roblox is one of the main focal points for the Roblox team, but I still feel it's not quite up to par with the safety features of Club Penguin and Toontown Online. However, they are continuously working to improve their strategies to keep kids safe while playing online, and really, the differences between Roblox and the other two seems very minimal.
Roblox Screen Shots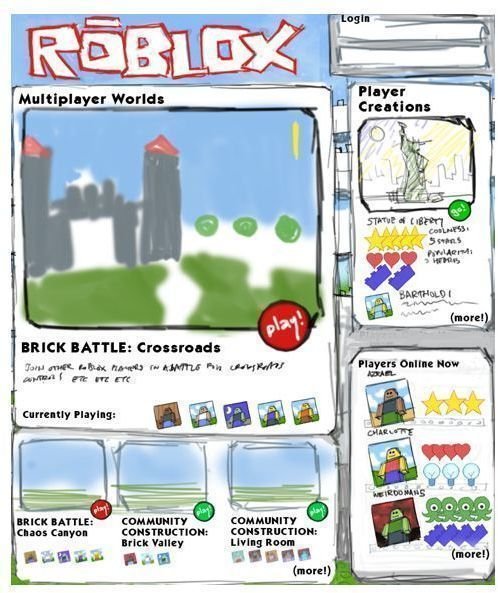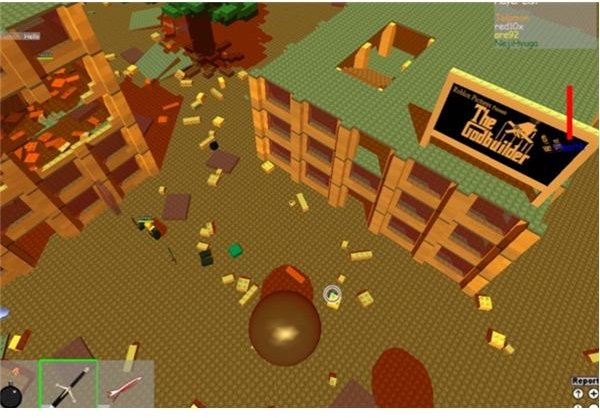 Roblox Gameplay
The first thing your do in Roblox is create an avatar and have your own land to develop and build on. Roblox says that there is no set objective to their game- that the possibilities are endless! In fact, many of the mini-games on the site were created by members of the Roblox community. The mini-games are also very light-hearted like the ones in Club Penguin. You can play paint ball or capture the flag with friends online. By being a part of Roblox you can get involved in detailed projects by yourself or with other builders. The creators of Roblox believe that we learn best by seeing our inventions all the way through- from the design process to its actual construction, and therefore kids will gain valuable tools for life by joining the Roblox community.
Wizard 101
Wizard 101 is online community of bright young wizards who are developing their craft in the art of magic. Have the best tricks up your sleeve and you can become top wizard!
Safety Features: Loaded
Wizard 101's creators went out of their way to implement really good safety controls for their game such as the ability to set a time limit for your children's gameplay and the chat mode you are most comfortable with them communicating in. Like Club Penguin, Toontown Online and Roblox the chat options will allow players more or less ability to text freely. All conversations in Wizard 101 also go through a filter to check for inappropriate language, and violators can be banned.
Wizard 101 Screen Shots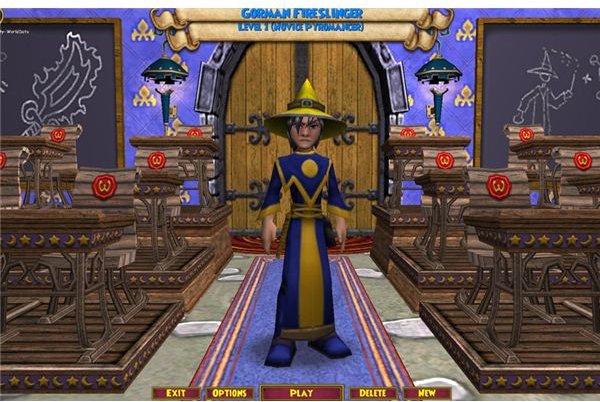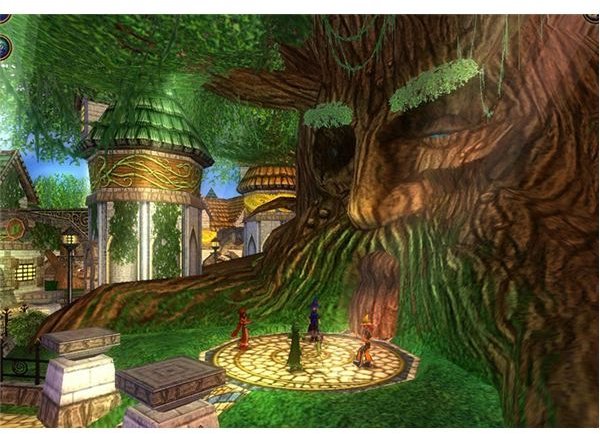 Wizard 101 Gameplay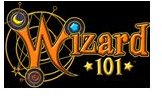 In Wizard 101 the first thing you do is take a test to determine the kind of wizard you will become. After you have taken on your new wizardly form, then you will go on a series of tasks and adventures aimed at showing you the ropes of the game, earning you experience and teaching you new tricks. In Wizard 101 you are a budding, young wizard and are just starting your education in the magical arts. You will be preparing to battle the dark lord that wishes to take over your school. Obviously this theme sounds familiar…Harry Potter. Fans of the fantasy series and lovers of anything magical will love this game. It is geared towards young gamers- about 8 years and up, but many adults and families will enjoy pretending they are a powerful wizard ready to crush out the impending evil threatening to take over the colorful world in Wizard 101. The duels in the game are turn-based. Players select from the magical spells they have learned in school and cast them upon the wicked creatures that assist the dark lord. Other players can also help you in duels as you attempt to keep your school safe!
Turn-based MMO's are perfect for both beginning and young gamers, but can be become a little redundant for hardcore gamers. Yet there are plenty of activities in Wizard 101, and new ones are always being added- so that helps keep things interesting.
Conclusion
There are tons of great games out there that your kids can play for free. Even with the current state of the economy, we can still find quality entertainment in the form on online games that are appropriate for young gamers. Check out the links to get more information on all the games mentioned in this guide. The links will also direct you to getting started playing the game. Happy gaming!
An added note of caution: Even though it is commonly known, obvious and implied in the nature of many video games, I still must mention that lots of games contain some degree of violence, even the kid games. After all, the backdrop of most games usually includes a villain, or villains, that need to be defeated. Even though the following games are extremely light-hearted, some parents are still uncomfortable with exposing their children to any kind of role-playing that involves such activities. If that is the case, you may want to take a look at different styles of online gaming and show them games like Poptropica or visit the Lego website for a list of games.