A Look at the Best iPhone Stick Figure Games Available at the iTunes App Store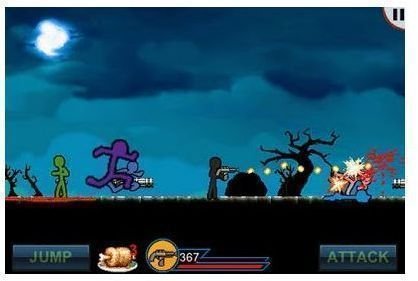 Anger of Stick
Anger of Stick is one of the best iPhone stick figure games because it really bucks the norm. What you get is the standard hand drawn stick character, this time running around in a merciless beat 'em up against enemies that are also creations from grade school art class. What is really great about Anger of Stick is that each enemy has its own artistic logic from amorphous humanoids that look like they were created by a clenched fisted five year old. Enemies include angry polar bears to dragons that look straight out of the Super NES 16-Bit wars. The game is presented with quite a bit of level design, even though Anger of Stick is really just a two-dimensional, side-scrolling adventure game. This is button mashing glory, without the buttons, but still you have things like statistics, power ups, and even money. The controls use a simulated button system at the bottom of the iPhone's touch screen. This can get a little complicated in many cases, but Anger of Stick puts them out of the way so it is actually much more useful than you expect. Anger of Stick only runs you $0.99 so there is little excuse not to pump a few hours into it.
Doode Army
Stick figures on the iPhone seems to be effective at killing. But that's only a blanket statement. Doodle Army continues the side scrolling trend of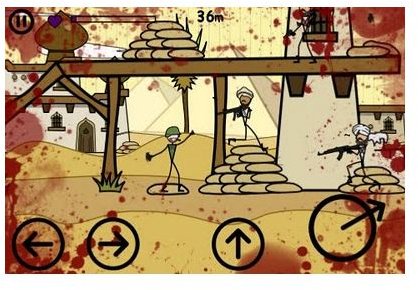 Anger of Stick with a game that seems much more concerned with the guts of it. You are a military stick figure in Doodle Army that uses complex weapons to attack soldiers, zombies, aliens, and some stick figures that strangely look as though they are from Vietnam and the Middle East. Beyond the strange stick figure racial references, Doodle Army ends up being an incredibly detailed and bloody iPhone game. Each level is drawn out in colorful detail on what looks to be a piece of lined paper. The buttons themselves that you use likewise look as if they had been recently drawn there. As you begin killing your opponents with machine guns and other heavy artillery, you will find that blood begins soaking the paper at all corners. The gameplay of Doodle Army remains engaging at all times and this even comes in on the Open Feint network, so for iPhone gamers that are trying to take it to the next level by syncing it with other players and social networking sites, they will have another reason to jump on board. At $0.99, Doodle Army stands out as one of the best iPhone stick figure games available, not to mention just one of the best new iPhone games around.
Scribattle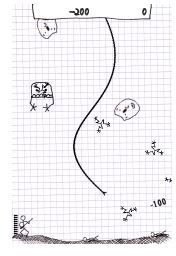 Scribattle takes the doodle mentality of stick figure wars pretty literally. With Scribattle you will relive Space Invaders with hand drawn stick figures against graphing paper. The images of the aliens really does live up to the basic premise of the stick figure iPhone genre. Each character that falls from the sky is amorphous in an interesting way that will immediately make you feel as though you are in the back of math class drawing in the margins. At the bottom of the Scribattle stands you; a pint-sized stick figure armed with a rifle. It is up to you to begin attacking before they reach you. Scribattle is perfect for quick blasts of gameplay, which really maximizes the arcade appeal of the iPhone.
Cartoon Wars Gunner
Apparently all that stick figures can do well is fight in virtual wars. Cartoon Wars Gunner is a fully realized battle game that actually uses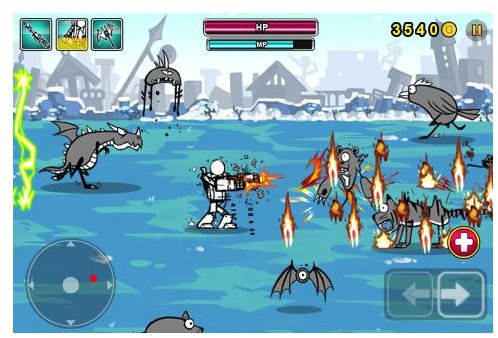 fantastic cartoon inspired graphics in a way that is both inventive and accessible. The first Cartoon Wars was a winning series and Cartoon Wars Gunner really is a fun continuation of this. You will be attacked constantly by gray scale monsters that have a clever character design right from the start. Your stick figure begins to upgrade weapons all the time, eventually becoming a mechanized gunner as the name implies. Almost every element in Cartoon Wars Gunner works, and since the levels are all specially designed and you can consistently go forward, you have enough gameplay to keep you involved for months. It's almost impossible to find a better iPhone stick figure game at the iTunes' App Store than Cartoon Wars Gunner, especially for only $0.99.
This post is part of the series: Best of the iPhone Best
Articles about the best of certain iPhone game genres.