The Five Best iPhone Zombie Games From the iTunes App Store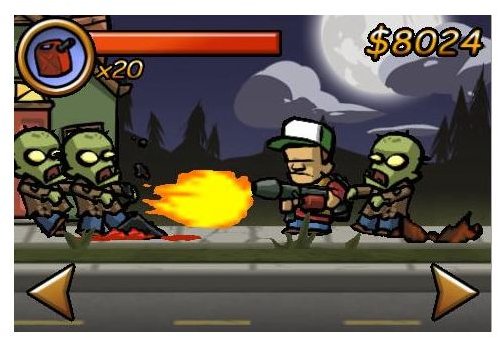 Marching in With the Best iPhone Zombie Games
It seems like the brainless undead are marching even behind your touch screen. Whether it is in a text format, an action title, or, strange enough, a farming game, zombies have made their way all over the iTunes' App Store. Here are the best iPhone zombie games available.
Zombieville USA
Zombieville USA from Mika Mobile capitalizes on the absentee graphic logic that puts bulky, "hand drawn" cartoons over realistic graphics. This is probably the best for a simple game like Zombieville and actually works incredibly well. This is all in the service of a sidescroller that arms you with a shotgun and a trucker's hat and tells you to get ready for battle. You will march the streets of suburbia hunting zombies, changing weapons, and earning money. What really makes Zombieville USA work is that it uses the iPhone controls well for a basic format that you kind of know already. Zombieville USA is quick fun each time you play, but it also has enough to bring you back again and again. You will have to shell out $1.99 for Zombieville USA, but it will be worth it.
Zombie Farm
Who would have thought to plant zombies anyway? Zombie Farm is one of the most innovative games to come out for the iPhone recently and

is wholly addictive and engaging. The basic idea behind Zombie Farm is the same as with all iPhone farm games, except that this time, well, you have zombies. Zombie Farm allows you to plant zombies who perform tasks as well as get a full sized garden that will just plain out perform similar titles. You can end up with such a customizable back yard that you may have awkward totem poles right next to apple trees enclosed by tomb stones. All of this is presented with bright and colorful cartoons and enough character to make you smile every time you open it up. Zombie Farm is going to consistently bring you back, especially since you are required to check on your crops constantly. This is a free iPhone game that rightly earned its spot as one of the best iPhone zombie games on iTunes.
Zombie Attack!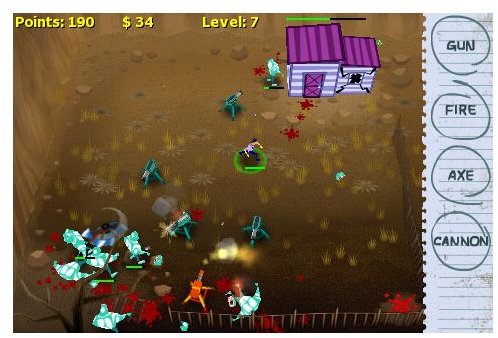 Zombie Attack! has been touted recently as an iPhone classic, and it very well might be. The basic premise behind Zombie Attack! is similar to most action games where you are in an open area and must attack the zombies that seem to come out of nowhere. The main premise here, and this is pretty clear in the post-apocalyptic world of zombie infestation, is that you will have to protect the survivors and shelters where they hide. Your "character" is embodied by the weapon you choose, which you select from a list on the right hand panel. This makes for a pretty frantic gameplay that borders on a puzzle engine more than a regular adventure platformer. This is going to epitomize arcade fun on the iPhone and will have you flicking at your touch screen furiously.
Zombies Live
As with any trendy theme, the text based iPhone MMO RPG developers are out there creating a game for it. Zombies Live from Storm8 is the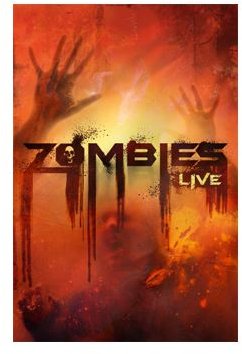 incarnation of this, and will include absolutely everything you have come to expect from this genre. Storm8 is the engine that brought you titles like Rockstars Live, iMobsters, and Kingdoms Live. For Storm8, Zombies Live is a financial opportunity for them to sell Zombies Live Loyalty Points. For those familiar with this format, Zombies Live Loyalty Points are things you buy to cheat in the game. Throughout the rest of the game you will help to develop your Zombies Live character by performing Actions, setting Traps so you can increase your amount of food currency, and add more players to your Horde with your Zombies Live Horde Codes. Zombies Live is more than addictive, and you will constantly be finding ways to get ahold of Zombies Live Horde Codes and free Zombies Live Loyalty Points. The trick here is to keep your eyes peeled for updates that have free Zombies Live Loyalty Points built in, and to spread your Zombies Live Horde Code all around the internet. Of all the best iPhone zombie games available, this free iPhone game may be the most engaging in the long term. Hopefully Storm8 will continue to update Zombies Live on a regular basis, or at least start shelling out free Zombies Live Loyalty Points on occasion.
Biodefense: Zombie Outbreak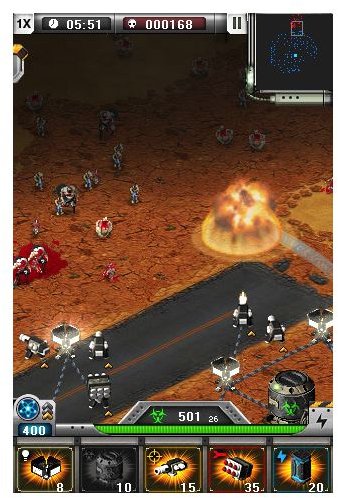 Tower based strategy games for the iPhone such as Tap Defense and Tower Madness are some of the most popular titles from the App Store. If you simply combine these tower games with zombies you may just have a winning combination. Biodefense: Zombie Outbreak, which is on the Open Feint network, drops this bomb on you in a real way. Biodefense: Zombie Outbreak may be even more involving than classic fare like Tap Defense in that it really takes the tower concept and brings it into more realism with elements of the real time strategy genre. Just like in games like Warcraft and Command and Conquer you will start out with a dark map except for the center of your base. As you start getting other towers the darkness will begin to recede. You will have to utilize BioDefense: Zombie Outbreak resource points and mine Toxium to build things, which is similar to "ore" in parallel games. Zombies will being attacking your camp, but you will remain prepared for actual war. There is enough in BioDefense: Zombie Outbreak to justify its $2.99 price.
This post is part of the series: Best of the iPhone Best
Articles about the best of certain iPhone game genres.