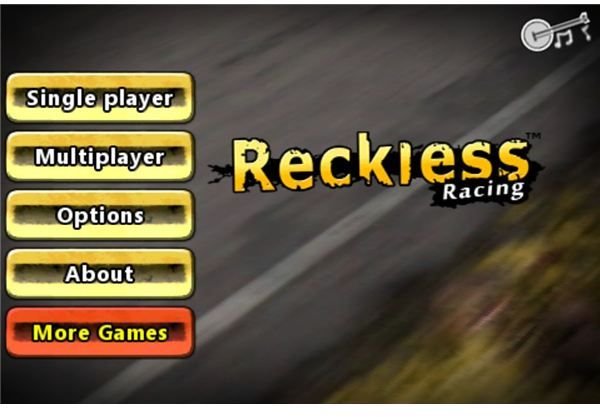 Reckless Racing
This new top-down racing game for iPhone fully supports the iPhone 4's retina display. Despite the small racing tracks and cars, the game presents a very beautiful racing environment with plenty of detail. The result is a superb racing game with graphics that will entice you to play the game over and over again. Gameplay-wise, Reckless Racing has just about enough to keep you pre-occupied for several hours. There are three game modes - Dirt Rally, Hot Lap and Deliver Mode. 10 tracks all in all including reverse tracks. A bonus feature is the multiplayer game mode which allows you to play against your friends online. (Price: $2.99) (Download link)
Read our full review of Reckless Racing.
Angry Birds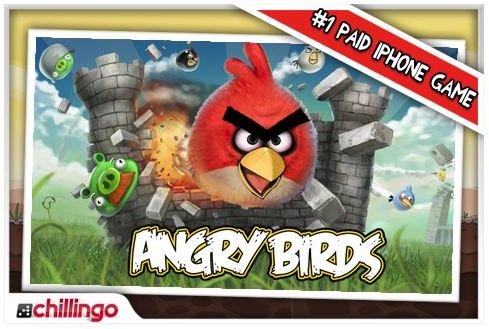 Who doesn't know or has not played this wonderful iPhone game? It was such a big hit even before the iPhone 4 was released. When it was updated to support retina display and other iOS 4 features, the game became even better and is one of the best games for iPhone 4. If you haven't played this game yet, you are definitely missing a lot. For your benefit, this arcade game requires you to destroy pig's castles to take your revenge. Apparently, these pigs stole bird's eggs. You must use the destructive powers of these Angry Birds against the pigs. The game features hours of fun gaming, challenging physics-based castle demolition, and lots of replayability. The game has a whopping 195 levels, each of these levels requiring logic, skill and brute force to accomplish. Other features of Angry Birds include - leaderboard, Game Center support, Facebook and Twitter integration and achievements. (Price: $0.99) (Download link)
Read our full review of Angry Birds.
Cut the Rope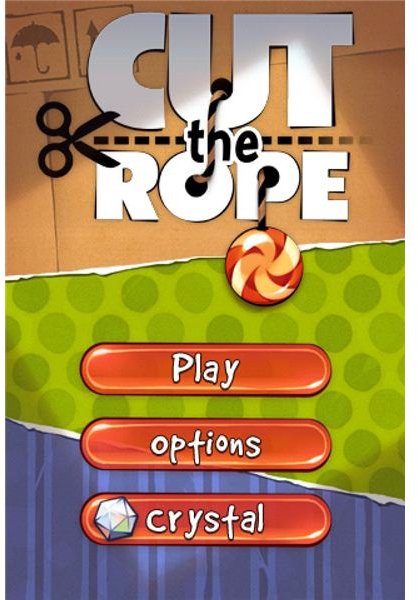 Released only this month, Cut the Rope have gained a massive following and download numbers from the App Store already. It's not surprising that this game made it easily to the top of the charts. The game banks on unique gameplay that is challenging and fun. Basically, the premise of the game is for you to feed the main character with a candy in every level. The challenge lies in the fact that it is not easy to accomplish this. In every level, you must solve the puzzling obstacles to make the candy fall into the monster's waiting wide-open mouth. The game's graphics are top-notch as well and look very beautiful on the iPhone 4's retina display. But then again, this is not what makes the game great, it still is the solid puzzle gameplay. (Price: $0.99) (Download link)
Read our full review of Cut the Rope.
Sonic the Hedgehog 4 Episode 1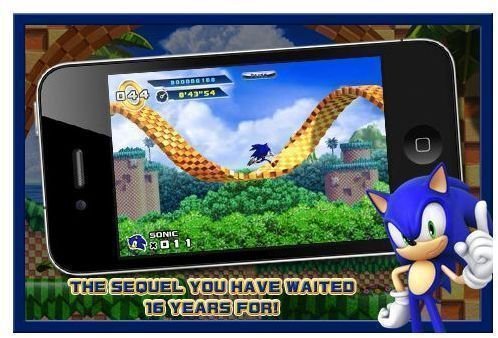 According to Sega, this is the official sequel to the highly successful Sonic the Hedgehog game released for the Sega console 16 years ago. All other games that follow the original are spin-offs then. This game has all the goodness that we've all enjoyed in the classic Sonic game plus some enhanced gameplay elements such as the Sonic Spin Dash and Homing attack. When it comes to features, this game offers 4 unique zones with 4 acts each plus 7 special stages. You can also collect 7 chaos emeralds to unlock Super Sonic. Of course what good is a Sonic game if not for the evil boss - Dr. Eggman makes a comeback with new and improved mechas to make your life more difficult. (Price: $9.99) (Download link)
Monster Dash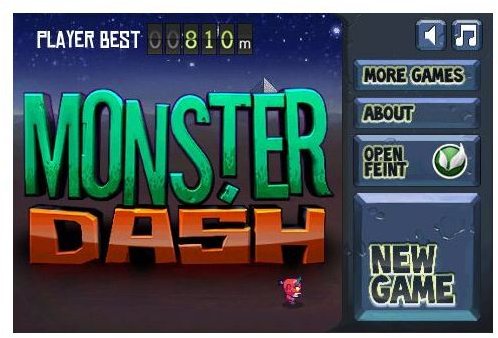 Monster Dash is possibly one of the most underrated games for iPhone 4. The game is a cool, exciting and fun side-scroller that can deliver several hours of fun gaming. Gameplay is your usual jump-shoot-fall type of arcade shooter. This game will challenge your timing, ensuring that Barry will not fall off the cliff when jumping from one cliff to another. The game offers several cool enemies as well as a challenging-to-beat final boss. Simple gameplay and great 2D sprite graphics rendered on a detailed background make this game a worthy addition to your iPhone 4 game collection. It supports Game Center but not retina display, yet. Hopefully, the game's developer will add this feature in future updates. If that happens then this game would certainly be one of the best iPhone 4 games. (Price: $0.99) (Download link)
Read our full review of Monster Dash.
Flight Control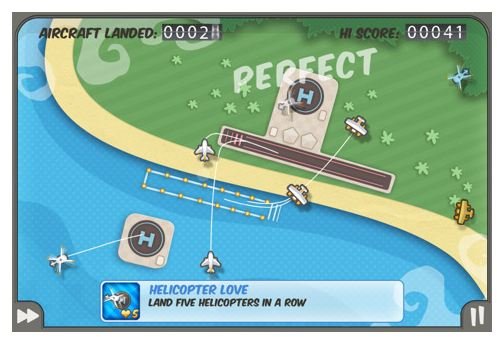 Want an addictive iPhone game? Flight Control is the name of the game. This is perhaps the most addictive game that has ever graced the iPhone. What's interesting about this game is that it's not as extravagant as other games when it comes to graphics and gameplay. All you need to do is to direct the aircraft to successfully land on a designated runway. The game features 5 airfields and 10 aircraft types. Settings vary from beachside resort to the Australian outback and there's even a snowy winter wonderland. Wind direction also plays a great factor in successfully landing your aircraft. The game also lets you play solo or with friends via local Wi-Fi network or Bluetooth. For iOS 4 features, this game supports Game Center and leaderboards. (Price: $0.99) (Download link)
Read our full review of Flight Control.
N.O.V.A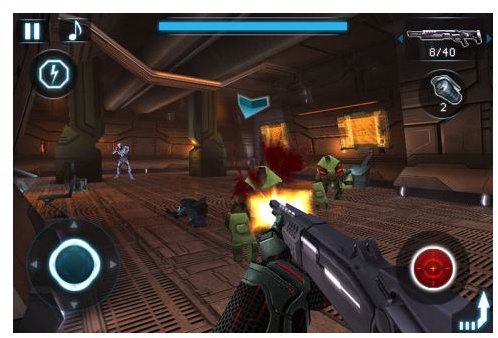 Even before this game was updated to support iOS 4 features and retina display, it was already a great first-person shooter. With retina display already supported, the game becomes even more enticing with crisp graphics and flawless game physics. The game features full 3D rendered game environments with full details, 4 control schemes, customizable interface and two types of game modes - single and multiplayer via local Wi-Fi or Bluetooth. The game has 13 well designed levels, 5 beautifully rendered 3D environments, 6 weapons up for your disposal, and great cinematic sequences for additional suspense and drama. In the multiplayer mode, you and your friends can play 1-4 deathmatch at 5 different locations. You can also play against any player in the Gameloft LIVE as well as compare your scores with others on the worldwide leaderboards. (Price: $4.99) (Download link)
Read our full review of N.O.V.A.
Zen Bound 2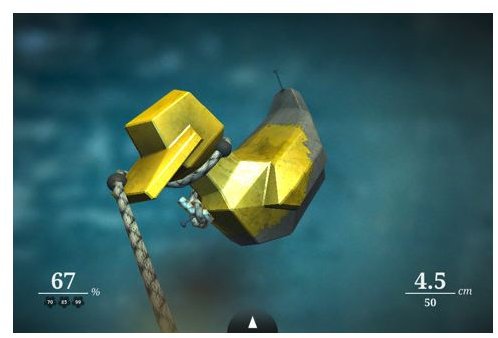 Here's another one of the best games for iPhone 4 - Zen Bound 2. This phenomenal game has achieved various awards from the mobile gaming industry because of its uniquely addictive gameplay. It's a meditative puzzle game that challenges you to wrap rope around wooden sculptures with the objective of making rope, wood, and stone look and feel like the real things. What makes this game great aside from the unique gameplay is the magnificent control and game environments. It makes full use of the iPhone's tilt and multi-touch features, making it natural and comfortable to play. The game features stunning visuals that were beautifully conceptualized and rendered on the iPhone 4's retina display. The game offers more than 100 levels, new ghost monkey music, and more. (Price: $2.99) (Download link)
Street Fighter IV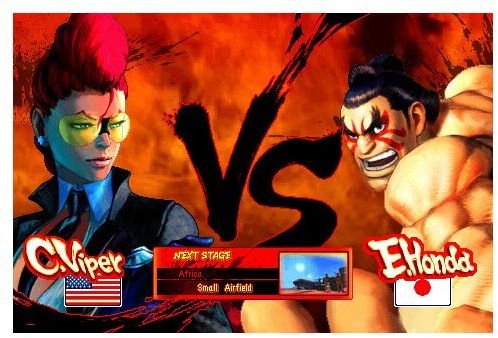 How do you revitalize an old, classic fighting game to make it in tune with the times? Create a new version suited for the emerging portable gaming device. That's what Capcom did with their all time best-selling fighting game - Street Fighter, releasing Street Fighter IV for the iPhone. Capcom has successfully recreated the game franchise and made it a solid 2D fighting game. Street Fighter IV for the iPhone looks beautiful and very detailed. It even looks better on the iPhone 4's retina display. You've got to play this game on your iPhone 4 and execute the character's special moves to see how magnificent the effects are. Feature-wise, this game has got plenty as well - ten of our favorite Street Fighter characters, seven different battle arenas, full move sets, head-to-head battle via Bluetooth, Dojo boot camp, customize controls, super moves via SP button, and four levels of difficulty. (Price: $9.99) (Download link)
Modern Combat 2: Black Pegasus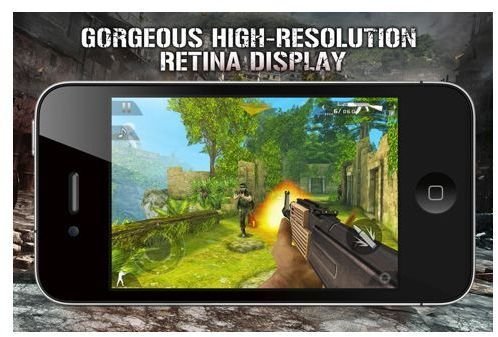 If you've played the first Modern Combat iPhone game, you'll definitely want to get Modern Combat 2: Black Pegasus for your iPhone. This game offers improved gameplay plus a full multiplayer first-person-shooter for our beloved iPhone. With an arcade-like graphics, the game looks even sweeter on the iPhone 4's retina display. The game has some additional features as well, including a new full gyro advanced control mode, Gyro-based QTEs and improved headshot sequences, 12 battlefields to conquer, facial animations and instant-kill, slow motion sequences - all make for an intense FPS iPhone game. Modern Combat 2: Black Pegasus certainly deserves its place as one of the best games for iPhone 4. (Price: $6.99) (Download link)
Read our full review of Modern Combat 2: Black Pegasus.