Review of CampFu - Go Camping This Summer MMO Style

Welcome to CampFu
Rebel Monkey brings summer camp to the masses in their virtual world CampFu. This free browser based MMO lets players sign-up for one of the best summer camps online. In CampFu users play fun mini-games, chat, and explore the campground. Participate in camp themed activities and have a blast in a land where summer never ends.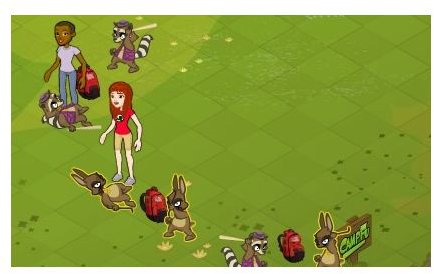 During your stay at CampFu there is plenty to do. After you register create your personal avatar. Select the gender, skin complexion, hair, shirt color, and customize the face. There is a profile area that resembles a MySpace. Details such as relationship status, quotes, interests, favorite music, who I'd like to meet, and here for section can be filled out. Each player receives their own log cabin room that they can decorate with furniture or invite friends for a chat. The animated avatar character can perform six specific actions. It's a very cool feature in CampFu. If you feel down you can make your character take on a bummed gesture. High flying kung fu kicks, the funky ancient Egyptian, pure sassy, forage, and the prehistoric dinosaur are other movements your avatar can execute.
Gameplay (5 out of 5)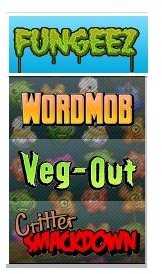 The four popular games that players indulge in at CampFu are Critter Smackdown, Word Mob, Veg-Out, and Fungeez. They can be played alone or in groups with your friends. In Critter Smackdown players must stop vicious critters from tampering with the local camp supplies. Strike them and defend your red book bag of goodies. Mastering this game can earn you a Critter Badge of Achievement. There are up to nine badges you can earn throughout CampFu. Word Mob is a puzzle game that requires players to spell as many words as possible from a color coded tile crossword. In Veg-Out groups compete against each other to plant a vegetable garden. The team that can grow and sell the highest amount of veggies before the clock runs out wins. Fungeez is a slimy fun filled game that takes players into the water. The objective is to free as many innocent sludge covered ducks as possible. Clear and match the floating fungi surrounding the ducks by clicking them.
Graphics & Sound (4 out of 5)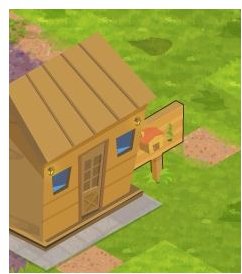 Each environment has an assortment of warm vibrant colors that zap you right into the great outdoors. The graphics are exactly what you would expect from a browser based MMO including detailed flash images. All of the avatar characters resemble a well-crafted cartoon. The overall design of the game is flawless. Whether you're sitting by the campfire chatting with friends, playing a round of 'Critter Smackdown', or decorating your log cabin everything appears realistic. The sound effects include a variety of clicks and dings. Energetic background music is played to rev up players during the rounds. Similar to an arcade game CampFu vibrates fun.
Online Community (4 out of 5)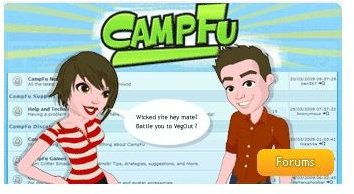 CampFu is a casual MMO community. It gives players who enjoy participating in online communities and gaming a new type of environment to explore. Most of the users flock to CampFu for their real-time co-op games that utilize their custom avatar characters. It's quickly growing into a very popular online hang-out for MMO players. People from countries all over the world, teens, and passionate online gamers are members of CampFu. Friendly chats and friendships form daily in this budding massively multiplayer online community. There is also an extensive forum where users can ask questions and find new friends. If you enjoy virtual worlds like Habbo Hotel or Club Penguin you'll like the easy going community as well.
FuCash - Optional Subscription Model -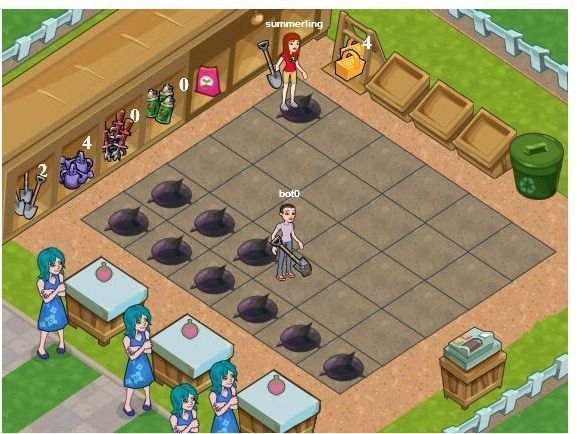 In CampFu there are several shopping options. At any time players can visit the local store and buy trendy accessories, adorn official Campfu Gear, or buy furniture for their room. Like most things in life it's not free. Items must be purchased with an allotted amount of tickets or general FuCash. Every player is given 300 tickets to begin with. Additional tickets can be earned by winning various games. FuCash is a virtual money or form of credits in CampFu. They can be purchased via credit card, PayPal, or mail payments. Players can purchase FuCash Starter Packs for $5, Wad of FuCash for $10, Briefcase of FuCash for $25, and a whole Truckload of FuCash for $55 USD. There is a friend referral program that lets users earn 2 FuCash credits for every 10 friends that they refer.
Overall (5 out of 5)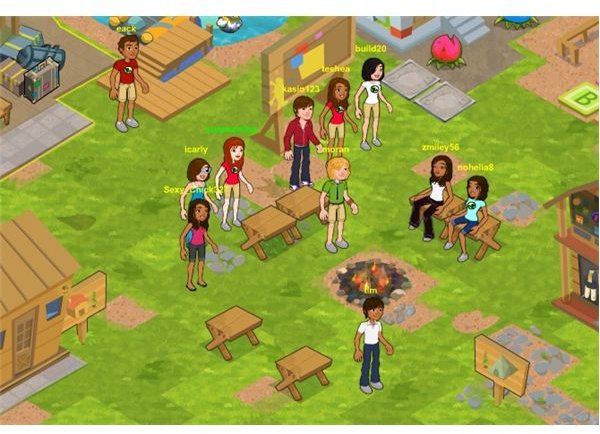 CampFu is a free-to-play MMO that is worth exploring. The assortment of activities, socializing, and flash games available creates hours of fun. The originality of the virtual world is quite impressive. Rebel Monkey is continually improving their game adding enhancements and expanding the campgrounds. Players can escape into the true outdoors. Create a detailed profile, make new friends, and chat easily. The colorful graphics and imaginative games is enough to keep any young MMO fan coming back.