Dizzel Is Diesel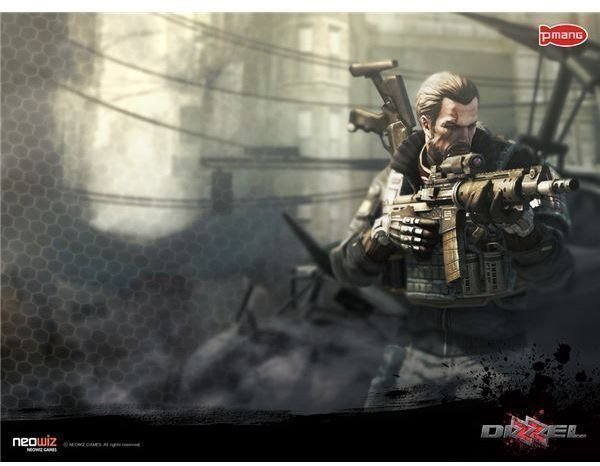 For anyone who read Bright Hub's list of top MMO games that resemble Gears of War, you would have noticed that the number two slot belonged to a little-known South Korean MMOTPS by NeoWiz, called Dizzel (pronounced Diesel). The game is one of the closets Gears of War MMO clones coming out this year, along with GameHi's highly anticipated Project E.
As of the writing of this preview, Dizzel is almost half way through its first closed-beta test and the developers are working hard to fix the bugs as well as implement feedback from users for a more streamlined gaming experience.
Nevertheless, what gamers will experience is breakneck speed combat in visceral deathmatch arenas where blind-firing, melee combat and wall-hugging make up for a lot of the gameplay in this player-vs-player shooter.
Sorry No Vin Diesel To Save The Day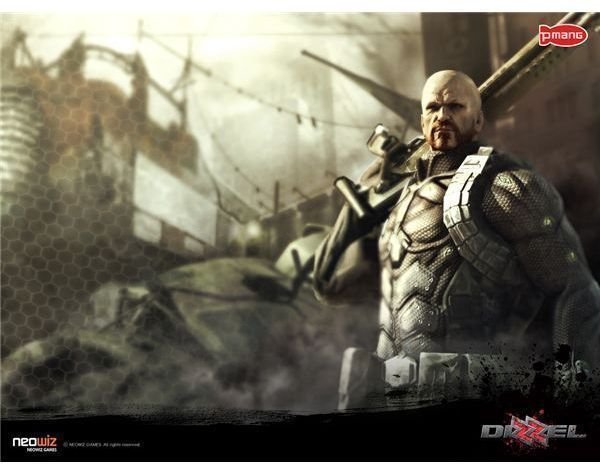 NeoWiz and PMang's Dizzel sadly has nothing to do with the action star Vin Diesel, but that doesn't mean there aren't characters available to customize in order to imitate the most popular space prisoner in the world of sci-fi movies. The game will contain mild custom accessories to alter the look and feel of the characters in the game. There will also be a fair amount of accoutrements available for modifying the weapon load-outs and side-arms, as well as the option to purchase various melee weapons, too. Just don't go into the game expecting a create-a-character on par with Perfect World or Aion Online.
There Will Be Blood…A Whole Lot Of It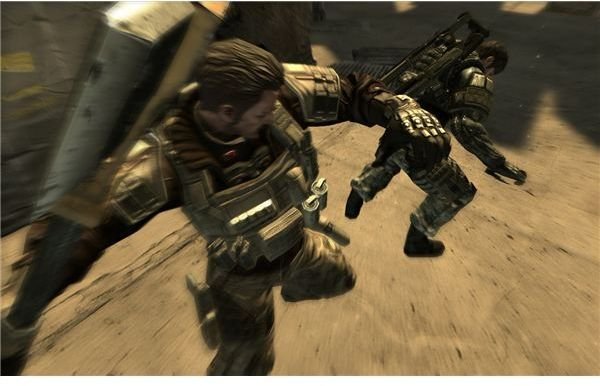 Anyone who put anytime into playing Gears of War knows that the game was (and still is) one of the most brutal, viscerally violent games on the market. Shooting any of the Locust up close resulted in body parts flying everywhere, and showcasing a picture on a website using the chainsaw rifle in GoW usually results in the instant requirement of a censored sign. Yeah, it's just that gory.
Anyway, gamers who happen to be fans of gory melee encounters won't be disappointed with Dizzel at all. The game manages to maintain all the violent blood spewing that landed Gears of War on many "Most Violent Games…" lists that were oh-so-popular back when Jack Thompson had his license to practice law.
Dizzel sports more than just melee attacks using a broad range of weapons, though, it also allows gamers to incapacitate opponents using combos, vicious knee strikes and other devastating moves usually reserved for pugilists engaged in a fisticuff. But hey, the more the merrier, right?
Environments Are As Dangerous As The Weapons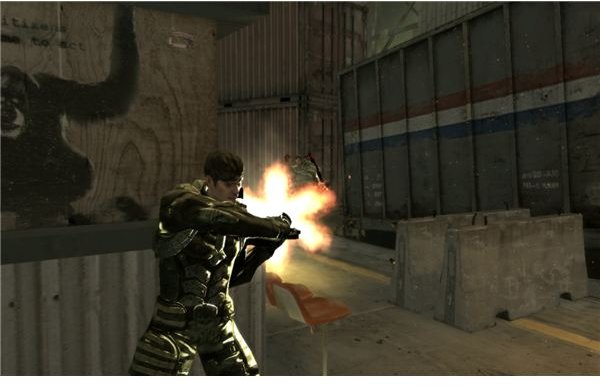 Utilizing the environment is about as important as wielding a kick butt gun in game like Dizzel. Much like Hessian or Project E, there's still a heavy focus on manipulating the environment toward gaining an advantage in a fight. Not only is staying low and using stage obstructions a great way to take an enemy by surprise, but there's also the option of wall-hugging and peeping around or over obstacles and corners, as well as blind-firing to either lay down suppression fire or keep an enemy distracted.
Unlike Hessian, though, there haven't been a lot of stages showcased for Dizzel, which may leave a lot of gamers grasping for a further idea on what to expect from the playing field. What has been shown to the public mostly includes warehouse lots and abandoned military installations. Anything beyond the aforementioned leaves the stages and maps up to total guess-work.
Does Dizzel Have Enough Fuel To Burn Past The Competition?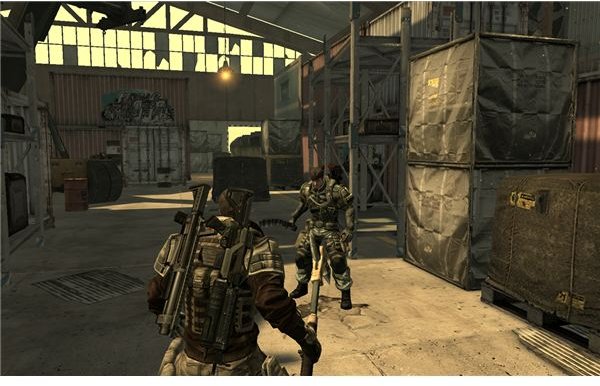 The third-person shooter market is about to become overly crowded by the time the fourth quarter of 2010 rolls around and early 2011 approaches. And while talk of end-of-the-year releases seems far off, it usually sneaks up on us faster than we expect. So the real question is if Dizzel has enough, based on what has been shown off, to stand on its own and apart from the competition? In all honesty, while Hessian and Dizzel both have similar features, Dizzel has slightly better looking graphics but Hessian seems to have a deeper set of gameplay mechanics fleshed out, a few more modes to take advantage of and a deeper create-a-character to make use of. Added to this, Dizzel seems to have a lot of competition with the content-heavy features in the highly anticipated MMO third-person shooter, Project E, by GameHi.
Still, there's nothing really wrong with having a variety of games within a genre to choose from, so if Dizzel manages to do well with the masses I'm sure whatever content it lacks in comparison to the other games the developers will be sure to add it in future updates.
Dizzel is expected to complete closed-beta testing before the summer is out and will head into open beta by the end of 2010. For more information be sure to head to the Official Website.
This post is part of the series: MMO Third-Person Shooter Games
A list of recent and upcoming third-person shooters to keep your eye on.