Disney Pixie Hollow Guide: Closed September 19, 2013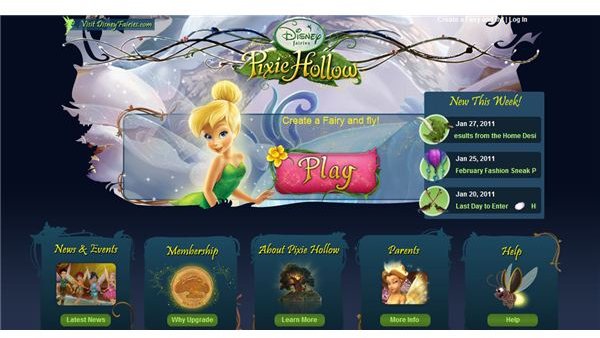 Editor's Note: Unfortunately, Disney is closing the Pixie Hollow game on September 19th, 2013. You can find more information about this on their website: https://disney.go.com/fairies/pixie-hollow/closing/. This article will be placed in our archive.
What is Disney Pixie Hollow?
If you love Tinkerbell's world with fairies, Disney's Pixie Hollow is the perfect fairy game for you (or someone you know that also loves fairies) to start playing with. This fairy themed world lets users create their very own Disney Pixie Hollow fairy to explore the world with. If you are looking for a Disney online kids game, this is it!
Disney's Pixie Hollow - Membership
To play in this fairy themed world, you will have to create an account. Basic membership is free for everyone to use. Pixie Hollow free accounts don't allow you to do most of the things you'd probably want to do experience in game though. It will give you a feel to the game and let you decide if it is something you want to pay to play later though.
Disney Pixie Hollow membership for paid subscriptions currently costs $5.95 per month, $29.95 semi-annually, or $57.95 annually. This paid membership will let you shop fairy collections, craft your own fairy clothing, play game previews and explore areas where only premium members can go.
Disney Pixie Hollow – Exploring the World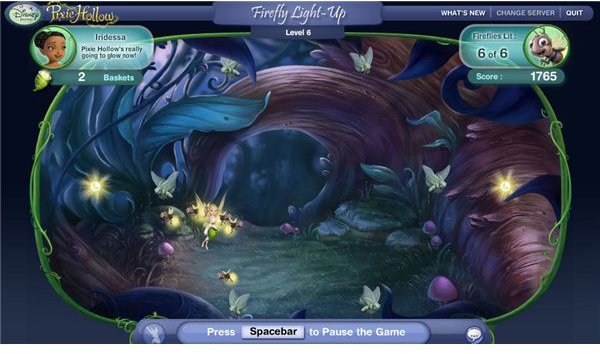 After you have created your customized fairy, you can explore the world of Disney's Pixie Hollow. The quickest way to go where you want is to "Fly Up" by clicking on the compass that is in the left hand corner of your screen. This will bring up the Pixie Hollow map for you to pick where you want to visit.
There are many places that you can adventure off to in this fairy themed game. Such areas include: Pixie Dust Tree, Winter Woods, Spring Valley, Summer Glade, Autumn Forest, and the Wilderness which is exclusive for premium members. In each of these main areas there are sub-areas where there are shops, games and more!
All accounts also receive their own customized fairy home that they can decorate how they want. Not as customizable as in "The Sims 3" but is better suited for younger players.
Disney's Pixie Hollow – Friends and Chatting
While playing in this game, you can chat with other users and make new friends. You could also play Disney's Pixie Hollow with some of your real life friends too.
When you make a new friend, or add a real life friend to play, you can add them to your "Friend List" which can be found when you click on the "Friend" icon that is in the upper right area of the screen. Currently, Disney Pixie Hollow only allows you to add 300 friends to your friend list.
To chat in game, you can do so easily by clicking in the toolbar at the bottom of the screen and typing in what you want to say, using preset phrases, or emotes. This is a Disney game, so only approved words are allowed. This would be a fun afterschool or free preschool game online for kids.
Disney Pixie Hollow - Clickables
Disney brings the fairy world to real life with their fun Pixie Hollow Clickables. These are toys that will connect your real life friends that also play on Disney's Pixie Hollow. These Clickables for Pixie Hollow also unlock special items in the game that are only attainable through the purchase of these toys. Players can also earn ten exclusive badges in Pixie Hollow through the use of these fun Clickables.
References
All screenshots and references from Disney's Pixie Hollow.
Screenshots provided by the writer.
This article has been placed in our archives.