CAKE BAKING GAMES
Cake Mania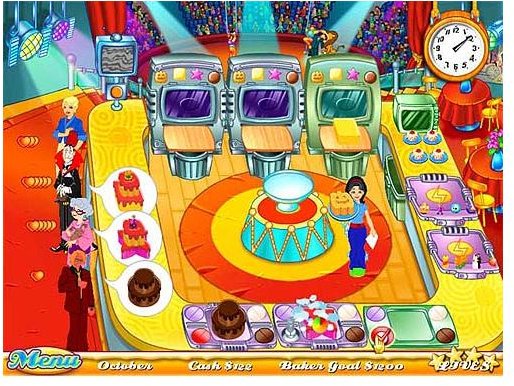 Cake Mania is the first in a series of cake baking games. It is about Jill, a baker whose great skills in cake making are used help friends, family as well as herself into a success. In this game, Jill needs to help her grandparent's bakery from being put out of business by MegaMart. Play the game by making cakes for customers with fast point and click actions and using machines to bake, frost and decorate. Each level is timed. Score is based on the number of customers you served and money earned. As you move forward in the game, upgrades become available to improve cake baking and Jill's overall performance. Play Cake Mania and any of the other sequel games as a free trial or purchase it from the Big Fish Games.com website.
Cake Shop 2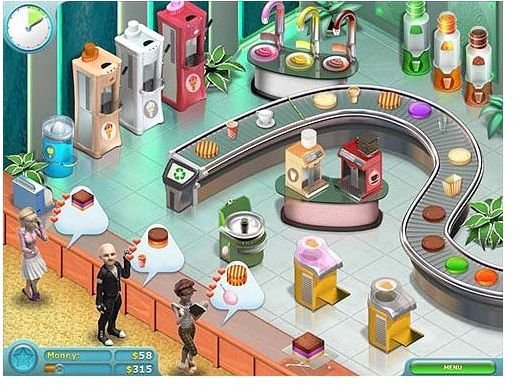 Cake Shop 2 is the improved sequel of the pastry making series. You play as Emily, a manager of a pastry shop who decides to help her friend Frederico raise money to buy five new cafes. Each game level is considered a single business day. Play by serving as many customers as you can in this limited amount of time. Cakes and jams appear on a conveyor belt that drops them down for you to pick up. Your score is based on overall quality ranking, money earned and the number of customers served. In between levels you can purchase upgrades for a new food machines, improve game performance or towards the construction of a new café. A limited version of this game can be tried out for free through the Shockwave.com or Big Fish Games.com website.
Jessica's Cupcake Café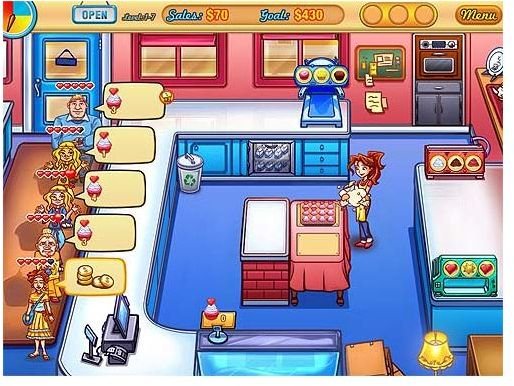 Jessica's mom owns several bakeries that have recently not been earning too much money. To help her out, Jessica offers to help turn them into hip cupcake cafes. It is a time management style game where score is based on total money earned and number of customers served during each level. To play, cupcakes are made by preparing the batter, baking, frosting and adding a decorative candy topper. As the game progresses, you can create new recipes for different types of cupcakes or select a pre-made recipe. Buy or try this game out through GameHouse.com or Shockwave.com.
Cake Mania 3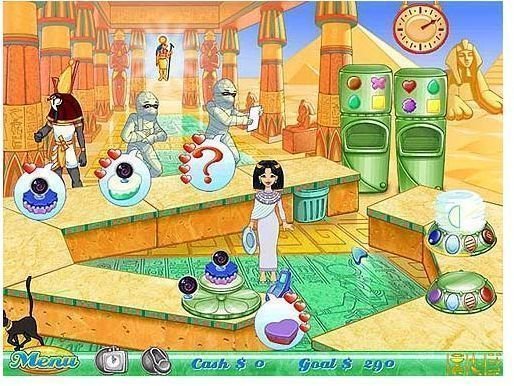 This is the third title in the popular cake baking game series. Jill is preparing for her wedding with Jack. Unfortunately, she along with her friends and family get zapped back in time as a result of the accidental destruction of the Time Bender Artifact. To get back, Jill must find all her loved ones and the pieces of the Time Bender Artifact by working at several bakeries and making cakes in different time periods. Consistent with the earlier Cake Mania games, score is based on the number of customers served and total cash earned. In between levels, upgrades can be purchased for improving cake production or Jill's overall performance. Cake Mania 3 is available through Big Fish Games.com or Sandlot Games.com.
Image Credit
Screenshot images for the cake baking games article were created by Sheila Robinson.