Candy Shop - Making Sweets like Lollipops & Chocolate for the Masses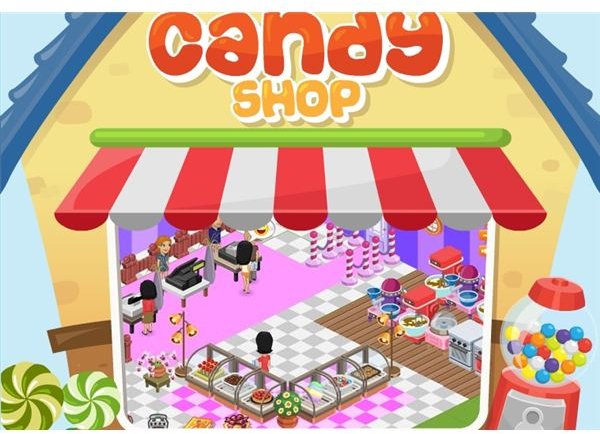 Tall Tree's Candy Shop
When it comes to cooking games on Facebook there is definitely no shortage. Players have a large assortment to choose from like the popular Café World to lesser known favorites such as Baking Life or Cupcake Corner. Tall Tree Games were highly aware of this when they decided to add their own version into the mix. It resulted with creation of Candy Shop another cooking themed game that let's players become expert confectioners and budding entrepreneurs simultaneously as they attempt to make delectable sweets while keeping profits up. This 2D social simulation game has a more playful animated style than its competition. Players open and run their own custom candy store serving a wide variety of candies and desserts.
Gameplay (4 out of 5)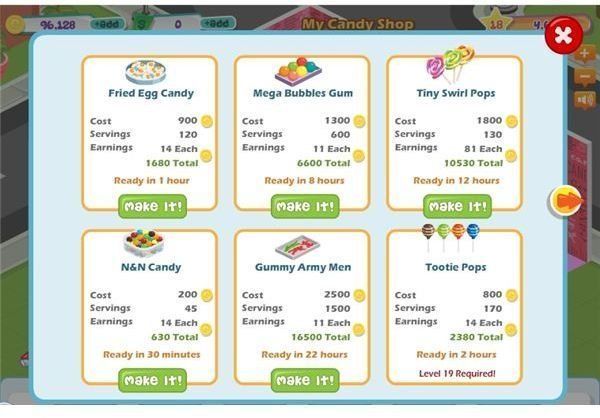 Each user starts out with a register, mixer, and two display cases. Most of the gameplay revolves around making sweets so the candy machinery is essential. Clicking the mixer will open up the cook book with available recipes to create. Each recipe cost a certain amount of coins and has a set length of time until completion. It can take anywhere between 1 minute to 2 days before candies are ready. There's a nice balance of short and lengthy sweets for players to select. Make milk chocolate bars, coconut infusion, tootie pops, N&N candy, marshmallow bits, shortbread cookies, and even apple pies. Click on the mixer for each step in the candy making process. Desserts that are ready will flash a yellow arrow. A quick click stores them in the display cases for customers to select. As players level up they can add more machinery, registers, and displays. Temporary employees work the floor with an option to hire fellow Facebook pals to fill in. The hiring process can be seem like spam since it requires users to repeatedly post hiring notices on their wall and wait for takers.
Graphics & Sound (4 out of 5)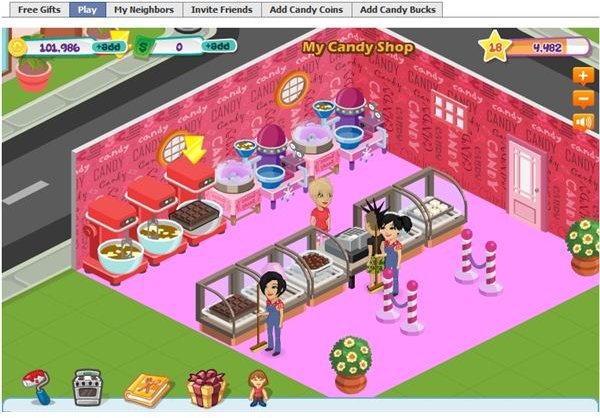 Although the graphics in Candy Shop is actually quite good there is little in terms of customization. Avatars perform the running man while waiting for selection but players are only allowed to choose random customized characters to represent themselves. The decorations are also limited with few themes. Players have a small selection of bright colorful tile flooring, striped wallpaper, brick panels, plants, abstract art, vases, lamps, and candy cane railings to spruce up the place. The energetic vivid cartoonish animation adds a light-hearted appeal to the game. The continuous mellow background music also creates a relaxing gaming atmosphere that's perfect for casual gamers.
Overall Rating: (4 out of 5)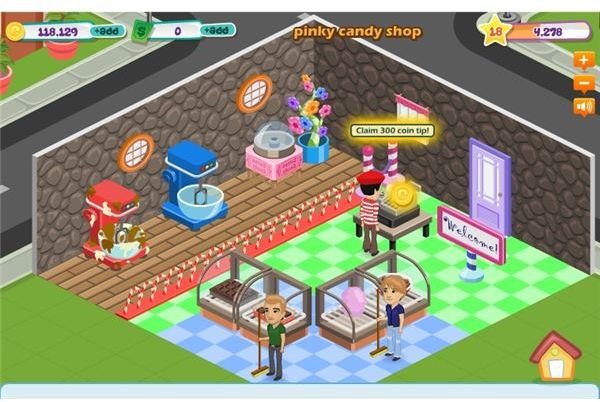 Despite its fierce competition it's a fun game to play. It has an almost effortless feel to it that other games simply do not have. Players make a myriad of mouth watering treats like caramel fusion, chocolate raisins, fudge bars, sour keys, gummy bears, tiny swirl pops, chocolate chip cookies, strawberry tart, blueberry pies, and banana flavored cotton candy. Hire friends to help out and share candies. Decorate and create a candy store worth traveling for. The easy going gameplay and soothing tune makes Tall Tree's Candy Shop the best destination for gamers to start their virtual confectioner careers.