Facebook's Cafe World Hints and Tips
Café World Hints and Tips
Facebook is a social network, and Café World is a particularly social game. You are running a café, cooking food and selling it to
passers- by. An amusing feature is your friend list is used to label different people who come to eat. They do not have an association of names with sexes, so a bodybuilder friend may come in with red pig-tails and a green dress. You also hire someone from your friend list as a waiter for the café at the start of the game. As you go up levels, your equipment and facilities improve, and you will need to hire additional friends to work in the café.
Make friends into neighbors
The first of the tips is to find out who among your friends is also playing. Your customers want to eat, and your buzz score, the rating of your restaurant, comes from people coming in and getting fed. You are not going to be able to cook enough to feed all the people who want to come in your café and eat with your own cooking, especially at lower levels. You can send café world friends a food dish once a day. The more friends who send you food the better, so you can keep feeding people and your buzz score keeps going up. If you run out of all food in the café, and the door is not shut, your score will drop alarmingly quickly. Neighbors send you food, and they can also help you out. When you visit their café, if you help them they will tip you coins. It is good to have friends! You can visit your friends and get a tip once a real day.
Food is a gift
You now receive messages about game gifts through email, if you sign up. Make sure you have given café world permission to post on your wall, even if you don't want them to have your email contact information, so you can see what your friends have to give away. They can also make a surplus, which you can click on to receive some servings. Serving gifts range from one to 10000.
You can find out what they are giving away from posts in your News Feed, from friends who cook up a surplus or cook a dish for the first time. When you cook a dish for the first time, you are offered the chance for extra servings of it, and you have a chance to post that you have extra food to your wall. So the more friends you have who play, the more food you will have to sell that you did not cook.
In the pre February version of Facebook, if you used this link in your browser, you would see a list of all the food your friends have shared in the past day or so, but the filter is not currently enabled. https://www.facebook.com/home.php?filter=app_101539264719. However, this article will be updated if the filter option starts up again.
*Update* Cafe World wall filter is working!
I've had a surprise :)
According to a comment posted by Alan Attebery on GamersUnite, a Facebook games discussion group, the wall filter does still work, but the useful results are coming up on the second page in posts. I've just tried it, and he is correct. At the very end of my first page of posts, there was one Cafe World post, and below was the line - show 17 similar posts. When I clicked on that, I had a group of 18 Cafe World posts from my friends in the last 24 hours, which, if they have food left to give, still are active.
What's the buzz?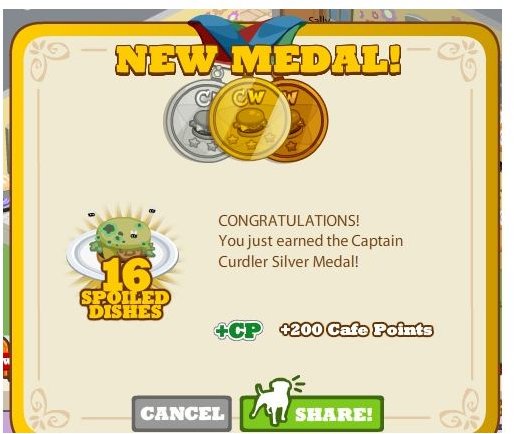 When someone comes in and eats, your buzz score goes up a tenth of a point, to a max of 105. When they come in and there is no food, they grumble, and your buzz points go down by a half a point. So one unhappy customer means you need to feed five people to get back to where your score was.
Medal up
In café world, there are three levels of medals. You can quickly get spoiled food awards. Dish Destroyer, the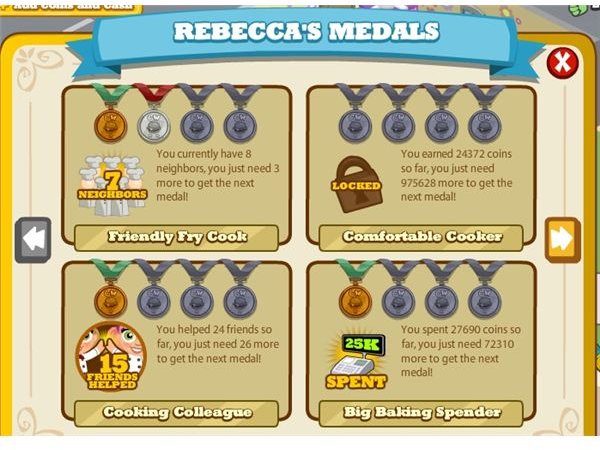 bronze level, only takes four spoiled dishes. Captain Curdler, the silver level medal, takes 16 spoiled dishes. You get medals each time you get a certain number of neighbors, and you can look through your friends to see who plays the game and is not your neighbor yet, and invite them. Another easy medal comes from firing your friends (as waiters.) Go through everyone you know, whether they are your neighbor or not. 50 friends fired should get you the highest medal.
Hints on food
Hint: food in your gift box does not go bad. You can come back to facebook after a two week vacation and sell the radish cake your friend sent you before you left. The food turns up in the requests section in the top right corner of your home page if it is sent directly to you, and you need to accept it. There seems to be a two or three week limit on storing requests from friends, depending on the Facebook game, so don't wait too long to move them to your gift box. Store up all the goodies that you can, and use up the oldest requests first. If you are cooking a dish, it will spoil if left out, so never leaving it out is the way to avoid the problem.
When you run out of food, you do not need to watch your buzz score plummet. The tip to keeping your score at the level it was when you ran out of food is to go to the chair at the bottom of the café world screen, click on new, and then click and hold your door, and pull it down out of your café. This leaves a wall without a door- so no one can come in and be disappointed. When you come back, put food on your plates, and just click on new and put the door back if the game does not do this for you.
Food left on the stove for longer than the time period it took originally to cook will go bad - and fill your kitchen with flies. You just need to click on your stove and clean it to get rid of the mess. However, spoiling food is not all bad. There is a medal to earn by spoiling food. If you want to get the medal quickly, rather than through accidental attrition, cook burgers continuously and leave them on the stove. If you do this with the door off, you are in no danger of upsetting customers.
Tip: big may not be better!
Another hint is don't be in too much of a hurry to expand your café when you have enough money. Having too many seats available means your food will get eaten very quickly. As well, when you go to enlarge or rearrange your café, make sure you do not have dead seats where the customers are not able to sit. It is frustrating to see someone leave in a huff when there was a seat they could have taken- if they could have reached it.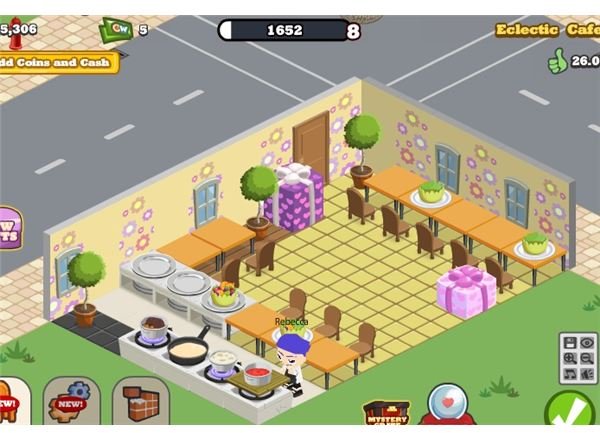 Final tips and hints
Finally, the last tip is it is actually a good idea to trap your wait staff behind the counter with trees, chairs and decorations. When they are free to move around, they must go to each empty plate and remove it before a new customer will sit down, and then bring them food soon after they sit. If your staff does not keep up with dirty plates, your customers will leave and drop your buzz score. If you trap your wait people, the food will appear automatically on your tables when someone sits and the empty plates will vanish when they stand up. You never have to worry about that as a reason for your score dropping again.
Additional Hints and Tips
You may also want to read these articles on doing well in Facebook's Café World:
Café World Review and Beginner's Guide to Cooking Dishes and Making Money