Play Abba Karaoke on the PlayStation 3 Console with Abba SingStar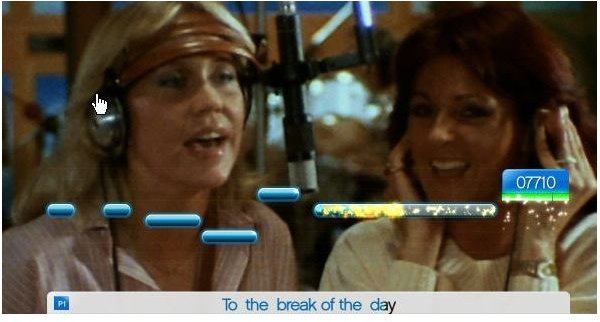 What is the Abba SingStar Pack?
The Abba SingStar pack features 25 Abba songs, mostly their greatest hits. If you're a fan of the Mamma Mia! movie or stage musical, you'll definitely enjoy this Abba karaoke pack. It's an obvious choice for Abba fans in general, but even younger generations who might never have heard of Abba will enjoy how upbeat and dancy the songs are.
The Abba SingStar pack is a standalone game. You must already have the microphones for the PlayStation console in order to play. But you don't need any previous SingStar volumes for the game to work.
What Songs are on the Abba SingStar Pack?
Several songs from the Mamma Mia! musical are featured on this Abba karaoke game. Songs like "Gimme, Gimme, Gimme (A Man After Midnight," "Mamma Mia," "Dancing Queen" and "Take a Chance on Me" made their way onto the game, as did several other hits, including "Waterloo," "Knowing Me, Knowing You," "Head Over Heels," and "Fernando."
There are 25 songs in all.
Ways You Can Sing Karaoke on Abba SingStar
Certain Abba songs, like "Does Your Mother Know" and "Take a Chance on Me" feature background vocals in the "duet" version of gameplay. Unless you're really good at harmonizing and singing with a quick tongue, you'll hate the duet versions of these two. They're hard to sing and even harder to determine which notes you should be singing to harmonize.
So instead of doing these in "duet" mode, perform them in "battle" mode, where both players can sing the lead parts, rather than suffering in the back with a nearly impossible part.
In fact, you can sing all of the Abba karaoke songs in either format. There's also a solo option if you like singing by yourself.
How is the Abba Karaoke Set Up?
This SingStar pack isn't your ordinary karaoke set. You'll still see all the lyrics on the screen, but you'll also get voice inflection hints, like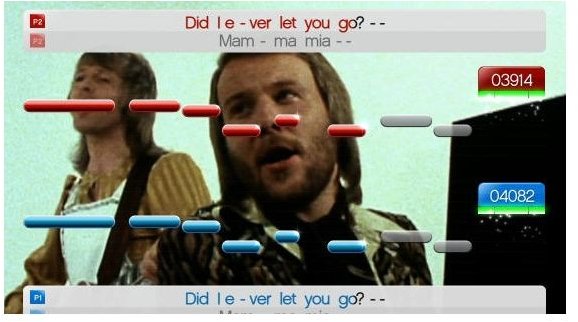 when you need to go up or down on a note. This is especially helpful if you don't know the song very well but still want to sing it.
And instead of staring at a plain blue screen like you would on an ordinary karaoke set, you get to enjoy the Abba music video that corresponds with the song. You might even get a kick out of the whacky clothing and hair featured in the videos.
Is the Abba SingStar Pack Appropriate for Kids?
This Abba karaoke set is very tame. There are only one or two references to drinking and adult situations, and these are pretty mild at that. Let's put it this way: The references in this game are much softer than the references in more modern SingStar games, which your kids are more likely to know how to sing.
Sources
Article Source:
My own personal experience playing this game and other SingStar games
Image Credit:
IGN: IGN for PS3