Band Hero Review (Xbox 360)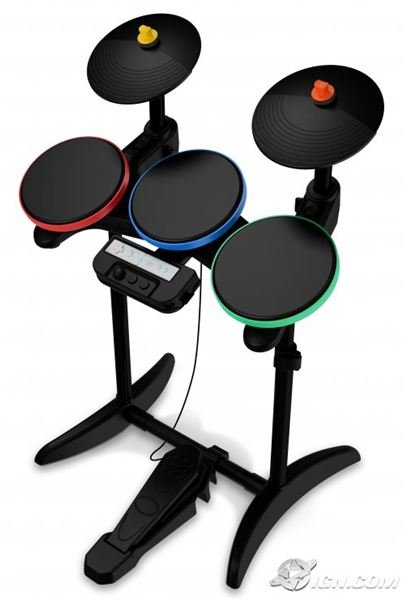 Introduction
The Guitar Hero video game series has been providing a rock music rhythm game experience since 2005, initially focusing purely on the guitar but introducing the full band experience with the release of Guitar Hero: World Tour in 2008. Along the way there have been several band focused games; Guitar Hero: Aerosmith, Guitar Hero: Metallica, and more recently Guitar Hero: Van Halen, at the end of 2009 Activision released two games to broaden the market though, unleashing DJ Hero in October 2009, followed by Band Hero in the November.
Whilst with DJ Hero Activision looked to appeal to fans of dance music, Band Hero is a game that has looked to attract those that love pop music, perhaps with an eye on the younger gamer with the use of pop artist Taylor Swift in its advertising campaign.
Band Hero is a Guitar Hero spin-off game, featuring the gameplay of Guitar Hero with a more chart friendly soundtrack.
Gameplay (4 out of 5)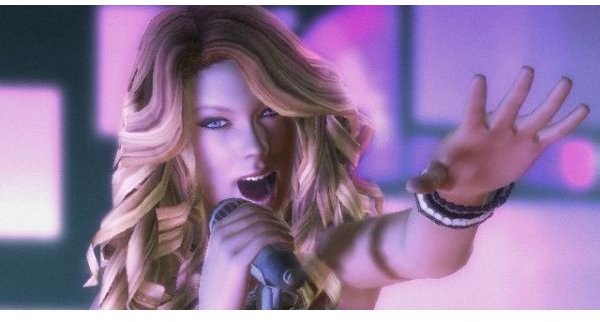 Just as with the other rhythm games Activision has released since Guitar Hero: World Tour, Band Hero provides the full band experience (Bass, Guitar, Drums, and Vocals), and features a total of 65 tracks allowing you to play along to some of your favourite pop rock tracks of the past 40 years. Taylor Swift, Adam Levine, and No Doubt are all playable characters within the game, and all of these artists have their music featured within the game.
Similar to Guitar Hero 5, Band Hero features drop-in/drop-out play, and comes with the career mode and single player option that we've become used to with previous rhythm games from Activision. If you're familiar with the Guitar Hero series then you should be comfortable with the way that everything is laid out within the game, and small tweaks have been made to the gameplay in order to enhance the overall rhythm game experience.
As with the full band Guitar Hero games there are five difficulty settings; Beginner, Easy, Medium, Hard, and Expert, so whether you're a rhythm game expert or just starting out there will be a difficulty level to suit, and even if you are new to the game then you can start at the easiest level and begin to work your way up through the ranks as your accuracy and timing improves.
Graphics and Sound (4 out of 5)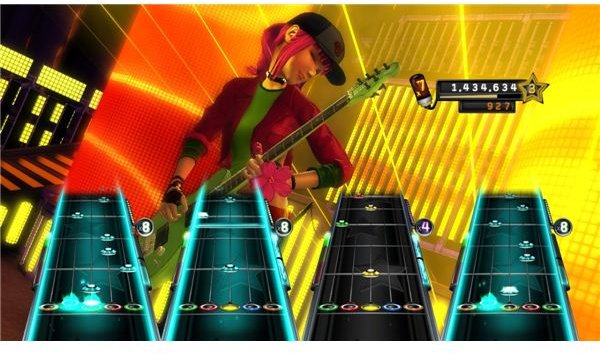 Band Hero is very visually impressive, and fans of the Guitar Hero series should be pleased with the graphics that the game has to offer. Band Hero is a great game to look at, and it's always fun watching the Taylor Swift, Adam Levine, and No Doubt animated characters in action.
With artists such as Pink, Avril Lavigne, and Hilary Duff as well as the likes of Fall Out Boy, Angels & Airwaves, and The All-American Rejects included within the game, there is a quality selection of tracks to play along to with Band Hero, and as well as current artists the game also features a healthy number of popular tracks from the past. David Bowie's 'Let's Dance', Duran Duran's 'Rio', and Styx' 'Mr Roboto' are all tracks featured within the game, and although the game is aimed at a more pop interested audience than the Guitar Hero series there's still a good range of artists to play along to.
What's slightly disappointing about Band Hero is that it only features 65 songs. 65 songs may not sound too bad, but when you compare this to the 86 songs that Guitar Hero: World Tour features and the 85 songs that Guitar Hero 5 has you begin to feel a little letdown that there are significantly fewer tracks with Band Hero.
Longevity (4 out of 5)
As there are fewer tracks to choose from than with other Activision rhythm games you may find that Band Hero keeps you interested for a shorter period of time than say Guitar Hero: World Tour or Guitar Hero 5 can, there are still 65 tracks to master here though so you should still find that you keep playing the game for quite a while. Despite having fewer tracks the game is still great fun to play, and if you're a keen fan of pop music then you should get a good number of hours of fun out of Band Hero, particularly if you're planning to complete the career mode for bass, guitar, drums, and vocals.
Overall (4 out of 5)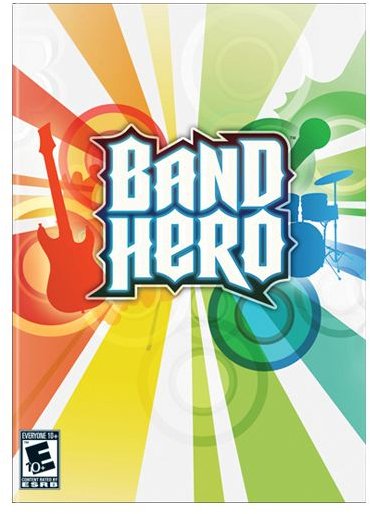 Band Hero is a good fun rhythm game to play, and if you already have compatible rhythm game instruments (Rock Band instruments will work with Band Hero as well as Guitar Hero: World Tour instruments) then I'd definitely recommend adding Band Hero to your collection regardless of how you feel about pop music. Alternatively, if you don't already own rhythm game instruments but do love pop music then Band Hero really is a must buy game; it's a fun game for all the family, a game that people of all ages will no doubt enjoy.
Band Hero could have included a greater number of songs, it didn't however and even though this is a slightly disappointing fact, it still doesn't change the fact that Band Hero is an incredibly enjoyable game to play.