ABBA Songs: Relive Your Disco Days with the ABBA SingStar Pack for PS3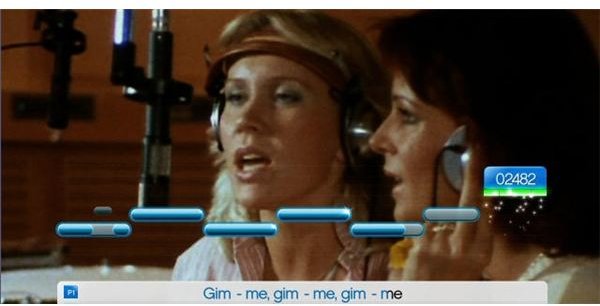 ABBA Pack Gameplay
The ABBA SingStar pack brings a few more features to the game that not all SingStar volumes contain. If you're hosting a party, you might select the "Pass the Mic" gaming option, which allows singing rotation during the same song for up to eight players.
70's disco songs were known for a lot of harmonies between singers. This song pack offers certain songs, like "Does Your Mother Know" that feature harmony lines and solo lines, so if one player has a well-trained ear for harmonizing, they might challenge themselves by singing a song with harmony lines rather than just two solo lines.
Of course, the pack also features the three most popular gaming options, which include solo singing, battles and duets. Here's how each of these work:
Solo: You're playing by yourself. Try to beat your last song score by staying on pitch and holding each note for as long as the bar on the screen prompts you to hold it. You're not competing against anyone but yourself in this mode.
Battle: You and one opponent sing the entire song together. The goal is to get the highest score and beat your opponent.
Duet: The lyrics in the song are divided equally between two opponents. Your chance to shine comes when lyrics on your line are highlighted. Your goal is to get the highest number of points between the two of you to beat out your previous score or get higher points than other friends who are dueting against you.
The Songs
Let's take a look at which ABBA songs made the cut on the SingStar song pack. They've been divided up into categories in terms of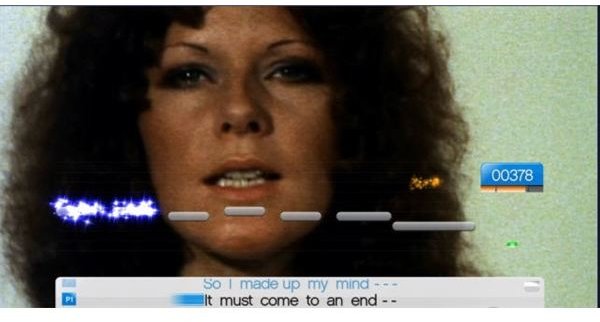 overall ease of singing.
Easy songs: ABBA singles sound so easy to sing to. But when you pop in the disc and actually start singing, it's a lot harder to stay on pitch the way the game is set up than you might think. Some of the easiest songs on the pack include "SOS," "The Winner Takes It All," "Money, Money, Money," "Super Trouper" and "Knowing Me, Knowing You."
Medium songs: Songs in this section have several ups and downs in the vocals that make staying on pitch a little more difficult. Most of ABBA's popular radio hits fall into this category. These include "Gimme! Gimme! Gimme! (A Man After Midnight)," "Dancing Queen," "Mamma Mia," "The Name of the Game," "When All Is Said and Done," "Head Over Heels" and "Voulez-Vous." The guys might find some of these especially hard to sing to, especially "Dancing Queen," as the chorus goes fairly high.
Hard: Some of the most difficult songs on the pack are either hard to follow, difficult to stay on pitch with or might not be the most well-known by some of the younger players. These include "Chiquitita," "Fernando," "Happy New Year," "I Do, I Do, I Do, I Do, I Do," "One of Us," "Ring Ring," "Summer Night City," "Thank You for the Music," "The Day Before You Came" and "Under Attack."
Harmonies: The harmony parts spell trouble for anyone who doesn't have a good ear or a strong background in music. For some songs, it also requires a fast tongue. Songs with harmonies or difficult singing passages that seem to mimic harmonies include "Does Your Mother Know," "Take a Chance on Me" and "Waterloo."
Singing Tips
Before you jump "head over heels" into singing these ABBA songs, here are a few pointers to keep in mind as you play.
Don't try to use the same vocal inflections as ABBA. Even though things like vocal vibrato and wavering vocal passages find their way into the songs themselves, the PlayStation game won't read them – they'll count them as being off-pitch or completely off-key. Make sure you keep the vocals fairly straightforward and directly on pitch to score high points.
Enunciate the words. Sing as clearly as possible. The PlayStation will pick up the notes even if you just hum, but you'll have an easier time moving from word to word if you pronounce them properly. Don't slur and try not to speed up or slow down.
Sing loudly. For some reason, the PlayStation awards more points to the louder singer, even if they're a little bit off-key. If you sing too softly, the game doesn't read it as well. So take a deep breath and belt out those lyrics! In other words, sing like nobody's listening, even if you've got your whole theater troupe over for the cast after party.
Sources
My own experience
Image Credit: