Song List for Rock Revolution by Konami for the Wii, XBOX 360, PS3, and DS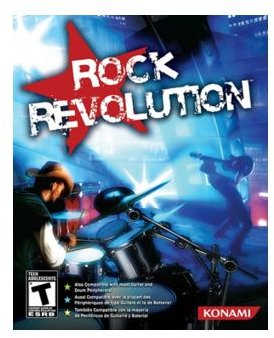 Images
Inspired by Guitar Hero and Rock Band, Rock Revolution is by Zoe Mode and published by Konami. It was released in October of 2008, to fairly good reviews although it lacked the vocal based play that Rock Band had. There are 41 songs on all platforms except the DS which has 20. For the XBOX 360 these open up achievements that you can earn for gameplay.
The game has a guitar and drum peripherals for use, however like was said above, there is no vocal option on this game. It appears that the guitars and the drums from any of the Rock Band and the Guitar Hero sets will work with Rock Revolution, so there is some mixing of the gaming between the sets.
The songs in the listing all have difficulty ratings from one to five skulls, precisely like the difficulty ratings in Rock Band 2, for the guitar, the bass, and the drum sections of the songs. There will by songs available for download, however none have been announced as of yet.
These are the songs for the game (that are all cover songs and not by the original artists except for the Linkin Park and the Finger 11 songs).
Song List
"All My Life" Foo Fighters
"All The Small Things" Blink-182
"Am I Evil?" Metallica (NOT on Nintendo DS)
"Are You Gonna Be My Girl" Jet
"Bad Reputation" Joan Jett
"Blitzkrieg Bop" The Ramones
"Chop Suey!" System Of A Down (NOT on Nintendo DS)
"Cum on Feel the Noize" Quiet Riot (NOT on Nintendo DS)
"Dance, Dance" Fall Out Boy
"Detroit Rock City" Kiss
"The Diary of Jane" Breaking Benjamin (NOT on Nintendo DS)
"Dirty Little Secret" All-American Rejects
"Dr. Feelgood" Mötley Crüe (NOT on Nintendo DS)
"The End of Heartache" Killswitch Engage
"Falling Away from Me" Korn
"Given Up" Linkin Park
"Heading Out to the Highway" Judas Priest
"Highway Star" Deep Purple (NOT on Nintendo DS)
"Holy Wars…The Punishment Due" Megadeth (NOT on Nintendo DS)
"Joker & the Thief" Wolfmother
"Kiss Me Deadly" Lita Ford (NOT on Nintendo DS)
"Last Resort" Papa Roach (NOT on Nintendo DS)
"Magic Man" Heart (NOT on Nintendo DS)
"No One Like You" Scorpions (NOT on Nintendo DS)
"Our Truth" Lacuna Coil (NOT on Nintendo DS)
"Pain" Three Days Grace (NOT on Nintendo DS)
"Paralyzer" Finger Eleven
"Pull Me Under" Dream Theater (NOT on Nintendo DS)
"Round and Round" Ratt (NOT on Nintendo DS)
"Run to the Hills" Iron Maiden (NOT on Nintendo DS)
"Sk8er Boi" Avril Lavigne
"Somebody Told Me" The Killers
"The Spirit of Radio" Rush
"Spoonman" Soundgarden
"Still of the Night" Whitesnake (NOT on Nintendo DS)
"Stone Cold Crazy" Queen (NOT on Nintendo DS)
"Walk" Pantera (NOT on Nintendo DS)
"We're Not Gonna Take It" Twisted Sister
"White Room" Cream
"Won't Get Fooled Again" The Who
"Youth Gone Wild" Skid Row