SingStar Review for the PlayStation 3 - Sing Karaoke in Your Living Room on the PS3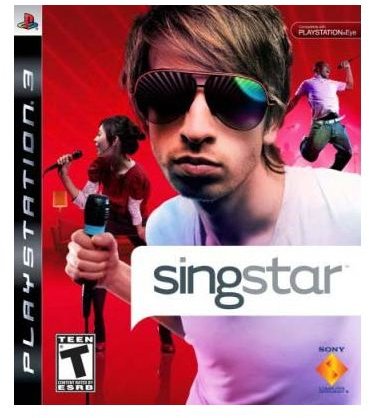 PS3 Singstar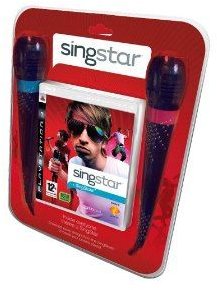 PS3 Singstar
I credit Singstar with being so much fun that my wife allowed me to get a Sony PlayStation 3 just because she wanted to play it. We first saw this game at a cousin's house, and it was so much fun that we had to get it for ourselves. Not only is this the ultimate party game, but it's also great fun to play as a couple. I haven't worked up the nerve to play by myself yet.
Singstar is a karaoke game that originated with the PS2. There's actually a series of Singstar games out right now, with a half dozen or so for the PS2 and two more for the PS3. The first game you buy needs to be one that comes with the dual microphones, and after that you just need the game discs. The PS3 version sports much better graphics and accessibility to the online archives of shared audio and video from other players. The microphones that come with the games are the same for either console, and are relatively inexpensive.
Gameplay (5 out of 5)
The way this game works is you sing along with the music video for the song. There are three levels of difficulty that involve how well you can get the tones right in Easy mode to actually having to sing the song in Hard mode. Since the game comes with two microphones, you can sing duets or even battle opponents for points. When the song is over, you can play back your awesome vocal skills, and even save the recording to post online for others. If you have the PS3 EyeToy, you can even take a video of your singing and post it online.
When you start to sing, you'll quickly find that some are easier to sing than others. It's also a little frustrating when you think you know a song, but soon realize you mainly just know the chorus. Other songs, like Blind Melon's No Rain, contain so many little vocal ups and downs with Shannon Hoon's 'woo-hoo-hoos' that they can be difficult unless you really know the song well. Others, like The Rolling Stones' Sympathy for the Devil or Beck's Loser, feature mostly spoken lyrics and you have to know the words pretty well to get them all out in time.
Each song line is shown on the screen with some bars to indicate highs and lows, plus it shows where you are singing. You get points for how well you match the singer's voice. Every song has some bonus areas for harder parts of a song, such as where you have to hold a note for longer than usual, and if you nail them you will get extra points. If you're having trouble with an unfamiliar tune, you may want to just let the song play once through before you even try to sing along.
Online Features (3 out of 5)
Not only is singing the songs at home quite a lot of fun, but going online to view other people's videos is just as entertaining. You can rate the videos and check out the most viewed or highest rated ones. It's so much fun to see the pure joy on people's faces as they laugh and giggle their way through the songs. Often the best videos are where people put on a little show for the camera, rather than the ones who just sit on their couch and belt out tunes. I haven't seen anything dirty on there, as anything bad would be reported. Of the many videos I did watch, most of them showed people of all ages and races having brief moments of pure joy as they pretended to be rock stars in their own living room.
Overall (5 out of 5)
If you want to liven up a party or really embarrass yourself in front of your friends, get a few people together and put Singstar in your PlayStation 3 and start belting out the tunes. There will always be some people who are too shy to sing in public, and those folks can just sit on the sidelines and laugh. The rest of us can have a good time with this game, and it just might help you build a little self confidence in the process.
If you are an Abba fan, then you may also want to check out Singstar: Abba for the PS3. It's a whole new Singstar game filled with nothing but Abba songs, many of which appeared in Mamma Mia. I suppose licensing issues kept them from just calling it Singstar: Mamma Mia, but the original songs are all there.
Song Listing
Here are all the songs and accompanying music videos that come with the PS3 version of Singstar. In addition to these songs, there are hundreds more available online for you to buy.
Amy Winehouse - Back to Black
Beck – Loser
Blind Melon – No Rain
Blink 182 - All the Small Things
Britney Spears - Toxic
Coldplay – Clocks
Corinne Bailey Rae – Put Your Records On
Dave Matthews Band – Crash Into Me
David Bowie – Let's Dance
Faith No More – Epic
Franz Ferdinand – Do You Want To?
Jane's Addiction – Been Caught Stealing
New Found Glory – My Friends Over You
Ne-Yo - So Sick
Outkast - Hey Ya
Pixies – Here Comes Your Man
R.E.M. - Losing My Religion
Radiohead - No Surprises
Scissor Sisters - I Don't Feel Like Dancin'
The Automatic Automatic - Monster
The Cardigans - Lovefool
The Killers - Mr. Brightside
The Pussycat Dolls - Beep
The Ramones – I Wanna Be Sedated
The Rolling Stones – Sympathy for the Devil
The Smashing Pumpkins – Today
U2 - Beautiful Day
Warrant – Cherry Pie
Weezer - Buddy Holly
Wolfmother - Love Train