Foo Pets Game Basics (3 out of 5)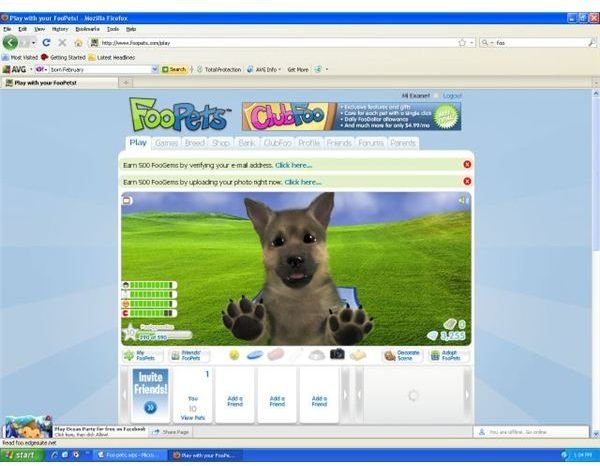 Foo Pets is a basic pet management game with the goal of the player to look after a virtual pet. The animals are quire realistic looking but the game window is rather small. Your pet will move around the play area and respond to you when you pet it. You need to feed and water your pet each day to keep the animals thirst and hunger bar at full capacity. This works just like needs do in the Sims style games. You have several options for play such as a ball, frisbee, and a chew toy. Your animals can be breed once they reach a certain age and you can decorate your play area with things from the game shop. Players can join the Foo Club and pay a fee for a few Foo dollars every month. As youplay you will get Foo gems to use in the game shop but Foo dollars will require real life cash to purchase.
Caring For Your Foo Pet (4 out of 5)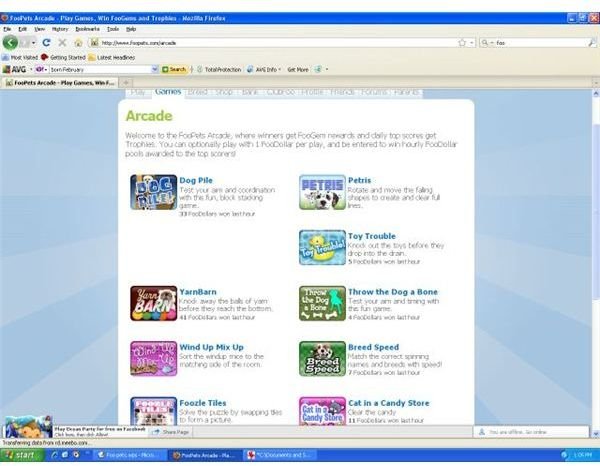 Like all animals your pet requires daily care to keep it happy. Pets that are not looked after will be sent to the Foo shelter. Once you start playing your Foo pet exists for the extent of its life so you can't uninstall or quit the game. It is unclear if your Foo pet actually dies after a certain period of time or just how long they live. If your away from the game you can reclaim your pet from the Foo pound and keep playing. The game will even penalize you if you don't claim your pet within a certain amount of time and you will need to pay game gems or Foo dollars to get your pet out. You need to feed and give your pet water every twenty four hours. Additional food can be bought in the game store and you will get some Foo gems to buy food or other items as you play the game. You can also transfer your pet to another owner if you decide you don't want it.
Foo Pet Profile (4 out of 5)
Each pet has a profile page with information about your pet including how old it is. You can change the description of your pet at anytime. The care history will give you the most recent events in your pets life such as being fed or a play session. The profile will also give the time needed before your pet is old enough to breed. If your going to be away from the game you can use the profile page and send your animal to the kennel for care which will cost you a significant amount of gems or Foo dollars. Photographs you take during game play can be stored in your pet's profile page too.
Foo Pets Game Store (3 out of 5)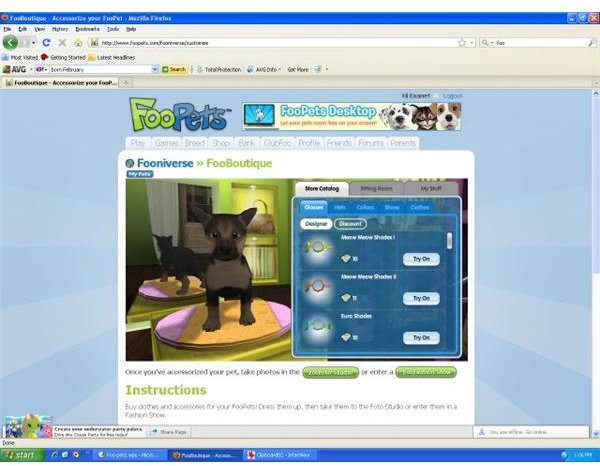 As you play and care for your pet you will accumulate Foo gems which can be used purchase food or other items for your pet in the game store. New players will want to click on "starter" in the game store for lower cost items. The problem with the game store is everything in it is very expensive and you will need quite a few Foo gems or Foo dollars to purchase any items at all. A few low cost items would be ideal just so you can see how things would look in overcame store. While many of the items are great such as different toys and backgrounds they are out of the price range of new players with nothing basic you can become quickly bored with your plain game screen.
Mini Games and the Foo Universe (4 out of 5)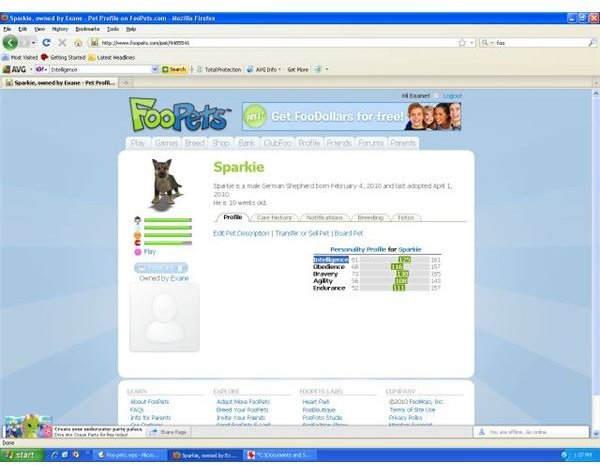 To make additional game gems you can play mini games in the game play area. If you win you will get some Foo gems to use. If you are good at short mini games you could accumulate quite a few gems playing these games to spend on your pets. You can also win a small amount of Foo dollars if your at the top of the leader boards too. The Foo Universe is a place your pet where you can do fun things such as dress them up, take pictures, or hold a fashion show. While the concept seems great the loading times for this section of the game is painfully slow. The universe is actually quite fun once it loads with the fashion show and boutique. Small children would enjoy this section.
Foo Pets and Parents (4 out of 5)
Perhaps one of the only redeeming properties of this game is that it can help a child learn about taking care of a pet. Parents can use the game to teach the responsibilities of feeding, providing water, petting and grooming a pet. A parent could use this game as a tool for their child before going out and buying an animal. A membership in the Foo Club is available which will offer a few more features for you and your child.
Game Interface (3 out of 5)
The Foo pets interface is very slow and at times not responsive especially when loading the slow Foo Universe. You can get a bit better performance by using Firefox. The main game screen looks fine and your pet is quite life like but the number of offers from the Foo store under the game screen clutters the page. The game screen needs to be larger since it is far too small.
Conclusion
FooPets can teach a child about caring for an animal and it does have some cute and fun games to play. The need to spend real life dollars for many of the store items is a big down side to this pet management game. The slow loading times over much of the site give FooPets the thumbs down. Parents may be better off to buy a real life pet and leave Foo pets to the virtual universe.