Game Hints and Tips for Paradise Pet Salon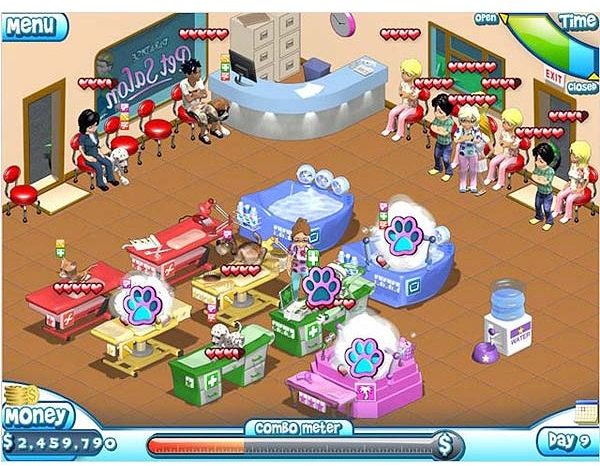 About Paradise Pet Salon
In this cute time management game, you will have the opportunity to run multiple pet salons. You play a young girl who tries to earn a living by working for Pet Corp, but gets fired for being too efficient. She then decides to go into the pet salon business for herself. Starting from scratch, her money and equipment are limited. Can she build up her salon and buy up the other shops to put Pet Corp out of business?
Game Play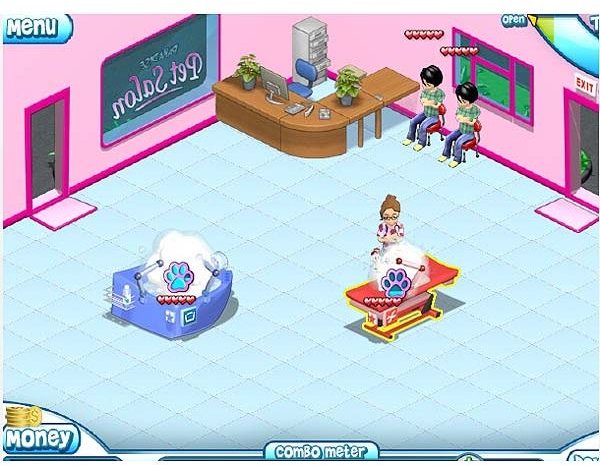 The main goal in Paradise Pet Salon is to earn enough money to purchase a series of pet salons. You begin the game with a basic shop that has little equipment.
In every level, customers will arrive with their pets and request salon services. These include bathing, grooming, styling, spa and medical treatment. To play, click on customers to take their pet, and then click on the service station they have requested. Services can be identified by the small icon that appears next to the pet's head.
Services are completed automatically by a machine. Once completed, click on the pet and then click on their human companion to deliver them and collect the money for the services. Game play continues until time runs out.
In between levels, you have the option to purchase items for your salon through the Shop. These include equipment, furniture, interior decorations and upgrades. You will also have the option to buy a new salon once you have completed several levels and accumulated enough money.
You win the game once all eight pet salons have been unlocked and their corresponding levels have been completed.
Game Tips
Your character can hold two pets at a time. Use this to your advantage. If there are several pets that need multiple services, you can temporarily hold onto a couple of them while others are receiving services. Then you can easily exchange pets to the machine by clicking on it twice, once to remove a pet that has already received the service and then again to place a new pet on the machine.
Purchase chairs to help increase customer's patience. If you are short on chairs, customers will end up standing while they wait.
Many human customers look alike. This can make it difficult when you are trying to deliver pets. An easy way to identify them is to look for a dollar sign to appear above their heads. This will appear shortly after their pet's services have been completed.
As levels progress, the number of pet customers will increase. To help you out, hire an assistant. She will automatically deliver pets to customers once their services have finished and collect the money.
Aside from the basic washing and cutting machines, don't buy any new ones until you find out that they are needed in order to stay competitive.
In Paradise Pet Salon, you can have a maximum of 9 stations at each shop.
Upgrading equipment speeds up the time it takes to perform a service. You can identify the machine's current level by the number of stars displayed on the side (maximum of 3).
Water and treats boost pet's moods. However, you can only benefit from it once their heart meter (mood) has decreased.
Bonus points can be earned through the combo meter. This will build up every time a pet is placed on the correct station. Points are given once the meter is full.
You earn a 50% bonus to the money you earn for every shop you own.
Image Credit
Screenshot images for the Paradise Pet Salon article were created by Sheila Robinson.