Club Bing Game Guide: Play Chicktionary and Crosswire to Win Prizes!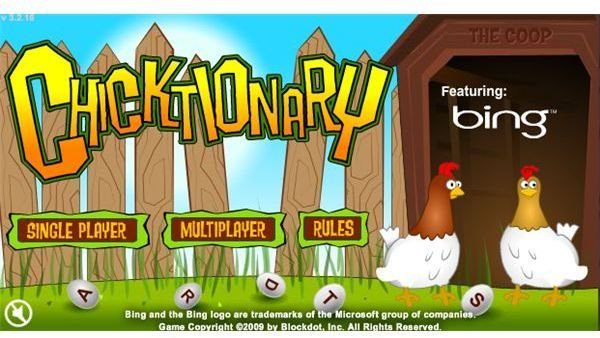 If you haven't already heard of Club Bing, the gaming site from the mega-search engine Bing, then it's time for you to get the skinny on what more and more people are buzzing about! Club Bing is full of trivia games, word searches and more- and you can play all the games for free! But that's not the best part…when you play the games you earn tickets that are redeemable for all kinds of super cool prizes like cameras, books, video games and more. You can even earn enough tickets for frequent flyer miles! This site has got me hooked and anyone else who loves a good brain buster will be addicted too!
Chicktionary
How well do you know the English language? Test your word knowledge with Chicktionary on Club Bing! You will have a set of letters and your goal is to unscramble and create as many words as you can until you fill out all the empty spots in the eggs with words that will fit in them. Chicktionary is one of the most played games on Club Bing with hundreds of players constantly playing it at any time of the day.
Some of the features of Chicktionary include:
You will get your brains waves flowing by discovering patterns in the letters that make out words.
You can play Chicktionary against other players online, if you want to!
You can ask for a hint if you're getting stuck.
Finsihing the puzzle will earn you twenty tickets.
Crosswire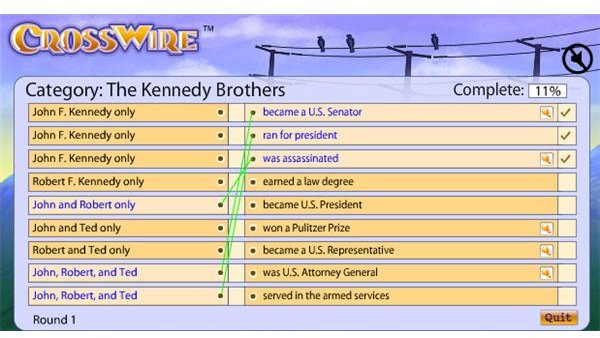 In Crosswire you have two columns, the left side has a of list people, places or things and the right side has a description of each one of the words on the right side- you match up the correct ones. Each puzzle has a theme and you'll play through two rounds until you reach the final round.
Some of the features of Crosswire:
There are clues for a few of the words or descriptions to help you out.
You can always perform your own Bing search to try and figure out the answer.
Crosswire will test your trivia knowledge on various topics and will help you practice your internet researching effectiveness.
If you solve all the puzzles you will receive twenty tickets!
Spelling Bee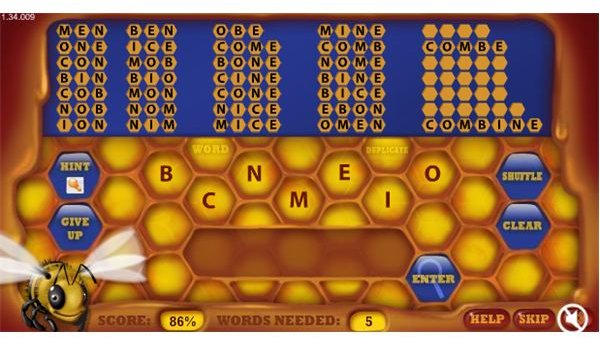 Spelling Bee is another word scramble game where you work to try and make as many words as you can out of the letters they provide you with. Spelling Bee is the usually the most played game on Club Bing. It is basically the same thing as Chicktionary but you fill in the open spaces in honeycombs rather than eggs.
Some of the features of Spelling Bee include:
It will test your word I.Q.
You can re-scramble the words several times.
You can get a clue to help you find words.
If you complete the puzzle you will receive twenty tickets for redeemable prizes!
Seekadoo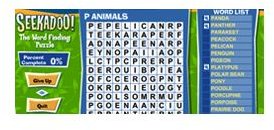 Seekadoo really will challenge all crossword puzzles lovers out there! Unlike traditional crossword puzzles, there are only a few descriptive clues to help get you going and the rest is up to you. You must find the hidden words in the puzzle using your knowledge of the English dictionary and the puzzle's theme.
Some of the features of Seekadoo include:
This one is a major brain-buster, but a lot of fun- you will definitely stimulate your mind with Seekadoo!
Because Seekadoo doesn't have clues for all the words in the puzzle, it tends to be more a challenge.
If you complete the whole puzzle than you get fifteen tickets that you can trade in for very cool prizes!
Club Bing Keeps Those Brain Waves Flowing!
Club Bing is one of the coolest sights to play games on for free out there, and there are many more games for you to choose from! Play games and earn a trip across the globe! Make friends in the Club Bing online commmunity of gamers or invite your friends to join. You'll have hours of fun while exercising your brain!
Credits
Resources and Images: