Opportunities for role-playing in Renaissance Kingdoms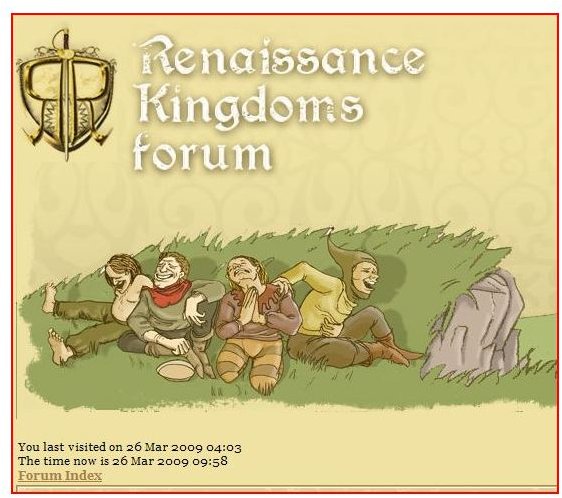 Role-playing opportunities
Renaissance Kingdoms gives you ample opportunity to indulge in role playing, through its carefully marked out forums. There are two different forums, the first one being an entirely public forum, where players can interact freely with other players of the same "towns" and "countries". The second forum is more of a private area, or the sub forum, where players create their own private groups and where access is limited. Here are some of the broader areas where you can explore the RP options with ease.
Families
Families are one way to indulge in a community based role play. Players are encouraged to form their own families, invite other people to become members of the family, and indulge in a very entertaining role play. There is usually a forum moderator who keeps track of the families of a particular Kingdom. Families can become Noble families, August Houses, Exalted House and even Royal Houses, upon fulfilling certain criteria.
Guilds and Associations
Guilds or organizations are another way of indulging in role play. These player made organizations are based on specific interests and anyone fulfilling the criteria may become a member. There are professional guilds, guilds for legal representation, the specific armed groups and guilds along with the family forums.
The Glen and the Weald
These are two special sub-forums of Renaissance Kingdoms which are excellent to go for, in case you want to role-play. The Glen, as the name suggests, is a tranquil area which many players use freely to initiate role-plays which they wish to share with people of other towns and counties. The Weald, on the other hand, is an opportunity to explore the darker side of your creativity – all night time, spooky, adventurous, and sinister kinds of role-play opportunities are available here. Expect some fantastic leads and some heavy duty role-play in here.
Politics
While the in-game political scene is limited to the Count, the Mayor, and the town/county Council, there are many more opportunities to role-play your talents, through the forums. Starting with simple opportunities as the trade minister or ambassador to another county, you can aspire to become the Regent Elect of the Kingdom you are in. Write for the local newspaper, or become a revolutionary. Each Kingdom, County and Town may have its own set of rules, to ensure that every player can enjoy the role-play.
Titles
Experienced and active RPers can get themselves honored through titles. While you can gain the title of Lord by purchasing the token credits for real money, you can become Duke/Duchess, Marquess/ Marquis, Earl, Viscount and Baron through RP, for free. Each titled person can display his or her own Coat-of-Arms in their forum signatures and other people would be expected to address the person with the correct title and degree of respect.
The Renaissance Newspaper, or the AAP
Just like the local newspaper, Renaissance Kingdoms has its own press agency called the Actillon Agency Press, or the AAP. Although it's as imaginary as the whole game itself, the AAP has come out to be a dedicated organization with it's own staff of Reporters and Editors. You can become of a nosy snoop for the AAP, or a dedicated reporter and can earn the in-game currency for your hard work. Sift through the RPs of the Kingdoms and bring out the news. AAP has its own website and is available to every Kingdom it the local language.
A view of the AAP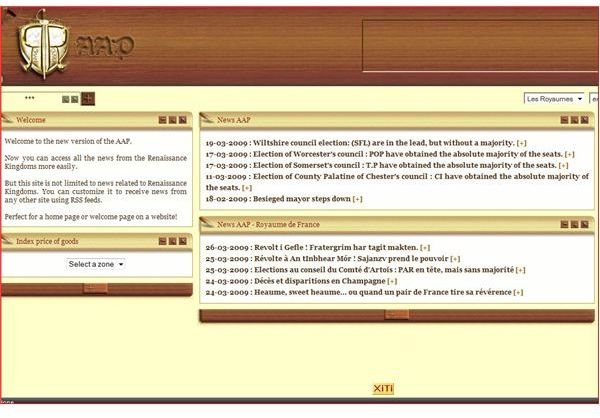 Armies
As a role-play option, you can become a soldier. Most counties have their own way of recruiting people as soldiers, which are then formed into in-game groups for fighting and defense. Other than that, wars and armies are a way of RPing. You start with the lowest rank, and would need to fulfill certain criteria to gain higher ranks by means of role-play promotions.
These are not the only RP options available to you, as you are free to go ahead and do your role-plying in a unique way. So give in to your imagination and create your own identity in Renaissance Kingdoms. Your RP does have a chance of being featured as the most interesting role-play of the year at the annual RK awards hosted by the player community itself.