Editor's Note: This article was originally published in Feb of 2011. Since that time Mattel has taken down the Blokus game due to it not meeting their playability standards. It may revive the game some time in the future, but as of now the details are unknown. We have left this article up for reference purposes.
Overview, History and Accolades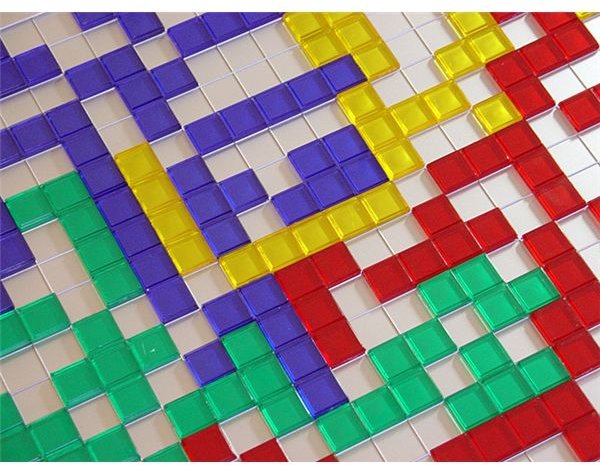 Released in the year 2000, Blokus, a spatial strategy game where players compete to capture space within a playing area using plastic pieces that resemble Tetris blocks (albeit with a greater variety of shapes). The play area consists of a 20 by 20 grid, creating a total surface of 400 squares in which to place your blocks. Blokus has won numerous awards, including the Mensa Select Award and the Teacher's Choice Award. Supporting two to four players, Blokus is a great strategy game for small groups. Players attempt to fit as many of their 21 unique shapes into the playing area as possible, with a catch–you must begin play from a corner, and your pieces may only touch one another at the corners.
Blokus was Acquired by Mattel in 2009 through their purchase of Sekkoia SAS. Mattel also owns the site where you can play Blokus online for free.
Blokus: Play Online For Free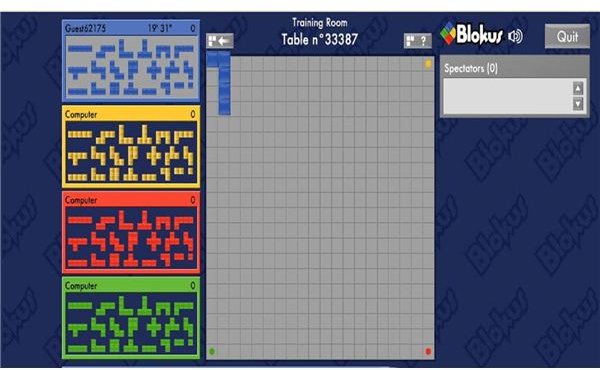 Mattel offers a a fully interactive Blokus site with simple navigation and in-browser play for the online Blokus strategy game. Clicking the "Quick Play" button begins a new game of Blokus versus all computer opponents. This will allow new users to acquaint themselves with the rules and controls of Blokus online. Flip your pieces around for the best placement by pressing the arrows on the navigation bubble that appears near the bottom of the screen.
You can learn your chops against computer opponents for as long as you like, but when you are ready to play Blokus online versus other humans, simply venture into the players lounge by either opting to play as a guest or choosing to register with the site free of charge. In the players lounge, you can choose from training games and competitive games. The competitive games count towards your leader board score, while the training games are not ranked matches. Additionally, the training room offers non-standard game types and variants that cannot be played for rank.
Blokus Online Community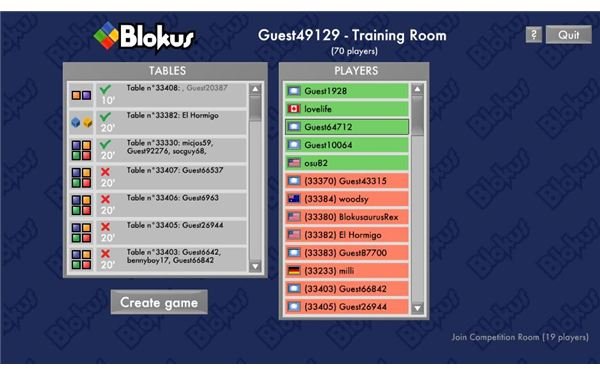 The community is alive and active, with many players from all over the world seeking games even outside of prime-time hours, something that is not always common in online game communities, especially for more obscure games. You can Invite players from the lobby to join your specific game, so it is easy to accommodate a group of online friends who would like to play against one another. Additionally, Mattel has attempted to make the online experience more family friendly by auto-filtering any speech that is likely to be considered offensive or inflammatory, to help create an online environment that is friendly to children.
Credits and Resources
Blokus Final Board Close Up Photo : By Aldaron, a.k.a. Aldaron (Own work) [CC-BY-SA-2.5 (www.creativecommons.org/licenses/by-sa/2.5)], via Wikimedia Commons
Blokus Online Faq: https://blokus.com/en/faq_online.html?pays=us
Play Blokus Online for Free: https://www.blokus.fr/online-game/
Screenshots of the Blokus.fr/online-game website taken by Michael Elkins
This article has been placed in our archives.