Hospital Haste Game Hints and Tips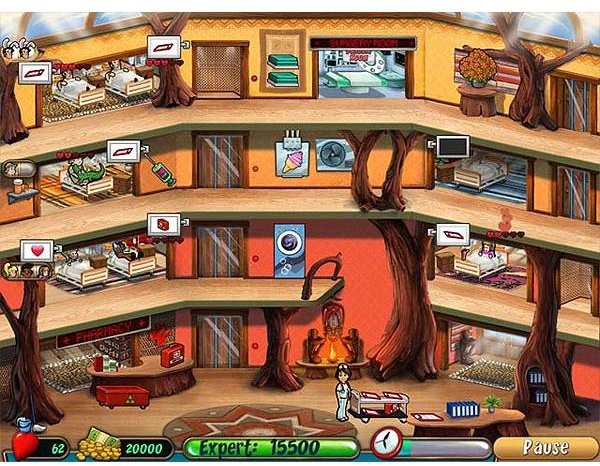 About Hospital Haste
Hospital Haste is a time management game with a medical theme. You play Sally, a recent nurse graduate. She and her doctor friend want to open up a clinic to help people. However, they will need five certificates from different clinics or hospitals as proof of their skills and reliability. Can you make their dreams come true?
Game Play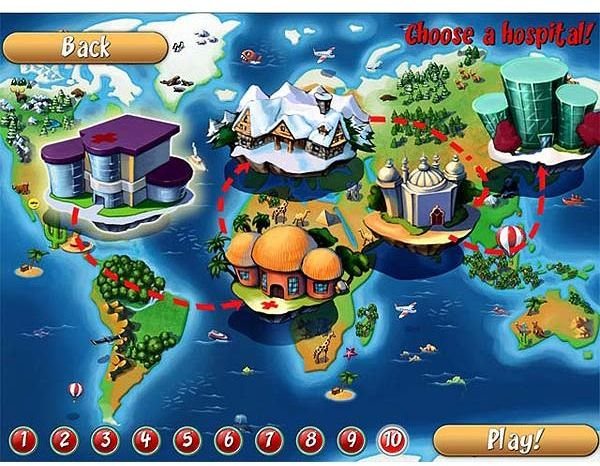 For those familiar with Hotel Dash, the layout of this game looks a bit familiar. Patient rooms are on multiple levels that can be accessed by elevator. Also like the Dash game, Sally moves medical related items by cart to deliver to patients.
To play each level, you will need to wait for patients to arrive at the clinic. Click and drag them to an available open room. At this point a paramedic will take the patient by wheelchair to the appropriate room. You will then need to bring the patient's chart to their room by clicking on the check in counter which will place it into Sally's cart. Sally delivers it and then brings the patient medication and any other item needed to help heal them. Once all treatment has been completed, the patient leaves the hospital. The room will then need to be cleaned and the laundry removed. To do this click on the dirty room to pick up the laundry and then click on the washing machine to clean the items.
Game play continues until the end of Sally's shift. If you have succeeded in scoring the appropriate amount of points, you will move on to the next level. Each level that follows will increase the number of patients, some with different ailments and levels of patience.
In between levels, items can be purchased with the points you have earned. There are two sections to buy items. The first one is related to items used to treat patients. If you have enough points, a single item can be selected from this section per level. In the second purchasing area, you can purchase items to help improve Sally's performance, increase the patience of waiting people and speed up the process of healing patients.
Win the game by completing all levels in five clinics.
Game Tips
At the beginning of each section of Hospital Haste, Sally's cart can only hold two items. This should be one of the first items upgraded. The more items you can carry, the faster you can deliver medical items to patients. Sally's shoes can also be upgraded to increase her overall speed.
Hire an additional paramedic to help move patients to rooms. Upgrading them increases their delivery speed.
Some patients will require multiple treatments. For instance, they may need to be given medication or shots twice.
The sofa, paintings and plant upgrades will increase waiting people's patience.
Chain bonuses are earned by placing patients with the same ailment in the same room. Bonuses can also be earned by placing the same type of patients on the same floor.
Cancel any tasks you have assigned to Sally by clicking directly on the item in the cart.
On some levels in Hospital Haste, a helicopter will bring in patients from the roof of the hospital/clinic. These patients are handled in the same manner as the ones that arrive through the bottom level.
Different types of patients have different levels of "patience." This is noted by the number of hearts that displays next to them. Patients that have four or more hearts after successfully being treated will earn bonus points.
The Broken Leg Patient will need medication twice and will be visited by family. When the family visits watch the meter above them, when it is full you will need to click on this patient's room to have Sally ask the family to leave.
The blonde lady patient with allergies does not have a lot of patience. Try to treat her right away. The man with the bunny ears and the chubby boy that needs a shot has a little more patience and can wait a bit longer.
Screenshot images of Hospital Haste were created by Sheila Robinson.