Sims 3 Downloads Gothic Lots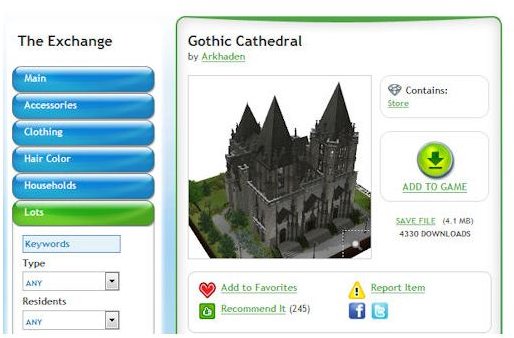 The Sims Exchange
The Sims 3 has an online Exchange which allows users to share and download other player's creations. This is a very beneficial thing for users to take advantage of because it requires no programming, mods or adjusting of the game at all in order to use.
To get to the Exchange, simple go to: https://www.thesims3.com/exchange If you aren't already logged in to your account, do that and then search the database of items free to download.
The Exchange is sorted into sections: Accessories, Clothing, Hair Color, Households, Lots, Objects, Patterns, Sims, Tattoos and Worlds.
You can do an advanced search to find Gothic Lots for which type of game or expansion pack you have. Note that some require certain SimPoint downloads in order to work as well.
If the lot costs too much for your Sim to buy, use some cheats, and don't worry about it.
The Sims 3 Downloads - Gothic Lots
After searching through some of the Gothic Lots (there are quite a few), I found some of the best ones to add to your towns.
Gothic Cathedral: this lot contains only one store item, the "Statue of an Unknown Seamstress." If you don't want to use your points to download it, that is okay – it will just show a similar statue you can always replace when you load it. Doesn't require additional expansions or stuff packages. The lot size is 32x32 and includes a public library and bathroom.
Castle of Darkness: this lot is commercially zoned and is size 60x60. It requires no additional expansion packs or stuff packs. It does however have store content including: "Statue of an Unknown Seamstress" and "Treasure Box." These also are not required to purchase. This Sims 3 gothic lot is based on Dracula's castle and includes ghosts, a library, crypt, dungeon, and water passage. It also has a desecrated chapel, bedrooms, bathrooms, kitchen, garden and a laboratory.
Gothic Estate: this lot is residentially zoned and is size 60x60. It requires quite a lot of store items as well as World Adventures and High End Loft Stuff. If you have these items and expansions, this is a fantastic gothic lot to download. It has a real vampire feel to it and contains 5 bedrooms, 4 baths, formal living and dining rooms, library, lounge, ballroom, garden, graveyard and much more!
Download and Install Gothic Lots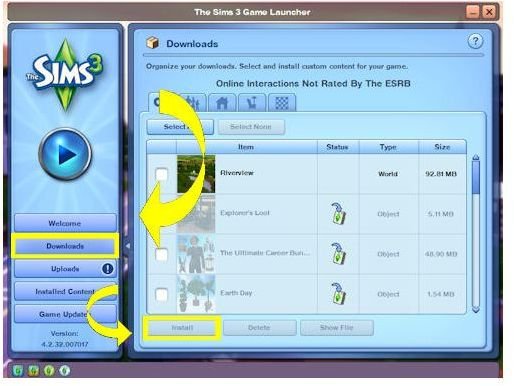 After you have found gothic lots for your town, you just need to download them to your Sims 3 Game. Simply click the "Add to Game" on the lot you want and it will start downloading to your Sims game (make sure this is open to do so).
Once it has finished downloading, select the "Downloads" tab and select the lot(s) you want to install by selecting the "Install" tab.
After the Sims 3 downloads gothic lots have been installed, simply start playing your game and add it to your town where you wish in the "Edit Town" option.