Review of The Sims Social – A Virtual Life Simulation Game Worth Playing
From Your PC to the Biggest Social Network
The Sims Social is a life simulation game by EA Playfish. Based on the legendary PC franchise of The Sims, players create their own customized avatar to interact in a virtual world with friends online. Customize your character with a variety of physical features and personality traits. Become a great kisser or a bona-fide ninja. Although it's very similar to previous titles in this digital land, neighbors are your Facebook friends. Visit them to become BFFs or rivals. Find love, chat, steal, or play evil pranks. Build your dream house or live like a hobo. It's completely up to you. Discover how it stacks up to other Facebook titles in this full review of the Sims Social.
Almost Like The Sims, the Gameplay (4 out of 5)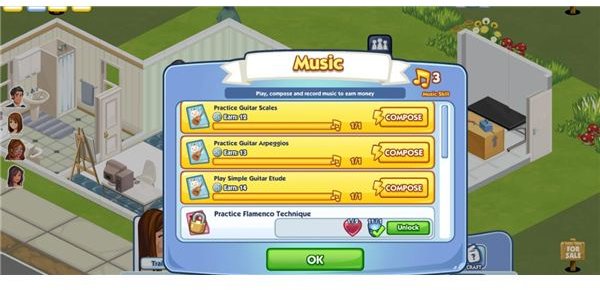 The game's concept is primarily the same as its PC and mobile predecessors. Players control every minor detail of their Sim's life and satisfy their six core needs. Use the bathroom to empty your bladder, eat a TV dinner to stop hunger, take a shower to keep up good hygiene, rest by going to sleep, dance to have fun, and visit friends to be social. Every action except for the four basic needs utilizes energy. A somewhat minor change that to some may be considered a flaw in this version is the lack of a specific career and place of employment. Players have to focus on chores around the house, gardening, and upgrading various skills to earn the game's main currency known as Simoleons. There's a huge yard outside each home with overgrown patches of grass and weeds sprouting up. Sims can tend to their landscape by cutting the grass or clipping unsightly flowers cluttering pathways. Gardening is common in most social games feels a bit out of placed in the Sims world. Each player receives four small plots to plant an assortment of fruits or vegetables. All harvests once picked are instantly sold boosting income. The selection is quite small. There are a dozen or so different crops ranging from pumpkins to pineapples. Similar to Zynga's Farmville, each crop has a designated harvest time and can rot if left unintended. The skills system which replaces the career feature is slightly generic. There are four core skills consisting of music, writing, art, and cooking. Clicking on specific objects like the Easel will prompt the skill menu displaying available techniques that can be practiced. Perfect painting stick figures or blind contours. Using certain appliances initiate such as the microwave, grill, or coffee maker starts a crappy catering business allowing Sims to cook instant noodles and nachos to sell for a profit. The gameplay can feel very repetitive at times. Since skills are one of the primary methods of making money players spend a significant amount of their time repeating the same mundane tasks.
User Interface and Navigation of Live Build Mode Feature (4 out of 5)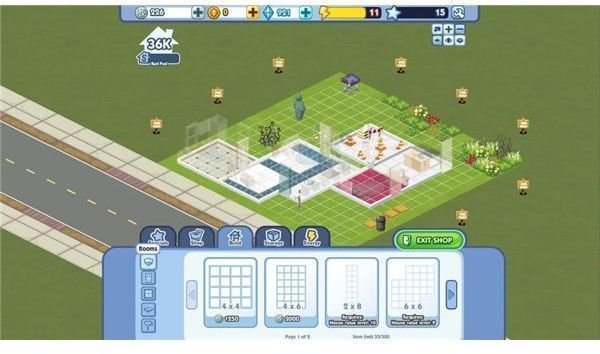 The user interface is easy to use. Players can simply click on any particular object to interact with it. Most of the items in the game can be used. Sims can call their friends with any phone, sit or daydream on chairs, click on friends camcorders to record a message, and read books from the bookshelf. Meters located at the bottom of the screen display need statuses. Letting players know when they need to make their Sims eat or perform some other necessary action. The shop features a rather impressive live build mode option where players can add rooms and re-arrange furniture. When activated, an aerial view of the home appears within a grid. Users have to click and drag rooms or any desired attachment onto the grid. Wallpaper, floor tiles, windows, and doors are added in this mode making remodeling a cinch. Constantly making home improvements boosts a house's value earning additional XP. There's also a large selection of decorations, appliances, and furnishings available in the shop.
Touring the Neighborhood – Graphics (3 out of 5)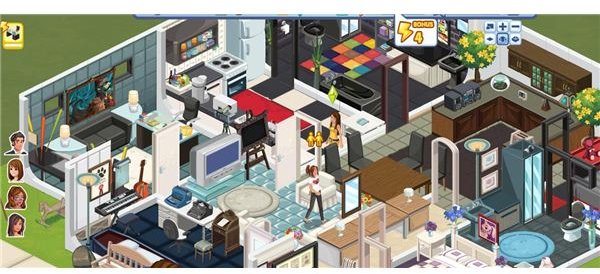 The graphics are very detailed, but still cartoonish in design. You can see food in the refrigerator, steam rising from the shower, a green smelly cloud following Sims that has neglected their hygiene, and the infamous blurred image when a character uses the toilet. Throughout the game players are given quests. Most of these tasks require players to visit friends to collect items, help out, or perform a specific action like flattering another Sim. When players visit neighbors they can choose to flirt, shoot the breeze, chat, gossip, and dance together. Avatars jump up and down when they giggle together. In the game users are restricted in terms of where they can go. There's no open world to explore like previous titles. Players are limited to their home, yard, and their friend's house. The restrictions take away from the life simulation appeal of The Sims.
Sound (4 out of 5)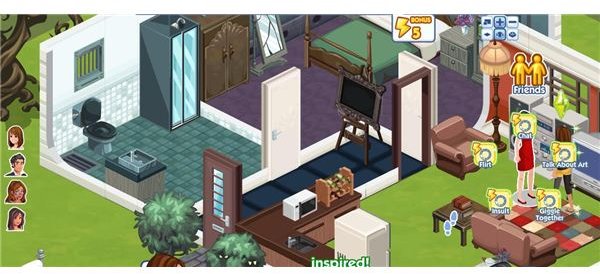 The Sims Social has the same Sims charm that devoted fans adore. Gibberish can be heard when characters converse. Doors shutting, birds chirping, dogs barking, cars driving by, and even seldom noticed sound effects like a character typing on their computer keyboard are part of the game. Chimes ring when XP or mood boosters are earned. Players can randomly hear their character raiding the fridge when they need a quick snack. A great feature worth mentioning in this review of The Sims Social is the interactive music systems. Stereos or miniature boom boxes when clicked give players the option of choosing their tune. Select pop, country, or Latin beats to pulsate for a few seconds while your character dances or sways to the acoustic. There's only one theme song that plays randomly in the background. For the most part, the game features just the right amount of sound effects for a social RPG.
Overall Rating: (4 out of 5)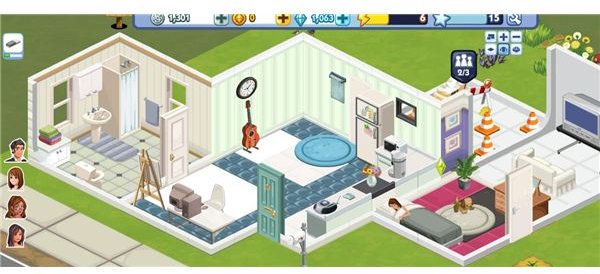 Overall this is a solid tribute to the popular game series. Players create their own Sims and control them. Select the character's personality traits and appearance. Decorate and customize their home. Visit friends, play the guitar, cook, dance, and date your secret crush. It's The Sims, but slightly watered-down. The only major flaw is that the game is extremely neighbor dependant. Players must constantly ask friends for help to assemble furniture, construct rooms, and obtain specific items. The gameplay is still quite addicting and fun for those who enjoy life simulation games. The combination of traditional Sims features with familiar elements such as gifting or farming makes it a noteworthy and welcomed addition to the social network gaming platform.
References
Source: Author's own experience. All images from The Sims Social and taken by Ange P.