Facebook Vampire Wars Fledgling Missions Guide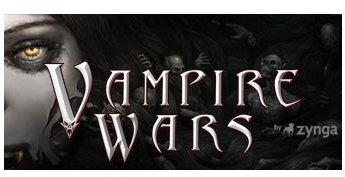 Vampire Wars Fledgling Missions
As a newborn vampire, you have a lot to learn. The fledgling missions will give you a good idea of how playing Facebooks' Vampire Wars works- they are the only missions you can complete until you unlock the neophyte missions at level 4. You will find items on your missions, gain experience and level up.
Some of the vampire fledgling missions will require that you learn a few offensive abilities before you are able to do the mission. Learning abilities will cost you blood, and some abilities have an hourly upkeep cost that is automatically withdrawn from the amount of blood you have. However, none of the abilities needed for fledgling missions have an upkeep cost, but you can learn any of these abilities at any time, as they will make you more powerful when attacking and defending. You can offset the cost of blood by gathering an army of minions that will earn you blood every hour. It does cost blood to dominate a minion, but it is worth it- especially if you want to acquire some of the more deadly abilities. If you try to do a mission and haven't learned the required abilities already, then you will be given the option pay one lump sum (in blood) to learn all the necessary ones at once.
The missions will be listed according to the amount of experience you will gain for completing them, from the least to greatest. Also included is what abilities you will need, how much energy you need and what they payout in blood is for finishing them.
The Missions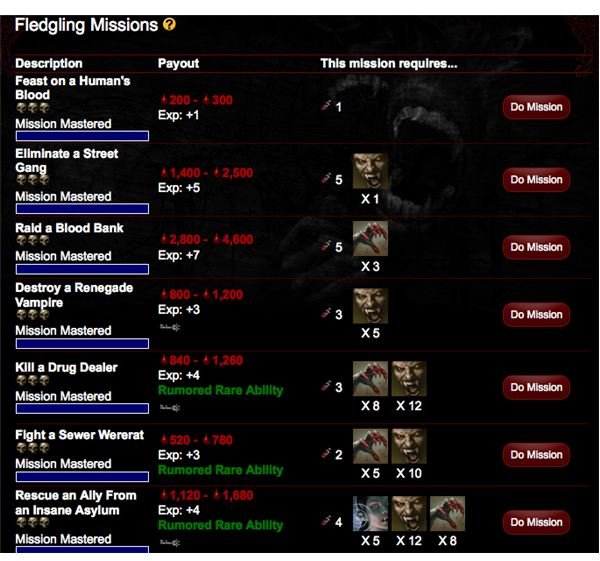 1. Feast on a Human's Blood
Experience: 1
Payout: 200-300 blood
Energy Required: 1
Ability Required: none
2. Destroy a Renegade Vampire
Experience: 3
Payout: 800-1,200 blood
Energy Required: 3
Ability Required: 5 fangs
3. Fight a Sewer Wererat
Experience: 3
Bonus: Rumored Rare Ability
Payout: 520-780 blood
Energy Required: 2
Ability Required: 5 vampiric claws, 10 fangs
4. Kill a Drug Dealer
Experience: 4
Bonus: Rumored Rare Ability
Payout: 840-1,260 blood
Energy Required: 3
Ability Require: 8 vampiric claws, 10 fangs
5. Rescue an Ally from an Insane Asylum
Experience: 4
Bonus: Rumored Rare Ability
Payout: 1,120-2,680 blood
Energy Required: 4
Ability Required: 5 enhanced senses, 12 fangs, 8 vampiric claws
6. Eliminate a Street Gang
Experience: 5
Payout: 1,400-2,500 blood
Energy Required: 5
Abilities Required: 1 fang
7. Raid a Blood Bank
Experience: 7
Payout: 2,800-4,600 blood
Energy Required: 5
Abilities Required: 3 vampiric claws
Complete missions, level up and you will rule the night!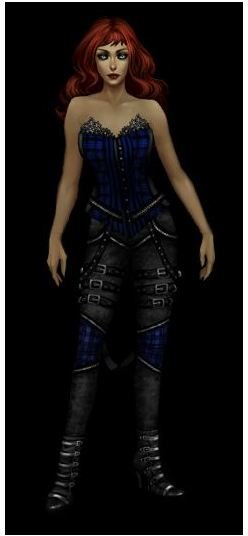 Completing missions is the quickest way to level up in Vampire Wars. When you earn skill points for completing missions and leveling up, you should always use skill points to increase your energy (you do this in "Stats") so that you can complete more missions at once. This is especially advisable since Vampire Wars is slow-paced and is often a waiting game- unless you're going to get back on the game every hour or two. You should also store any unspent blood in your blood bank (click on "Blood" in your stats at the top of your missions page)- making a deposit in the blood bank will cost you a little blood but will keep it safe from other vampires that attack you.
In Vampire Wars you can climb the ranks to become a dreaded, blood-sucking fiend that will make your rival vampires shudder at the very mention of your name (and look while doing it!)! Focus on the missions, increase your skills and abilities and soon you'll be taking out the vampires who are trying to stake a claim in your hunting territory.
Credits
Resources and Images: