How to Play and Win in World War 2.0 for the iPhone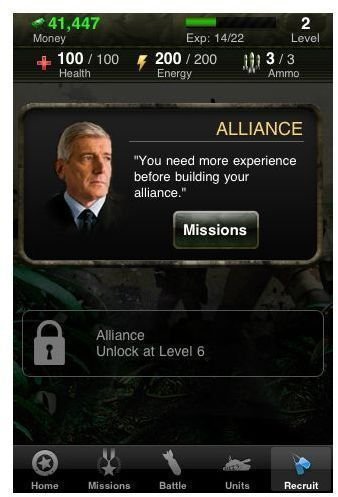 World War Update
Storm8's incredibly popular text based iPhone MMO RPGs have been so successful because of the way that they integrate social networking with iPhone mobile gaming. The first round of Storm8's releases came with addictive titles like Rockstars Live, Vampires Live, and the original World War, all of which played on each other in terms of design. There were small World War updates released internally, but not any major World War update which could be considered a complete overhaul. That was until the release of World War 2.0, which was a dramatic World War update that could also be considered a sequel. If you were already playing World War then it would just update your account to World War 2.0, but it also serves as a completely new title for players just checking it out for the first time. Here are a few tips to help you to hit the top of the ranks in the World War 2.0 world.
World War Alliance Codes
The main thing you need to focus on is growing your World War 2.0 alliance as much as possible. You are given a few different methods for doing this within World War 2.0, but nothing compares to the use of World War Alliance Codes. Each World War 2.0 player is assigned a World War Alliance Code. This World War Alliance Code will act as your identifier for other players, but is mainly used for adding more people to your alliance. If you plan on winning fights, completing higher-level missions, and generally having the ability to dominate as the game continues, then you are going to need to grow this alliance as much as possible. To do this you have to find other people's World War Alliance Codes and share your World War Alliance Code. In your recruit tab you are going to have the ability to begin adding other players based on their World War Alliance Code, and your World War Alliance Code will actually be on the main Home screen. There are a lot of ways for you to begin searching for World War Alliance Codes, and there have even been some costly iPhone apps released around this concept. Instead, there are a lot of web boards dedicated to sharing your World War Alliance Codes and you can find some on here and add yours to the list. Begin adding players as fast as possible and in as high a volume as you can, which is going to build up your actual profile very quickly. The larger your World War 2.0 alliance the better as this is only going to aid your transfer to later areas of the game. You also will not be able to add to your alliance until you reach level five, so do this as quickly as you can.
World War Honor Points
Since World War 2.0 is a free game they make their money through a World War Honor Points system that Storm8 is using. With this you are asked to purchase World War Honor Points for real money from Storm8 through the iTunes App Store or links from within the game. These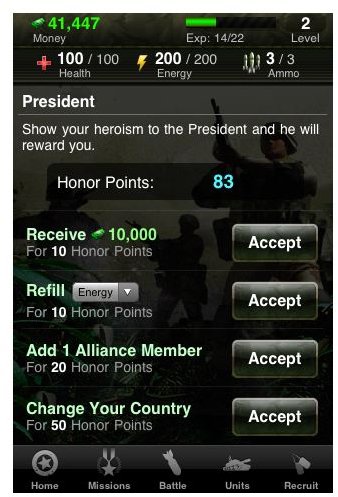 World War Honor Points can then be used to buy different things in the game that you would normally have to wait or work for, such as fee money, more players for your alliance, and a change in the country you selected.
The World War Honor Points are going to be a big part of your gameplay, but not because you buy them. Do not actually purchase World War Honor Points because they are much too expensive and you can expect to get free World War Honor Points at different points during gameplay. You are going to start out with a sizable amount of World War Honor Points right from the start of the game, and you will likely get more as updates and other games are released.
With the World War Honor Points that you do have you are going to need to spend them as well as you can. Do not waste your World War Honor Points on things like alliance members since World War Alliance Codes should already be making this pretty easy. Changing your country is also not going to be worth it since the price of fifty World War Honor Points is unreasonable. Try to stick to using your Honor Points for money whenever possible.
When to Wait
Unlike many of the other text-based iPhone RPGs, you are not going to be able to just add alliance members and investments all you want without leveling up. World War 2.0 makes it so that your available options are limited from the start, but this does not mean you should pace yourself. Once you get to level ten or fifteen you should stop performing missions for a little while and just focus on financial investments and World War Alliance Codes until you are in a great place for competition. Instead you should just try to make sure your property ownership increases steadily, that you get enough weapons to match your alliance, and that you generally strengthen your account. What this will do is make sure that when you do level up again and are faced with challengers from the same level, you will be at the highest possible status that you can be. If you set this trend from level fifteen on then it will be difficult to lose at all.