Endless Ocean: Blue World Wii Review: This Endless Ocean Sequel is Perfect for All Ages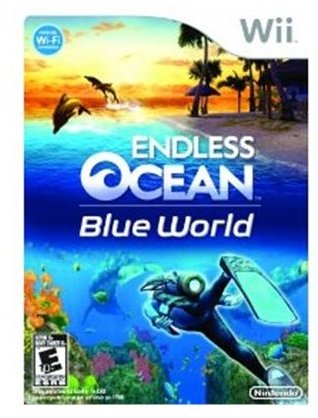 Endless Ocean: Blue World Wii Review
Strap on your scuba suit, flippers and oxygen tank for an unforgettable journey below the surface. Endless Ocean: Blue World for Nintendo Wii puts players front and center with ocean life, exploring fish, coral reefs, dolphins, giant whales and seahorses. This Endless Ocean: Blue World Wii review will tantalize your itching fingers for the sequel to the original Endless Ocean game.
Plot and Characters (4 out of 5)
Plunge into waters around the world with the fictitious L&L Diving Service, an adventurous group of ocean explorers, scientists and divers determined to find missing clues to the elusive Song of Dragons melody - a legendary tune heard around the world in every ocean. Characters include Jean-Eric Louvier and his granddaughter Oceana, L&L's expert diver, as well as fellow diver Gaston Grey, scientist Hayako Sakurai and scuba dealer Nancy Young.
Gameplay (5 out of 5)
Gameplay introduces players to over 300 animal species, according to endlessocean.com, the game's official website. Meet dozens of fish, sharks, seahorses, penguins, seals, whales and an array of prickly sea life during adventures through the South Pacific ocean, the Amazon River, chilly arctic waters and secluded island shores.
In the game, the player uses remote buttons to cure and feed sick fish, ward away predators and search for clues to the Song of Dragons tune. The multi-sensor tool emits a miniature electromagnetic pulse which enables players to find hidden treasure. Players can snap pictures of amazing sea creatures with the underwater camera for viewing on Nancy Young's Nineball Island. Keep track of your location with an underwater pen or blow your sea whistle to attract friendly sea animal friends.
During the quest to find the Song of Dragons, the player helps Oceana find clues in underwater temples, ancient tombs and inscribed tablets. Through quests in the Aegean Sea, the Red Sea and the Amazon River, players will find the last piece of the puzzle to unlock the game's secret. This puzzle forms the Dragon Flute, which is key to finding an Egyptian temple.
Players face various threats throughout game play. Although the main goal throughout the first and second portions of the mission is to pick up clues and assist and feed sick animals, the final scenes feature menacing sharks and Singing Dragons, which are actually whales.
In the end, players escape within an inch of their lives from a collapsing underwater structure, only to find that the treasure they worked so hard to find must now be excavated. But the ultimate treasure - the Dragon Flute and Singing Dragons - are revealed, leaving players with the thought that perhaps the experience along the way was better than the end result.
Graphics (5 out of 5)
According to IGN's Endless Ocean: Blue World Wii review, the graphics in this Nintendo Wii game are virtually unparalleled. Viewers will enjoy three-dimensional views of dolphins, coral reefs and man-made castle-like structures hidden beneath the surface.
However, the overall ocean feel might not be that of a crystal-clear Caribbean blue, as players might be tempted to think by looking at the game's jacket. Some scenes are filmed in murky waters, which also double as a suspicious atmosphere where menacing creatures lurk in the deep.
Player will appreciate the realistic feel Endless Ocean: Blue World brings to the Wii. Bubbles surface through the water from the oxygen tanks and players see water reverberations as divers kick their flippers in front of them. Ocean surroundings teem with marine life in the form of dolphins, porpoises, seals and vibrant fish.
Endless Ocean: Blue World Wii Review - Continued
Sound (2 out of 5)
GameSpot.com complains the soundtrack bears an overwhelmingly Celtic flair, something that can grate on some players' nerves during extended game play.
Overall, the sound is a bit lacking. Some players find the game "eerily silent" as background music dims in certain scenes. Other times, it feels more like players are riding down an elevator with music that's too soft and laid back, even if players are supposed to feel relaxed during the majority of the game.
Sound effects are fairly authentic, however. Divers experience the sound of whales shooting air through their blowholes and can hear the sound of their own breath at times when breathing through scuba gear.
Graphic Interface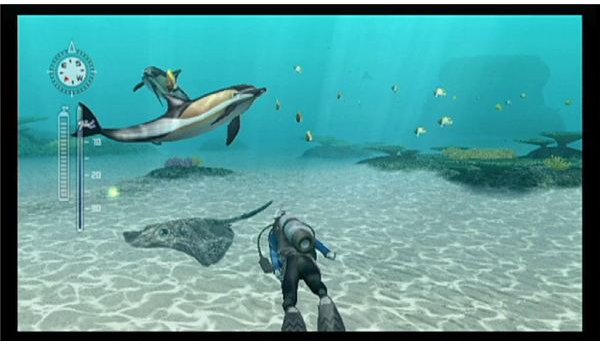 User Interface (4 out of 5)
Users will spend most of their time using the Classic Wii controller to direct Endless Ocean: Blue World gameplay through the sea depths.
Some players might be disappointed that Endless Ocean: Blue World does not contain any real shooting. The only "shooting" users will perform is with the Pulsar tool, which cures sick animals and fends off the dangerous ones. The Pulsar tool, which acts like a tiny green laser beam, is perhaps the most useful in the game, as it keeps divers alive by neutralizing threats.
Game play is reported to be a little stiff as well. The Wii remote is not always conducive to quick, swimming or finning motions with flippers. Some players might notice jerky motions when trying to aim characters through underwater caves, tunnels and other tight crevices. Players must shake the Wii remote to dodge danger in close quarters.
Endless Ocean: Blue World Wii is also compatible with the Wii Speak add on. If users are connected to a wireless Internet sources, they can communicate with other divers while playing Endless Ocean: Blue World.
Endless Ocean: Blue World Wii features a Zoom Mode, which players can launch to look more closely at a sea plant or creature. The game turns into something of a learning adventure when players find new creatures and discover their exact breed and eating habits.
When players see something they want to save as a keepsake, they can snap a photo. Although photos don't gain them any extra points, they can save snapshots to an SD card and transfer them to a computer or mobile device to set as a background or avatar.
Will You Like Endless Ocean: Blue World?
Although Endless Ocean: Blue World for Wii is no action-packed shoot 'em up flick as most users expect for superior video gaming experience, most Wii players will find it a welcome respite from more violent video game installments. Plus, the game is a safe bet for the whole family to play, as it is rated "E" for everyone.
Sources:
https://www.nintendo.com/games/detail/4SheQX4csiGffF3TZaDBFL4oVt99GF-I
https://wii.ign.com/articles/107/1071243p1.html
https://www.gamespot.com/wii/adventure/foreverblue2beautifulocean/review.html
This post is part of the series: Endless Ocean Guide
Your guide to Endless Ocean for the Wii.