Children's Games: Android Market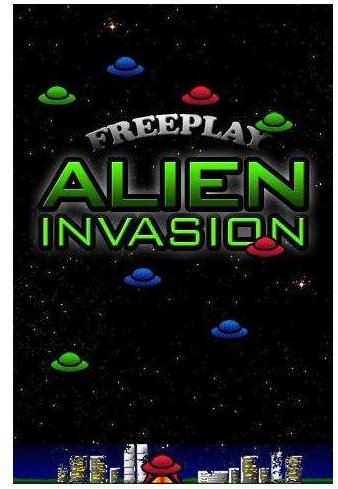 Children's Games in Android Market
There are times when you have your child with you, and you just need something to keep them occupied while you attend to business or something else. A good kid's game will keep them entertained, out of your way and out of trouble for the duration in which your attention may be pulled elsewhere. It is true that tastes in games will vary, so the list in this article will be diverse so that everyone can find the right Android games for kids that will match the interests of their particular child.
1. FreePlay Alien Invasion (4 out of 5)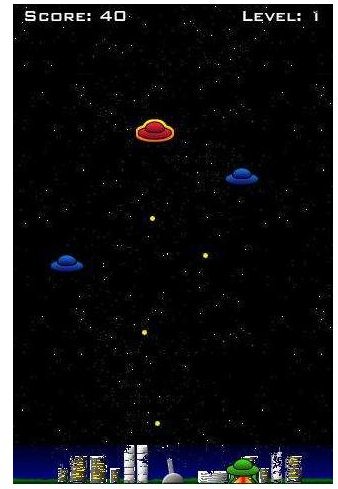 This is a great Android game for kids that love to be in on the action. The aim of the game is to defend our city against the aliens that are invading with the use of your touch screen. You will be equipped with a cannon and can move it in different directions by scrolling and then tap to fire. Shoot the flying saucers out the sky and watch the scores climb. It is a fast paced game so you have to ensure that you keep shooting because if they get too close to you, you will die. Download FreePlay Alien Invasion now and try not to play it more than your kids do!
2. Incredible Jewels (5 out of 5)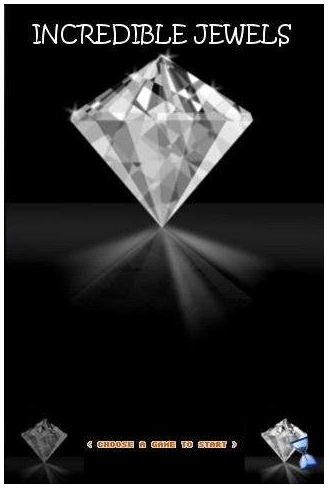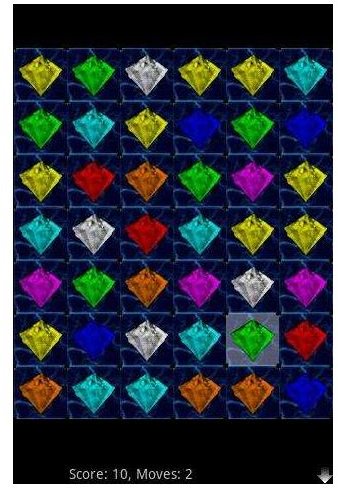 This game had to be in the children's game Android Market round up because it is a classic very similar to the Bejeweled game that we know and love. It is a fun and addictive game that will help you keep your kids captivated and it may even suck you in too if you decide to start playing it. Download Incredible Jewels for only $1.92.
3. Chabu-Dai (5 out of 5)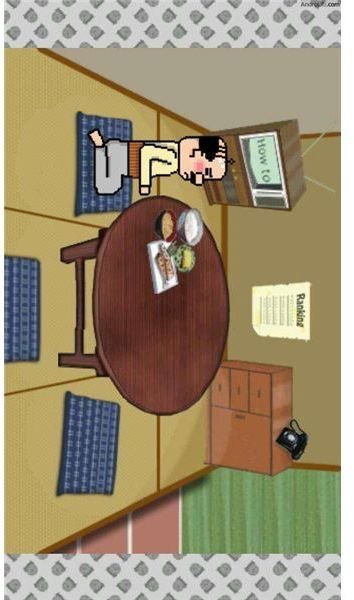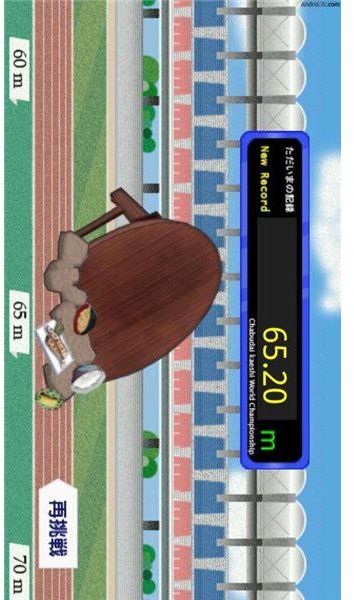 Ok, this game is pure fun and it should conjure a few laughs too. The aim is to throw the Japanese tea table as far as you can, sort of like an Olympic Sport. The funny part is that someone's breakfast may still be on that table. You can throw the table with just a flick of your wrist, but be careful not to throw away the entire cell phone! This fun Chabu-Dai Download is completely free.
4. A Frog Game (Trial) (4 out of 5)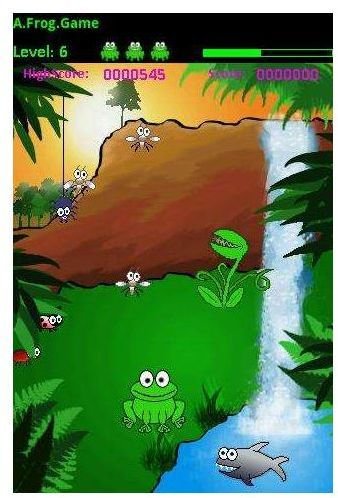 In this game, you will be monitoring a very hungry frog that needs to be fed. Your aim will be to control that frog and get him to eat as much food as he possibly can, but getting the food is not all that easy, given that there are some other creatures who just don't want to see you eat. This is only the Demo version and only contains two levels, but it's absolutely free and can be used to give you a fair idea of how great the game is. You Can Download A Frog Game Demo Here. But if you want to get the full game, you can Download A Frog Game Full Version for only $1.18.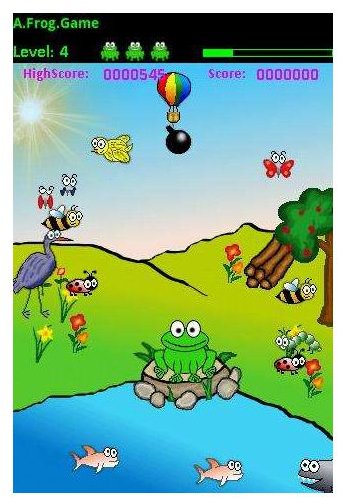 The full version contains 8 levels and a few bugs that were discovered during the trial have been sorted out and graphical upgrades have also been made.
5. Spongebob Find the Difference (5 out of 5)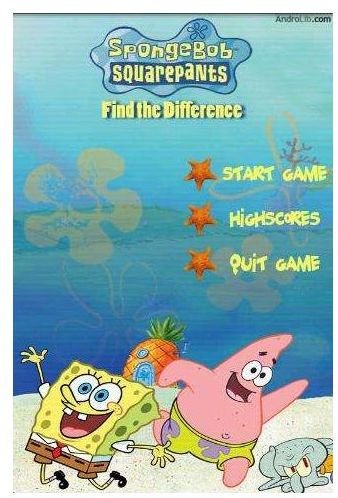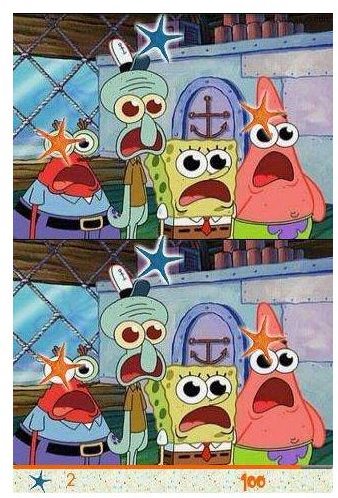 Spot the Difference has always been a favorite among kids, even the big ones. It is no surprise that a version of this game has hit the Android Market. The Spongebob Find the Difference Download is one of the most popular Android games for kids because it combines the "find the difference" element along with the likable characters of Spongebob and Patrick. There are 5 levels to go through, but they are also timed so it adds a little excitement to the game. The aim is to spot all the differences between two pictures before the time runs out!
6. (4 out of 5)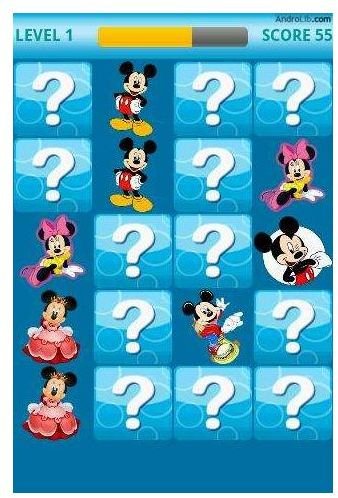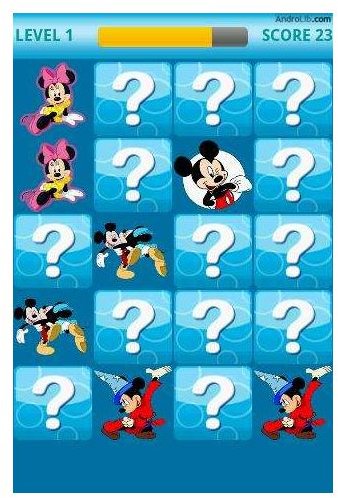 All kids, even the new age ones, are familiar with Mickey and Minnie Mouse. They will definitely love the memory game that is made with their pictures. There will be a table of pictures of both Mickey and Minnie and the aim is to find two of the same pictures within the table. After each mission is completed, the scene will change. The game is equipped with background music, but it can be turned off and on as you wish. The <Mi-cky&Min-ny> Game Download is absolutely free.
7. Ben10 (4 out of 5)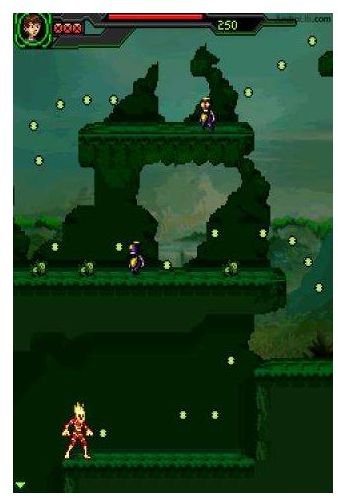 Ben 10 is a well know animated character and all kids will enjoy having their own Ben 10 game to play on a mobile when they are not able to watch him on TV. This game has a small story line which includes Ben having to go into space to find the creator of the Omnitrix. The Omnitrix has been set to self destruct after a light spread signal activated it. It is now up to you and Ben to save the entire universe with this free Ben10 Game Download.
8. Pet Grooming Shop (5 out of 5)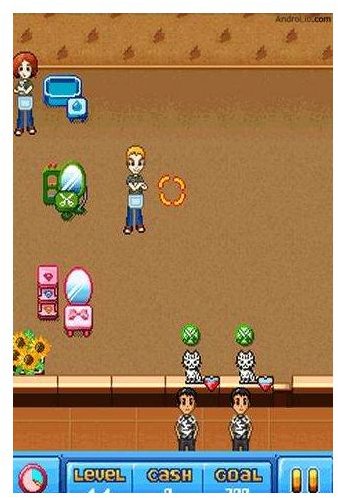 This game is like the ever popular and addictive Diner Dash. The only difference is that you will not be starting your first diner like Flo, but rather your first Pet Grooming shop. You will be responsible for the cleaning and grooming of dirty dogs and cats and need to make them nice and clean and fluffy again.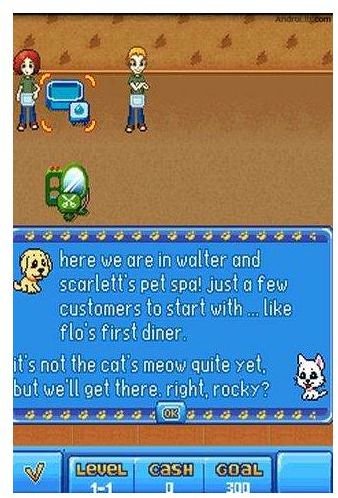 You will have as many as 10 different species of these animals to groom and you will have to work fast and spend your money well on the necessary upgrades that will make your pet grooming business a success. Download Pet Grooming Shop for free.
9. MrBean (5 out of 5)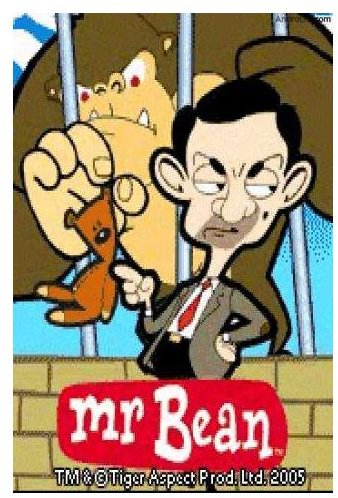 Remember Mr. Bean? That strange, yet funny man that fell from the sky in a beam of light?. Well he has now found his place on Android. In this Mr. Bean game, he decided to take a trip to the zoo, only to have his favorite teddy bear stolen by a gorilla.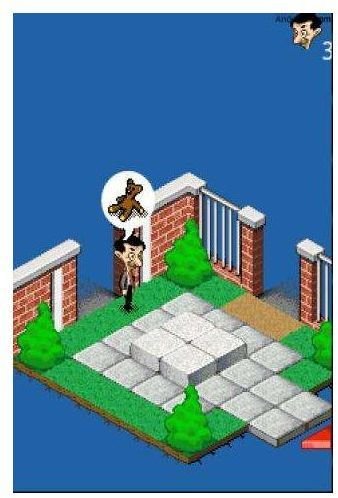 It is your job to help Mr. Bean regain ownership of his beloved teddy in this great Android game for kids. Download MrBean for free.
10. Udder Madness (5 out of 5)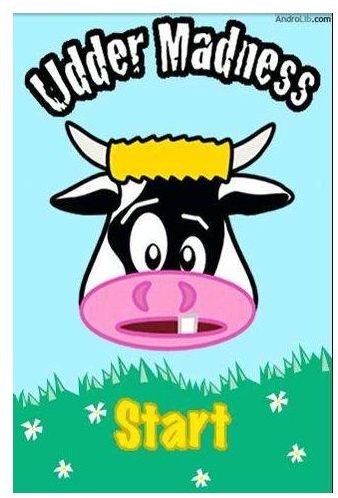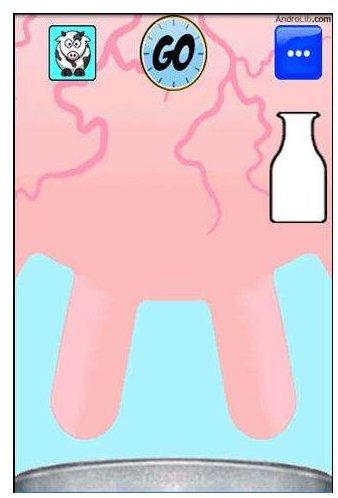 Madness is good when kids need to be entertained. This is also one of those "dash" Android games for kids that require fast hand movements and quick thinking. You will be milking a cow or goat and attempt to fill the milk bucket in just 20 seconds! See who can be a top milker. Kids will constantly be playing this and having a laugh while they do it. Download Udder Madness for free.
Summary
The complexity of the Android OS allows for the invention and development of great mobile games. This article provides you with some the best Android games for kids and more can be found when you view the children's games on Android Market. If you have favorite Android kids games that did not make this list, feel free to add them in a comment and who knows, they may just make part 2.