DJ Hero: What's New?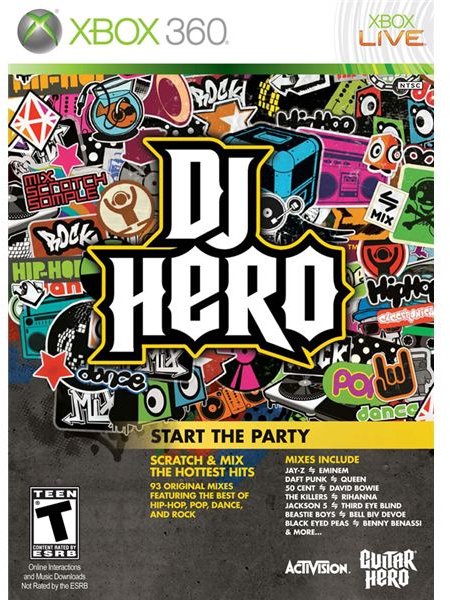 The huge demand for rhythm games initiated new innovations and strategies by game developers. After the initial success of Guitar Hero and its successive titles, fierce competition was seen between Rock Band and Activision's Hero franchise. Rock Band's novel approach in developing 3 more controllers besides the guitar prompted Activision to release Guitar Hero: World Tour with similar peripherals and improved gameplay. Nevertheless, the launch of DJ Hero does seem to be Activision's call to prove that it is still the leader when it comes to innovative music games.
One of the best aspects of DJ Hero is its turntable peripheral, which is an exact replica of the classic turntable, though smaller in size. Of course this is just a game, and just like the guitar controller, the DJ Hero controller has few distinct features if compared with the real one. The main objective is to score points by hitting the right buttons on the controller to activate beats or use the attached plastic record when an arc on the screen prompts you to "scratch" in the right direction. For more info on the DJ Hero controller and gameplay check out this in-depth DJ Hero review.
The single player Career mode allows players to select a track list, complete a task and unlock several avatar DJs like Daft Punk, Grandmaster Flash, DJ Jazzy Jeff etc. as well as cool DJ accessories, exotic venues and much more. Of course, there many DJ Hero achievements that can help you unlock goodies and add gamerscore points to your kitty. Here are some of the best DJ Hero achievements for Xbox 360.
DJ Hero Achievements: 5 Gamerscore Points
Unlocking these DJ Hero Achievements will help you score 5 gamerscore points:
Special Effects!:

Choose any difficulty level and use the Turntable controller's Effects dial during each Effects zone in any mash-up.

Multiplier Madness:

The 8X multiplier has to be attained during any remix to unlock this achievement.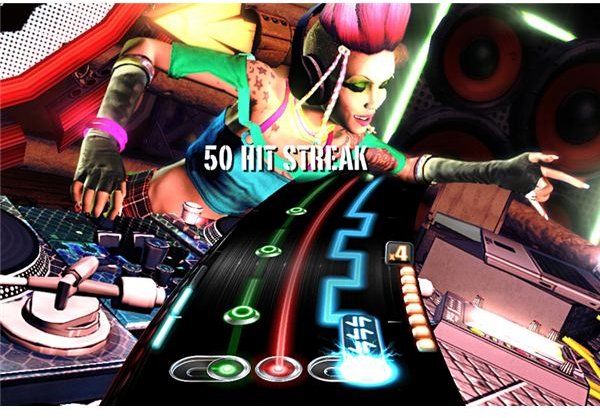 My First Set:

In single player Career mode, you can unlock this achievement by finishing a track list on any difficulty setting.

Supporting Act:

Join 3 online DJ Hero games and complete them successfully

Five Star:

In any mash-up, acquire 5 stars. But make sure you are on expert difficulty

Hello World:

You will have to get your score posted on the online leaderboard.

Headliner:

You will have to host an online game and complete it successfully

My 50 Pence:

using your DJ Hero controller, achieve a 50 streak on any mash-up, but on hard difficulty setting.

Props:

the easiest achievement to get. All you have to do is watch the credits

Shout Out:

use your microphone and complete any remix in the single player mode.
DJ Hero Achievements: 10 Gamerscore Points
All these achievements will help you score 10 gamerscore points:
Freestyle DJ:

Play on hard difficulty and activate every Freestyle Sample Zone and Effects Zone in any mash-up.

Graduation:

The Learn to DJ –Advanced Techniques tutorial has to be completed in order to unlock this achievement.

Double Trouble:

Play and complete a local 2-player DJ vs. DJ game.

The Gift of Music:

Unbolt a bonus mash-up on any track list
DJ Hero Achievements: 15 Gamerscore Points
Good Times:

Select the Grandmaster Flash Presents track list and play any of the mixes, but make sure you earn 10 stars to unlock this achievement.

Rewind:

Successfully complete four rewinds. You can achieve this on any difficulty setting and on any mash-up.

200 Deep:

With your DJ Hero Controller achieve a 200 streak. But make sure you are on hard setting. You can do this on any mix.

All Over the World:

Finish a Mash-up on each and every venue.

The Power of Two:

This is one of those few DJ Hero achievements that require playing the DJ vs. Guitar mode. You and your friend must trigger Star Power and Euphoria at the same time to unlock this achievement.
DJ Hero Achievements: 20 Gamerscore Points
Super Scratchin':

Get your turntable controller and finish 10K scratches.

No Mistakes Allowed:

Select the hard difficulty and complete all scratches using your turntable.

Harsh Fader:

complete 5K crossfader moves to unlock this achievement.

Tap King:

when you see Tap icons, press the platter button successively. This can be achieved only on hard difficulty level and on any mash-up.

Five in Ten:

You will have to play on medium difficulty setting and earn 5 stars on any mash-ups.

360 Degrees:

achieve a 360 deg. Rewind in any remix>Achievement Conditions: Play on hard difficulty and do not miss any icons.

Master Blaster:

Use your Ghetto Blaster deck to finish a track list.
DJ Hero Achievements: 25 Gamerscore Points
Four in Twenty:

You will have to play any 20 mixes on medium or hard difficulty and earn 4 Stars to unlock this achievement.

Win Online:

complete and win ten online games to attain this achievement.
30 Gamerscore Point Achievements for DJ Hero
Superstar DJ:

Acquire 100 percent hits on hard or expert difficulty.

The Full Set:

Finish all mash-ups on easy, medium, hard or expert difficulty mode.

Tonight We DJ in Hell:

Use your DJ Hero turntable peripheral and achieve a 300 streak on any mash-up. But make sure you are on expert difficulty.
35 Gamerscore Point Achievements
Bonus Bangers:

you will have to complete track lists and unlock all bonus mixes to get this achievement.

720 Degrees:

A 720 Deg. Rewind in any mash-up can help you earn 35 gamerscore points. Make sure you do not mix any icons and perform on expert difficulty.

The Grandmaster!

You will have to achieve 5 Stars on every mash-up, but the difficulty level should be medium or hard.
DJ Hero Achievements: Achieve Higher Points
These are few high scoring DJ Hero Achievements. Almost all high scoring achievements can be unlocked if played in hard or expert setting.
Turntable Perfection:

You will have to play on expert difficulty and get five stars in every mash-up song. This achievement carries 100 points.

Legendary Status:

Play on Hard or Expert difficulty and achieve 5 Stars in every remix.

The Vinyl Cut:

Play any of the remixes in the Vinyl Cut Track List and earn 20 stars to unlock this achievement. This achievement carries 50 points.
Screenshots © DJ Hero