FishVille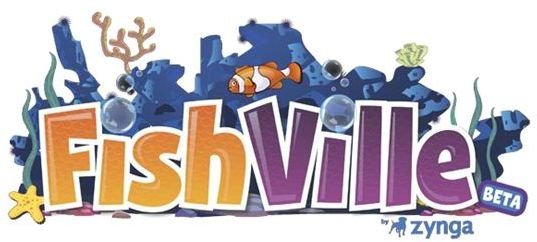 FishVille is the Facebook game created by Zynga, the makers of several games with a massive player base such as FarmVille and Vampire Wars. It is free-to-play, browser-based and all you need is a Facebook account to begin playing.
Creating your own tank, and taking care of the variety of fish that you will be able to raise, can be a lot of fun- and quite addictive. You will indulge your creative side, and as you progress in the game you will be required to use some strategy.
It is a slow-paced, casual game- just what millions of players, from tweens to fifty-plus-year-olds across the globe are looking for.
FishVille Tanks and Neighbors
The first thing you will do is create your tank. You get to choose the background and the gravel.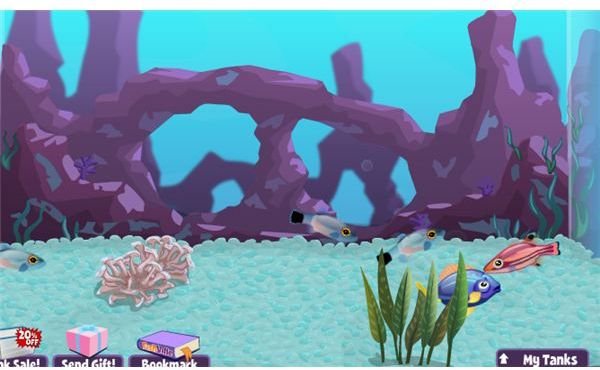 In Fishville you will start off with one tank that can hold fifteen fish. As you move up in the game, and add your Facebook friends as neighbors, you will be able to buy more tanks (up to five) and keep more fish in them.
Gifts and Helping Neighbors

Just like the other Zynga games on Facebook, you can give and receive gifts from your friends and neighbors. As you progress, more gifts will be unlocked for you to share, but you can receive whatever gifts your friends are able to give you for their level. You can also sell gifts that you do not want or need for coins.
You can visit your friends' tanks to help them out. You will be asked to do things like cool the water temperature and clear away the algae build-up- will earn extra coins and experience when you do.
FishVille Store
The FishVille Store is where everything you need for your tank is. The things you can find at the Store include:
Fish: You will obviously want to add fish to your tank. Select the fish you will raise based on the time it takes for them to grow, and when you will need to feed them next. Fish will die if not fed.
FishVille Store continued
Plants: At first you will be quite limited in your plant selection, but there's enough unlocked to you to make your tank more colorful.
Decorations: Add decorations to your tank to make it look more interesting.
Environments: You can change the environment of your tank at any time (the background and the gravel).
Tanks: When you have enough neighbors and coins you can purchase additional tanks to hold more fish and decorate with a different theme.
Please note: The majority of things you will buy in Fishville are paid for with the coins you earn raising and selling fish. However, some items at the store can only be purchased with Sand Dollars. You will slowly accrue Sand Dollars over time or can purchase more for real-world money.
Give Fish Love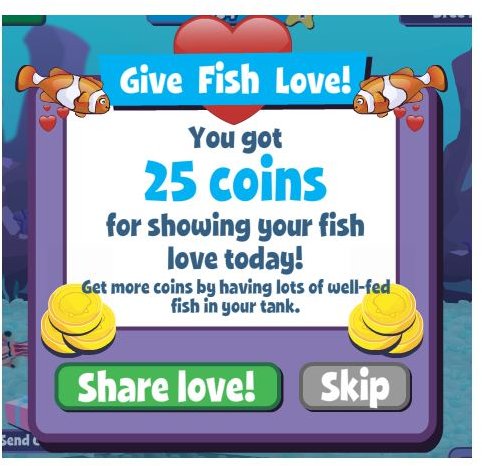 Whenever you tend to your tank in FishVille you will have the option to give your fish love daily. The "Give Fish Love" button can be found at the bottom left-hand side of your game screen. Select it and you automatically give your fish the attention they want.
Awards
As you play FishVille you will naturally earn awards for your efforts. The following are the awards you can get and what you have to do qualify for them:
Liquid Assets: Saving your coins.

SpendVille: Spending your coins.
FishVille Farmer: Selling fish.
Decollector: Adding decorations.
Pond Gardener: Adding plants.
Fish Lover: Giving your fish love.
Spotless: Scrubbing algae off your tank.
The Hand That Feeds: Feeding your fish.
Builder of Tanks: Buying more tanks.
Tanks a lot!: Helping neighbors.
Daily Bonus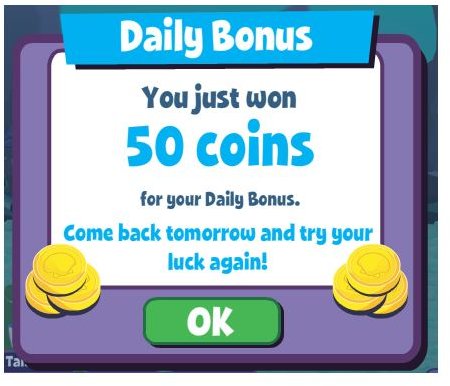 Every day when you sign onto FishVille you will get bonus coins in the Daily Bonus. The amount of coins varies, but it's a nice way to give your currency a quick increase.
If you enjoyed reading this, then you might like:
Credits
Resource and Images: