Nintendo DS Skins: Where to Buy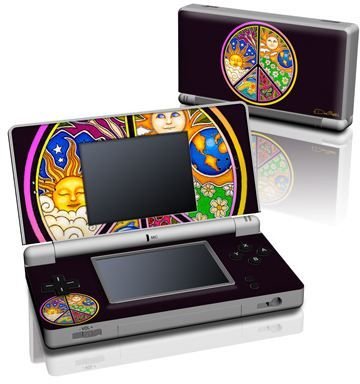 Cool Nintendo DS Skins
The Nintendo DS is a pretty cool product even in its stock form. There are many different colors and types of Nintendo DS available which you can purchase. New colors are introduced frequently, and old ones are put out to pasture.
Still, looking at the same old boring color every time you play can get old, particularly if you didn't pick one of the brighter or rarer Nintendo DS colors when you purchased your DS. If you want to make your Nintendo DS look cooler you'll need to buy a Nintendo DS skin. There are a ton of cool Nintendo DS skins to choose from.
One click word of warning - be sure to buy a skin which matches your Nintendo DS model. Skins for the original Nintendo DS won't fit the Nintendo DS Lite or Nintendo DSi and vice versa.
Pre-Made Nintendo DS Skins
Most of the Nintendo DS skins which are available for purchase are pre-made skins which are already printed and ready to go. These skins are made to fit your system and they usually are simply decals which are peeled off a sheet and then placed on your Nintendo DS. These skins are inexpensive and plentiful.
The largest source of pre-made Nintendo DS skins is DecalGirl, which features many cool Nintendo DS and DS Lite skins. You will find skins which feature dragons, fairies, flames, animals, cartoon characters, and much more. There are zombie themed skins, LEGO themed skins, and skins which are made to look like wood, carbon fiber or camouflage. There are literally hundreds of Nintendo DS and Nintendo DS Lite skins to choose from.
Another place which offers a huge variety of cool Nintendo DS skins is MyGift. MyGift has some of the same skins as DecalGirl, but some of the skins are more unique and can be found only at MyGift. MyGift's selection isn't quite as large as DecalGirl's either, but it still numbers in the hundreds.
Sports and Themed Nintendo DS Skins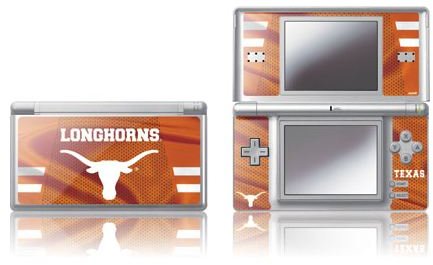 DecalGirl and MyGift provide numerous skin options, but if you're looking for something a little bit more specific - perhaps a skin of your favorite sports team's logo - you won't find that available. Instead you'll have to try a website like SkinIt, which has a wide variety of themes.
SkinIt offers a wide variety of skins which are based off themes, including sports teams and popular art. You can purchase a cool Nintendo DS skin with your favorite sports team's logo, racing stripes, or even the logo of your favored political party. There is also a wide variety of Disney themed skins available including Alice in Wonderland, Hannah Montana, The Muppets and the Pirates of the Caribbean.
These themed skins will cost you a little bit more than the generic skins found at DecalGirl and MyGift, but they also usually look better once they're applied. You won't be able to find specific themed skins at other websites.
Cool Custom Nintendo DS Skins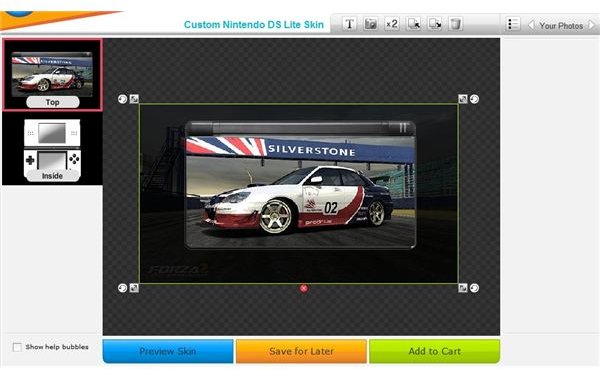 The Nintendo DS skins which have been listed so far are pre-made designs. They're already created and ready to ship to you, and they can help personalize your Nintendo DS. However, because they are pre-made they are not completely unique. Although you might not run into someone who has the same cool Nintendo DS skin you do, it is possible.
If you want a Nintendo DS skin which is really unique you'll need to create a custom skin. Doing this may seem impossible, but it is in fact not difficult at all. There are several websites which provide tools with which you can create a custom skin.
SkinIt, which also offers many themed skins, is one such website. SkinIt's custom Nintendo DS skin tool lets you add decals from a wide variety of of pre-made options. You can also add your own custom text and your own custom photographs. The lid and all of the inside surfaces can be customized, but you won't be able to add decals to the sides or to the rear of the machine. The SkinIt tool includes a video tutorial which will help you get started making your custom Nintendo DS skin.
Another nice utility comes from Unique Skins. This utility is similar to SkinIt's utility, but it is a bit easier to use, if only because it is larger and provides a better virtual representation of your Nintendo DS. Just as with SkinIt's utility you can add custom images, designs and text, but you are limited to customizing the top and the inside of your machine.
Other Nintendo DS Skins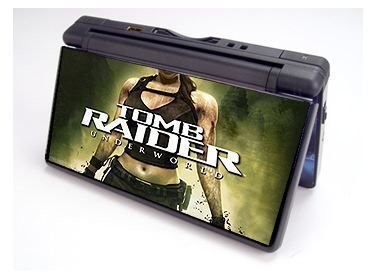 The sources listed here are typically the best places for Nintendo DS skins, but there are other places you can go. Even doing a search of Nintendo DS skin on Amazon.com will give you hundreds of result. In any case, some skin is cooler than no skin, so enjoy whatever cool Nintendo DS skin you choose to purchase!