Toontown Online: Free MMOs for Kids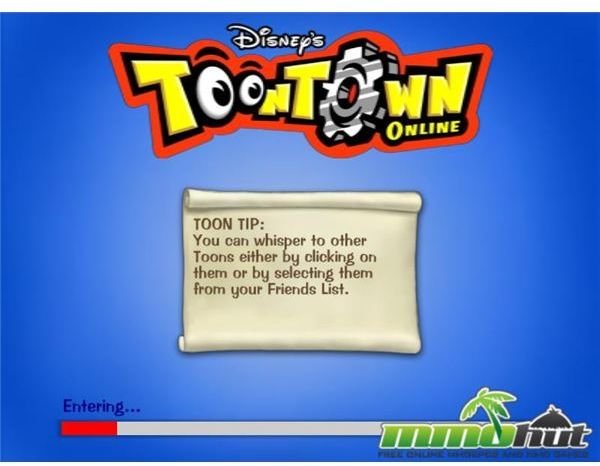 Toontown Online
Massively multiplayer games- Disney's Toontown Online is certainly massive, with a player base that is estimated to be over 1.8 million gamers worldwide. Not many MMOs can boast such impressive numbers, but we are talking about something that was produced by the giant of children's entertainment here, so it shouldn't come as too much of a shock. Toontown Online knocks out the competition when it comes to free MMOs for kids…by a long shot. The 3-D graphics are top-notch, the game's features are well utilized and it is in every way appealing many young minds; but it doesn't stop there. This game has struck a chord with many adults as well. Truly, it is a remarkably engaging and fun game with seemingly endless outlets to explore your imaginative side. But just what is Toontown Online anyway?
Storyline (5 out of 5)
As the name suggests, you will become a Toon when you play Toontown! The whole reason Toontown needs your help is because there are dreadful, corporate Cogs attempting to take over the happy, colorful and cheerful land- those nasty Cogs want to make all the Toons feel sad and hopeless! But you can help- stocked with an arsenal of gags that are sure to bring on the laughter! That's right- gags, as in cream pies, banana peels, seltzer bottles, dropping anvils and many more! The Cogs want nothing to do with such silly pranks that are sure to give you the giggles and stop their empire from growing. After all, the Cogs want Toontown to become a serious place, a business world where there is no time for fun- where making money is all that counts! The Toons need your joy and happiness to help end this dark world spreading!
Gameplay: Battling Cogs (4 out of 5)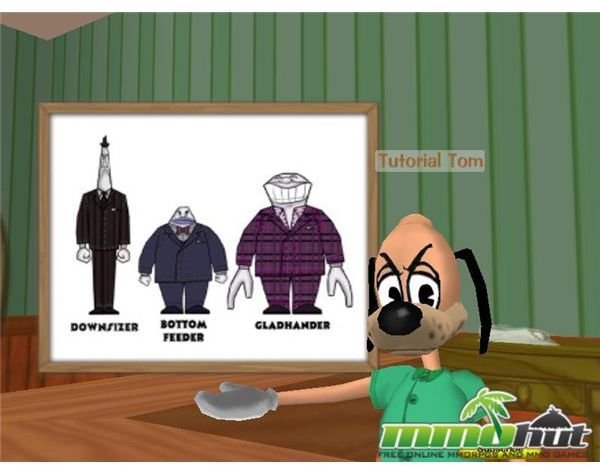 Your mission as a Toon is to stop the Cogs from taking over Toontown by using various gags on them and thus keeping your Toon spirits up- just seeing a nasty Cog with a cream pie all over his face will having you rolling with laughter (increasing you Laff points) and will diminish the influence the Cogs have on Toontown (decrease the life points) until the Cog is destroyed! When you, or a group of Toons (up to four in normal combat, and up to eight in the Cog headquarters' buildings) goes up against a Cog you will engage in a turn-based style battle. You will deal out the best tricks you have up your sleeve- all aimed at brightening your day (Who wouldn't laught at the sight of a mean-old Cog slipping on a banana peel?), while the Cogs do their best to make you feel down.
Your Toon doesn't actually die when a Cog gains the upper hand in a battle, but you will become depressed and will need to have some good times before you can feel prepared to take them on again. And fun awaits you all over Toontown in many playgrounds that are safe from the Cogs! If a Cog defeats you in combat than you automatically will be transported to a playground so you can meet up with some friends and play some very cool games!
Gameplay: Games in Toontown Playgrounds (5 out of 5)
There are so many things to do at the playgrounds in Toontown that you can practically spend all your time online exploring them before you even remember that you're supposed to be dealing with the Cogs! You may also go to a playground at any time to play some games and earn jellybeans (Toontown currency) so you can buy more gags, and many other awesome things like pets (doodles) and new clothes.
The trolley ride will take you on a short trip that leads you to many different games like tag and a Toontown version of Pac Man. Some of the games you will play by yourself and with some games other players will be there- or your friends if they get on the trolley with you. You can also go fishing or racecar driving! Not to mention the shops in the playgrounds that are full of accessories for your Toon home (yes, you get your own home that you can throw parties in) and many more super cool things to buy!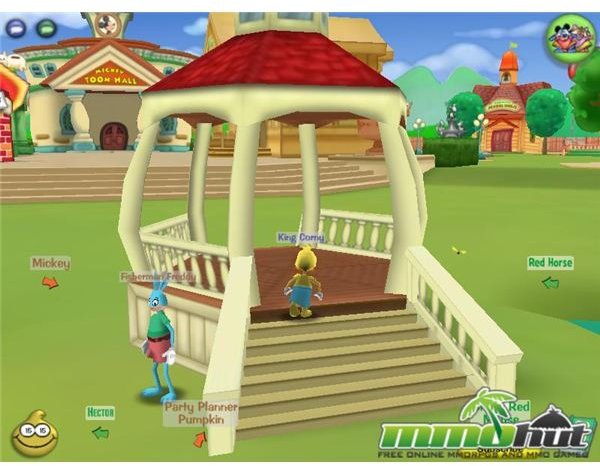 System Requirements (5 out of 5)
This wouldn't normally be a rated section, but for this game it deserves a rating! Games that system-friendly and this cool are rare! Toontown Online can be run on most computer systems- PC, older PC's and Mac's! You may need to upgrade your Internet browser (and the game requires updates too), but the game has been made accessible to most computer owners. Obviously you will need an Internet connection for a quick install, the upgrades and because it is an MMO. But other than that, you will be playing Toontown Online in minutes! The system requirements are as follows:
Minimum Requirements:
OS: Windows 98/ME/2000/XP/Vista
CPU: Pentium III 500 MHz or faster CPU
RAM: 256 MB
HDD: 150 MB
Graphics Card: 32 mb
Recommended Specifications
OS: Windows XP / Vista
CPU: Pentium 4, 1GHz or better
RAM: 512 MB or more
HDD: 500 MB free
Graphics Card: 64 mb or more
Conclusion (5 out of 5)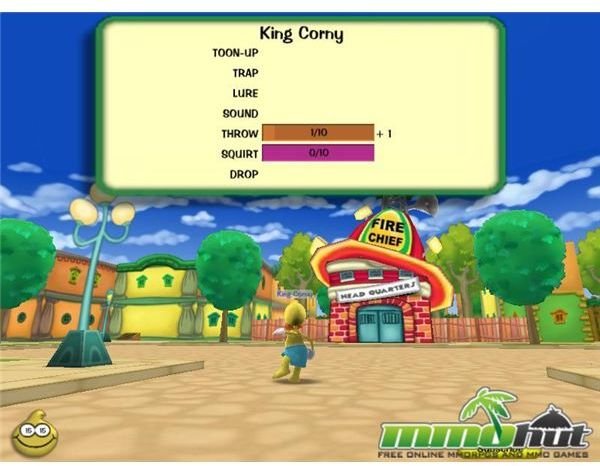 Toontown Online definitely deserves a high rating! It is well worth your time to give it a try- fantastic graphics, fun gameplay, a wide array of extra game features (i.e. playgrounds, your Toon house), kid safe (for more information on Toontown Online Safety feature, click here), and free! In so many ways Toontown puts to shame many free and subscription-required MMOs, both kid and adult ones. There won't be any gruesome sword wielding play, but you'll have a good time- and that is the goal of the game right? Laughing it up just like a Toon!