The Story Line (4 out of 5)
In the game you play Scarlett, a young and talented farmer. Her friend from Africa asks for her assistance to rebuild a farm that has been hit by a sandstorm. Scarlett flies to Africa to help her friend Morris, only to find out that he hasn't been receiving help from the Farmer's Union. Scarlett is determined to become the head of the union to resolve this issue. While this concept seems better suited to a few decades ago and it is not as relevant today, the story is very well written.
The Fun Parts (4 out of 5)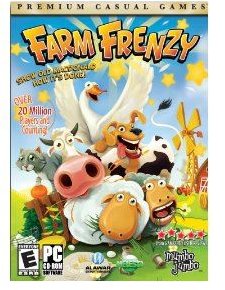 Farm Frenzy 3 continues the time management game series that began with the original Farm Frenzy. Unlike Farm Frenzy 2 and Farm Frenzy: Pizza Party, this version has an expanded game play and a story line written around a delightfully entertaining central character. The game takes a small step back from the more complicated style of play found in Pizza Party, but adds a better story and a little variety with a few nice looking and useful international locations.
Farm Frenzy Pizza Party took a step away from the fast clicking and thinking recipe of the first two Farm Frenzy titles by adding very complicated recipes that were fun but often slowed down the game play. Farm frenzy 3 has dropped this formula from the equation. Instead, all the products only have one of two ingredients which make play easier for the casual gamer. However, there is a variety of products that can be made with these ingredients.
The Bad Parts (4 out of 5)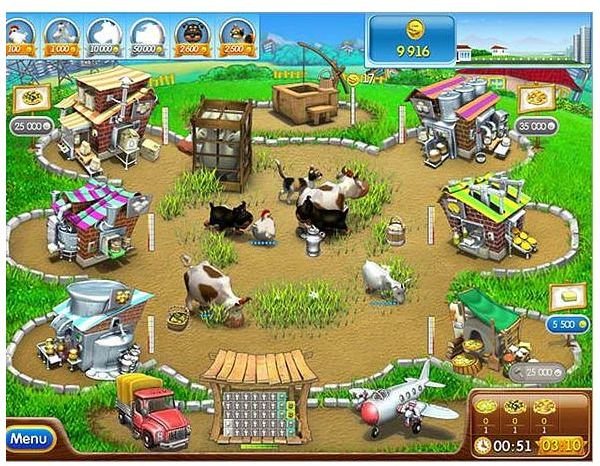 The game designers did a fantastic job of bringing the game's graphical presentation into the modern world of 3D environments with shadows, nice lighting and simple textures. Unfortunately, they didn't tweak or change the engine and the presentation falls flat on its face at times. Occasionally during play the graphics display slows down to a crawl during the rendering of the screens, especially when objects are falling from the sky. For instance, you can often buy nine items or get attacked by four animals at once and the game will stop while the screen is redrawn.
Graphics (4 out of 5)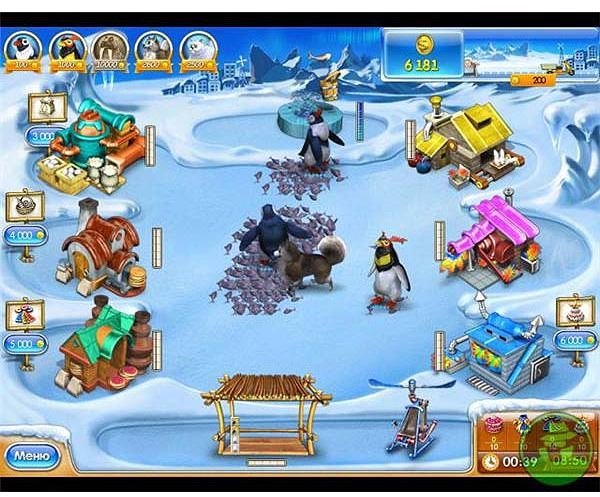 Farm Frenzy 3 still has the unique, yet simple graphical presentation you fell in love with in the earlier titles. The 3D environments that are seen in the game add a nice element of visual variety this series was lacking in the previous versions. For instance, all the animals eat differently. Watching a penguin flip a fish in the air and swallow is hilarious to watch. The helper dogs blow themselves up kamikaze style when attacking bears rather than barking to build a cage.
Sounds in the Game (4 out of 5)
Farm Frenzy 3 has an uplifting, energetic and spirited soundtrack of lighthearted kid's tunes and electronic pieces that are fun and entertaining when you first hear them. Unfortunately, the soundtrack repeats continuously so after a few times it becomes repetitive. The sound effects of the animals and various objects have also been reproduced wonderfully and are an integral and entertaining part of the game play.
Playability (4 out of 5)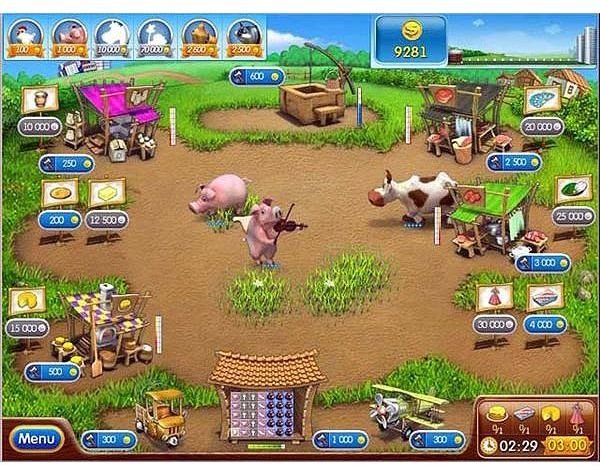 Like all the other Frenzy titles in the series, this is a time management game that challenges you to complete different and often conflicting goals, like owning 5 goats or 10 cakes. The game play isn't going to challenge a hardcore gamer but casual gamers will be able to just pick this video game up and play. The goals on your farm are easy to understand during the first 30 or 40 levels. However, during these levels the game is really slow getting up to speed. You can't really implement the tactics and strategies you need to win until you get all the upgrades, so these early levels are more of a tutorial. The game play is still entertaining and fun and has a nice difficulty progression that makes playing this time management game a lot more difficult once you get to the upper levels.
The Last Word (4 out of 5)
Farm Frenzy 3's zany humor and fantastic animations combine beautifully with the easy to play action to make this a fast paced and charming game to play. This game is recommended for casual gamers and even hardcore gamers who want to try a time management PC game that's a little different. It's so addictive that you'll want to jump out of bed early in the morning to play before starting your day.
References
Screenshots created by Sheila Robinson