Tips to Adopt a Free Virtual Pet - Beginner Game Guide to Petville on Facebook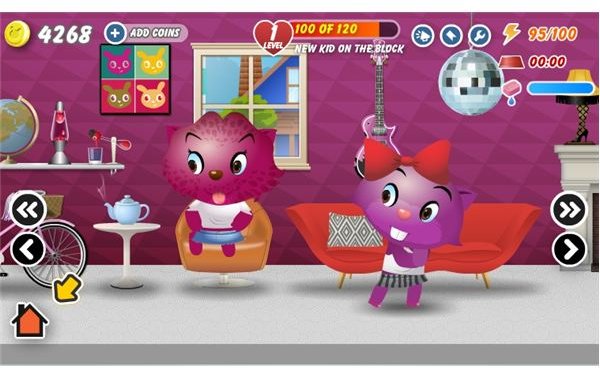 Petville on Facebook Where Cute Pets Live
Zynga Games brings a new funky energetic type of free virtual pets to the masses in Petville. Similar to other popular Facebook games such as Yoville or Pet Society players create their own world. In Petville it's all about the fun and love. Each player receives their own apartment for their furry pal to stay. Apartments can be expanded and decorated through leveling up. In this beginner game guide learn how to play, take care of your furry pal, decorate your abode, complete challenges, earn bonus coins, pet cash, and love points. Discover the best tips and cheats for total Petville domination.
Adopt a Free Virtual Pet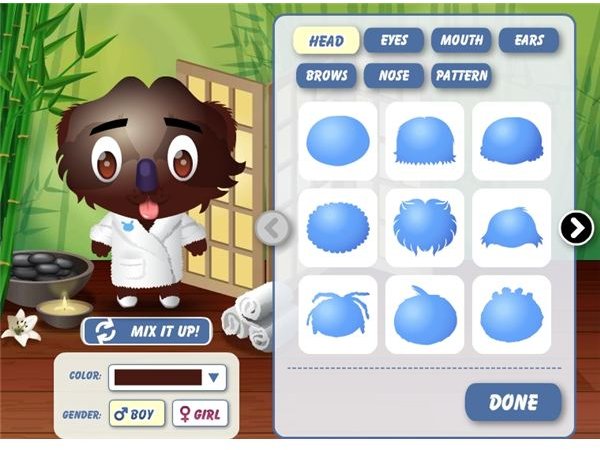 The first step in Petville is to adopt a free virtual pet. All of the pets are adorable. Users get to customize their new best friend by selecting the fur color, eyes, mouth, ears, nose, pattern, and name. In order to level up players have to earn a set amount of pet love points. Love points are received when users display love for their pet or friend's pets. Simply caring for your pet, feeding it, washing it, and visiting other pals in the neighborhood will help stack up precious gold coins and love points.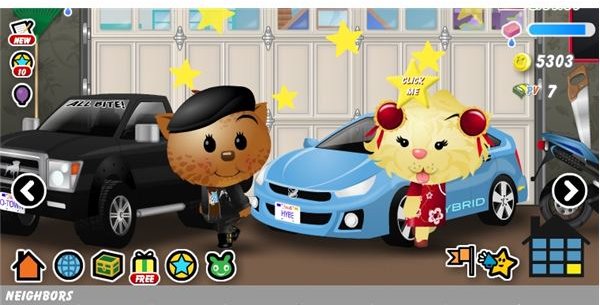 The three meters at the top of the screen monitors the pet's hygiene, hunger, and energy.Hygiene is important. Click on the soap bar in the room and move it over your buddy for a quick bath. Washing pets or friend's pets yield extra coins. The hunger and energy meters work together to keep track of your pet's physical status. To feed your pals click on their bowl. A menu will appear displaying a variety of fruity kibble from orange cream, grape, and peppermint to Neapolitan flavors. Food increases a pet's energy. If you neglect to feed your virtual pet it will run away. The pound can bring them back for a fee so it's essential to keep them happy.
The Globe & Pets Shops Online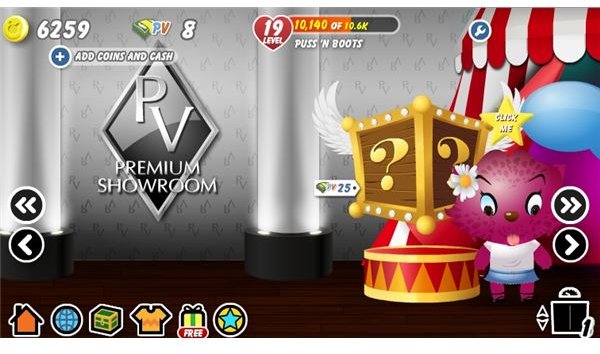 There are seven icons located at the bottom of the screen resembling a globe, chest, shirt, gift, star, notepad, and a happy face. The globe is an essential tool to help you maneuver around town in Petville. It will instantly transport pets to clothing shops, furniture stores, hardware supplies, car lots, premium stores, the spa for a makeover, the bank, or into the games area. Most items can be purchased using gold coins or pet cash earned during the game. Users can customize their entire world through purchasing everyday items like food, appliances, clothes, shoes, hats, pillows, electronics, and furniture. Each purchase earns valuable pet love points. In order to level up players have to acquire an allotted amount of love points. For fast leveling shopping in the pet shops is important.
Cool Tricks - Rock Star Style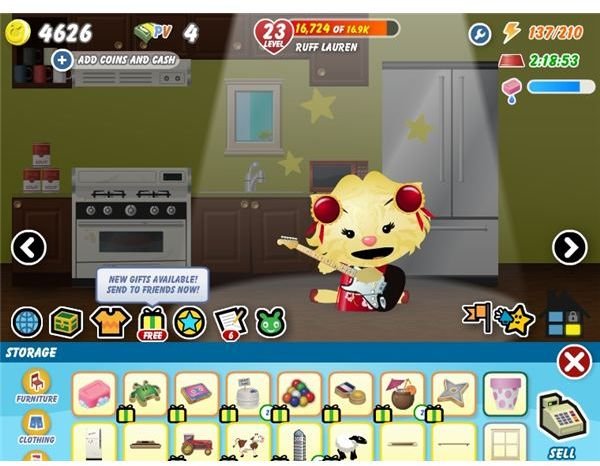 The chest is for storage. Clicking it opens your inventory. All valuables are stored here. Cookie treats are also kept in this area. Devouring one of these tasty morsels can earn major pet coins. When cute pets eat any of these rare treats they can transform into rock star literally. Each special cookie makes your pet perform a complex trick. Musical treats let pets put on a show dancing, singing, or rocking out on an electric guitar. The gold medal cookie turns furry friends into a high-flying acrobatic act. There are a wide variety of treats to choose from that allow pets to do amazing to wacky feats. Each trick performed earns 100 or more coins.
The shirt icon represents wardrobe. Users can sort through or change their pet's current outfit using this button. Make your own virtual pet with loads of personality by selecting various costumes and fashion styles. It's totally up to you. Another great way to earn additional treats for tricks is by giving your fellow neighbors treats and other useful items through the gift icon. Good neighbors will always return the favor.
Earning More Pet Love & Coins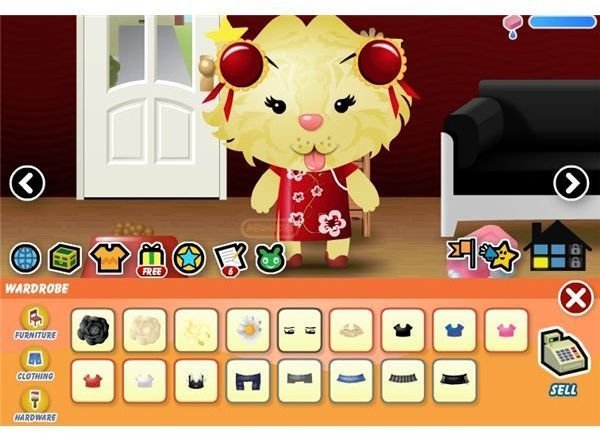 Leveling fast and earning a massive amount of pet coins is easy. There are a variety of virtual pet games or activities that users can do. One of the best methods is visiting neighbors. When players visit their facebook friends they can high five, gossip, tickle, dance, kiss, or perform a special handshake. Picking up trash in their home earns a Good Housekeeping Bonus. The star icon at the bottom of the screen lists weekly challenges for players to complete. Challenges can include collecting trash items like dirty socks or visiting a particular number of neighbors for coins. The notepad icon allows users to send friends notes. Visiting, cleaning, and writing messages keep fellow pet neighbors happy. The happy face icon brings up the meter for neighbor happiness. For each joyful pet on your block you receive a daily coin bonus.Try to collect after you've visited most of your friends.
Groovy Virtual Pet Games Plus Tips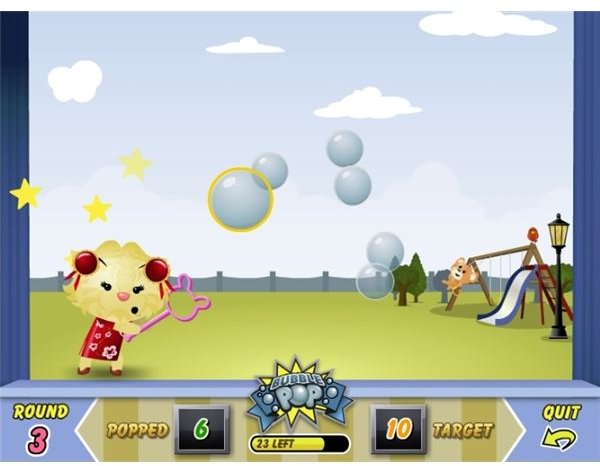 In the games section players can indulge in Bubble Pop. Although, it appears like simple child's play it's quite challenging. In Bubble Pop your pet is armed with a bottle of bubbles. The main objective of the game is to pop as many bubbles as possible using your mouse before the timer runs out. Each round designates an allotted number of triumphant pops in order to progress to the next round. For every completed round a player will receive extra coins. The speed and number of bubbles increases with each round. It's important to be quick and form a technique when popping. There's no limit on how many times a player can access the games section so this is a great way to earn more pet coins. Currently Petville is still in Beta phase but new virtual pet games will be added in the future. A few extra tips to remember when playing is to add and visit as many friends as possible. The more friends you have the higher your potential for earning coins and pet love. Take advantage of weekly challenges and contests. Participating in popularity contests like fame-o-meter can increase a pet's status as well as riches.