Complete Tips and Strategies for Beating Plants vs. Zombies (PvZ) Level 3

Introduction
Plants vs. Zombies, Popcap's hit tower defense game, boasts entertaining graphics, smooth game play, and an endless variety for strategic tactics. This award winning game continues to enthrall players even after almost a year of release.
Level 3 of PvZ is the first pool stage in the game. Instead of the five rows in which to build defenses and be attacked by zombies in previous levels, Stage 3 introduces a pool in the two center rows, and these two rows require lily pads in order to place defenses. Special water plants also become available as players progress through the stages. Two rows of normal lawn can be found above and below the central pool stages. Remember to pick up all coins that drop from zombies in this stage. Making coin fast is extremely important. You need 5000 coins to buy the next card slot, and that should come early in stage 3.
Beating Level 3-1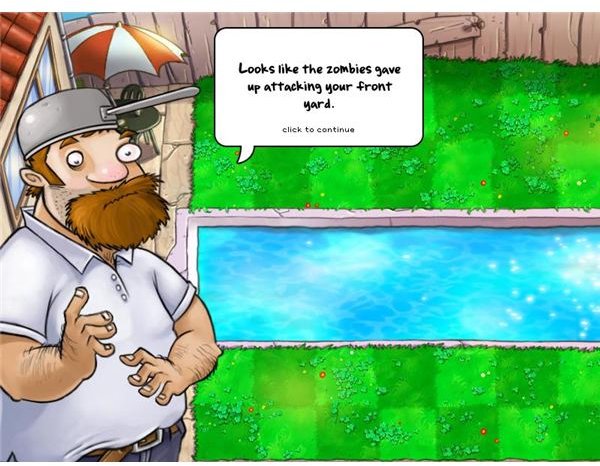 Recommended Plants: Sunflower, Potato Mine, Wall-nut, Snow Pea, Repeater, Chomper, Lily Pad
At the beginning of level 3-1, Dave informs the player that the zombies have given up attacking the front yard. They are now attacking the backyard which happens to have a narrow pool. (Maybe it is a lap pool.) In either case, players now have four rows of grass and two rows of water. The lily pad is vital on this board, so make sure to take it.
Begin by planting Sunflowers on any of the grassy lanes. Plant them in column 1 and column 2. Two rows of Sunflowers will produce more than enough sun to fend off the zombies. You should be able to plant three sunflowers before the first zombie shows its ugly face. As soon as it peeks it gray head onto the board, simply drop a potato mine in column 3 of whatever row it chooses to attack first. The potato mine will have plenty of time to arm itself. Continue to use potato mines as you start to plan sunflowers in the water lane.
As soon as all your sunflowers are planted in the first two columns of the board, put repeaters on lily pads right in front of your sunflowers. You should still be able to fend off the land zombies with repeaters, and the water zombies should not be attacking yet. You only need four columns of space for your potato mine to arm itself, so be patient. If you start to get two zombies attacking in different rows at a time, put a repeater in one row and a potato mine in the other. You should be making plenty of sun at this point. Fill in with Snow Peas after your fill column 3 with repeaters. You can finish the board with just these plants, or you can throw down some wall-nuts if you feel the need for extra defense.
After beating level 3-1, you should receive the Squash. The Squash costs 50 suns and can be used to destroy all zombies in an adjacent column.
Beating Level 3-2
Recommended Plants: Sunflower, Wall-nut, Potato Mine, Snow Pea, Repeater, Lily Pad, Squash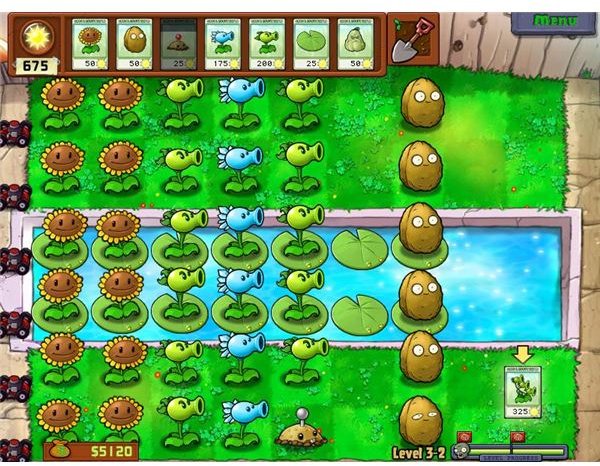 The beginning strategy for stage 3-2 operates in much the same way as 3-1. Simply use the potato mines to fend off the beginning zombies. Do not begin buying lily pads until you have more than 50 suns so that you can plant sunflowers immediately. The primary goal within the first few minutes of the board should be to get the first two columns filled with sunflowers.
In level 3, little red gift boxes will begin to drop. These serve to unlock mini-games and need to be picked up right away. Mini-games are an excellent way to make coin, and all of them need to be unlocked and beaten in order to obtain a gold trophy.
After the initial column of repeaters has been placed, Wall-nuts should be placed in column 7. They take a long time to reset, so put them down early. They only cost 50 sun, and by now, you should have an excess of sun. Remember to put them in the water lanes first, since you cannot use potato mines there.
Beating stage 3-2 gives you the Threepeater, the most expensive plant in the game. It costs 325 suns to buy a threepeater, and this fancy plant does damage in three rows.
Beating Level 3-3
Recommended Plants: Sunflower, Potato Mine, Repeater, Snow Pea, Wall-nut, Chomper, Lily Pad, Squash
The newest zombie to show its face comes in level 3-3. The Snorkel Zombie submerges in order to avoid attacks, and it cannot be attacked until it rises to attack a plant. Getting Wall-nuts up early in the water lanes can be a lifesaver in this board. Until then, be prepare to use Squashes.
Again, set up sunflowers in column 1 and 2 rapidly and use potato mines liberally to defend against the initial wave of zombies. Put down
Repeaters in column 3. Watch zombies carefully, and wait to plant repeaters when a zombie attacks and the potato mine is down. If the potato mine is not on cooldown, feel free to set up repeaters in the water column. Remember, potato mines cannot be used in water, so begin building your pool defenses early.
Placing Wall-nuts in column 7 will force the submerged zombies to have to surface and chew through the defenses. A repeater should be able to destroy them quickly. Repeaters can also easily take out a Cone Head Zombie, so have faith in them.
Beating stage 3-3 gives you the beloved Tangle Kelp. Tangle Kelps are amazingly cheap at 25 suns, and they destroy one pool zombie upon contact.
This post is part of the series: Playing Plants vs. Zombies: A Guide to Beating All the Levels
This detailed guide has tips, hints, and strategies for beating every level in Plants vs. Zombies. This guide is designed to be used by people who need a little help to win specific stages.