Plants vs Zombies 3-8, 3-9, and 3-10 - Finish Beating Plants vs. Zombies Level 3 With This Easy Guide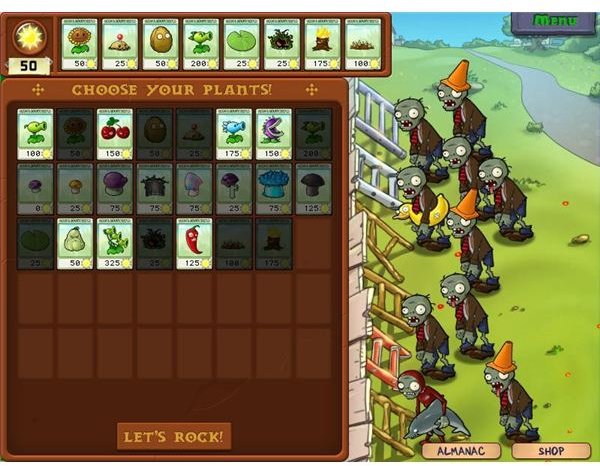 Introduction - Plants vs Zombies 3-8, 3-9, and 3-10.
Some of the strategies used in this guide are explained in previous articles in the series. Plants vs. Zombies level 3 consists of four lawn rows and two water rows. Several new plants and zombies are introduced at this stage, and some of them can be quite tough to beat. This strategy guide gives simple tips to beat each level quickly, but they can be tweaked to suit various play styles. At level 3 players do not receive plants for their Zen Gardens yet, but they can be saving money to by the additional gardens from Crazy Dave.
Beating Stage 3-8
Recommended Plants: Sunflower, Potato Mine, Wall-nut, Repeater, Lily Pad, Tangle Kelp, Torchwood, Spikeweed
The recommend Torchwood can easily be subbed out with a Snow Pea plant. Both cost 175 suns, and both are effective in different ways. A new zombie makes its appearance on this board- the Dolphin Rider Zombie. He is completely obnoxious and shows up in the pool lane. The dolphin makes him incredibly fast, and he will leap over Wall-nuts in a single bound. Tangle Kelp is the best way to deal with him.
Use the standard set up of putting down Sunflowers quickly and defending with Potato Mines. Proceed with the Repeaters and put down Torchwoods behind Wall-nuts. The Torchwoods have no defense other than the Repeaters shooting through them, so it is good to defend them with Wall-nuts and Potato Mines. They add a ridiculous amount of damage to the Repeaters, so you should melt zombies with little problems.
Remember to fill your pool lanes up with as many Tangle Kelps as possible to fend off those Dolphin Zombies. Feel free to save a Tangle Kelp for emergencies also. Two Repeaters and a Torchwood in the pool lanes will melt dolphin zombies quickly.
Beating stage 3-8 gives you the Tall-nut, the big brother to the Wall-nut that prevents Pole Vaulting Zombies, Dolphin Riding Zombies, and Pogo Zombies from jumping over them to attack more vulnerable plants. Buy a Tall-nut for a mere 125 suns.
Beating Stage 3-9
Recommended Plants: Sunflower, Potato Mine, Repeater, Snow Peas, Lily Pad, Tangle Kelp, Spikeweed, Tall-nut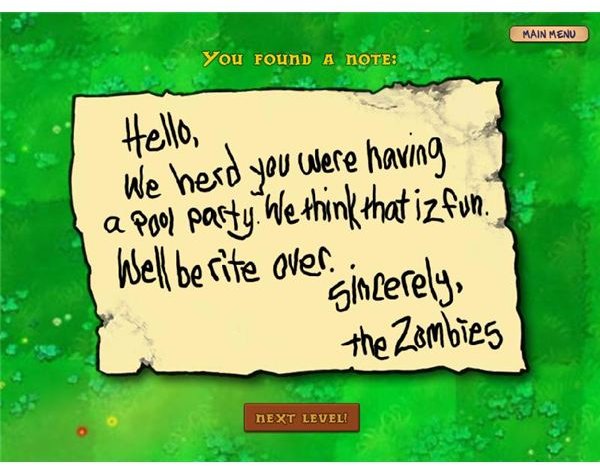 Use the exact same strategy used in beating stage 3-8 to set up the initial Sunflowers and defend them with Potato Mines. On this board, the biggest difference from the previous boards is simply using Tall-nuts instead of Wall-nuts. Tall-nuts cost 125 suns, more than twice the price of a Wall-nut, but they provide tons more defense. In addition, they cannot be vaulted over by Pole Vaulting Zombies, Dolphin Riders, or Pogo Zombies. Placing a Spikeweed in front of these Tall-nuts guarantees massive destruction of zombies.
After beating stage 3-9, the zombies drop another funny note as they prepare to invade your backyard with a vengeance.
Beating Stage 3-10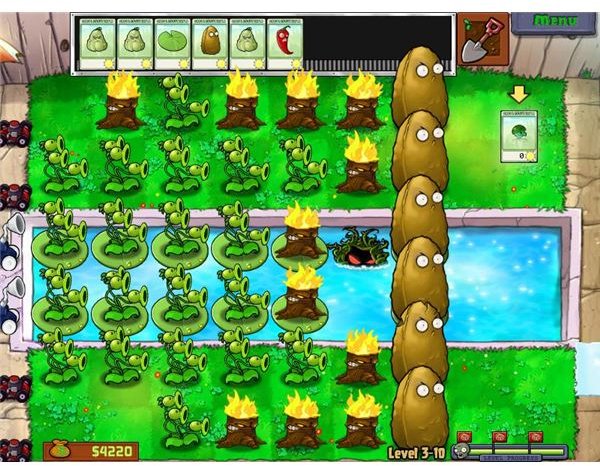 This is yet another conveyor-belt style board where plant cards stream across the top, and they can be planted on a standard pool board. Sun is not needed in this stage. The following plants will be available on this level: Threepeaters, Squashes, Torchwood, Tanglekelp, Tall-nuts, Lily Pads, and Jalapenos.
The Threepeaters should be planted in rows 2 and 5 as soon as they appear, and they should be stacked heavily. This allows the peas that they shoot out to hit all three lanes and provides the best coverage. Torchwoods go in column 6 which gives damage to all the peas that are dispensed. The Tall-nuts should be planted in column 7. Tangle Kelp can be placed all the way over in column 9 to take out pool zombies quickly. Jalapenos can be used to take care of any emergencies in addition to the Squashes. Use these to protect your rows if the Tall-nuts are slow to appear.
After beating stage 3-10, the Sea Shroom becomes available for use indicating that the next board is very likely to be another night board that involves a pool. The Sea Shroom is planted in water for 0 suns. What a bargain!
This post is part of the series: Playing Plants vs. Zombies: A Guide to Beating All the Levels
This detailed guide has tips, hints, and strategies for beating every level in Plants vs. Zombies. This guide is designed to be used by people who need a little help to win specific stages.