Mall World Game Review - Shopping Spree Game with Fun Fashions & Cute Puppies to Adopt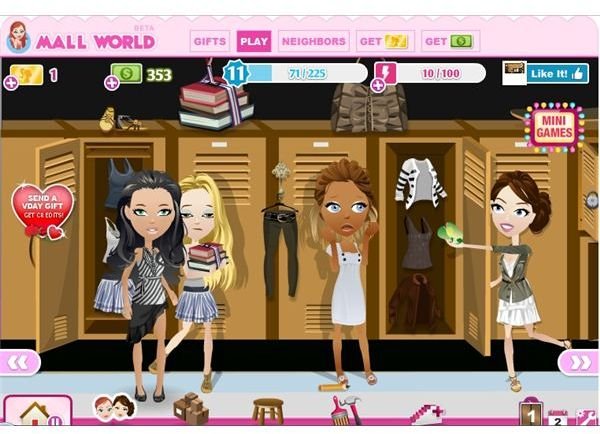 Mall World – Ultimate Shopping Spree Game
Mall World is a 2D social fashion themed shopping game from 50 Cubes. Players start their own trendy boutique from the ground up, shop for merchandise, and compete with other players for the title of top fashionista. Watch or work the runway in an interactive fashion show with friends. Unlock designer collections. Play fun mini-games and spruce up your shop with a wide variety of decorations. Adopt cute puppies and buy adorable outfits for them to wear. Keep your companion as in style as possible with the latest in doggy wear from diamond studded collars to sneakers. Identical to PetVille players can feed their pooches snacks that make them grow or do tricks. In this shopping spree game it's important to expand your character's closet and status along with their pup. Become the most stylish fashionista and reign supreme in Mall World.
Running Your Boutique, the Gameplay (5 out of 5)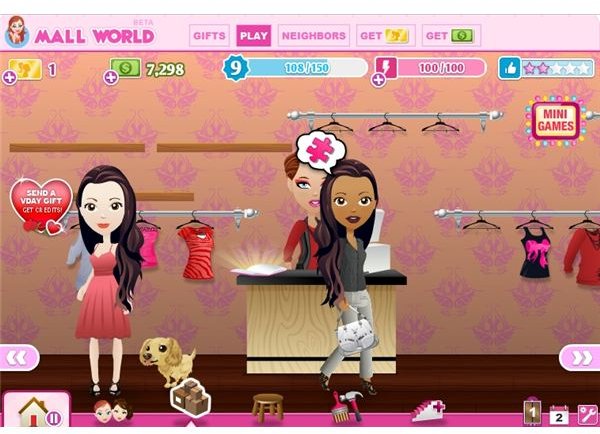 Most of the gameplay revolves around running your boutique and shopping. Players start out with $3,000 and 10 Mall Credits. Purchase clothing items to sell in your shop by clicking the catalog icon. The catalog has over 45 pages of designer collections. Scroll through the pages and find outfits or pieces of an ensemble to order. Each item has a designated price, earning, and delivery time listed. Invest in Sweet Sparkle by Royal Jelly, the Rendezvous Collection, or All that Glitters by Apolline. Some collections must be unlocked by paying a fee. Similar to Market Street ordering items to stock displays earns XP. Customers will enter the boutique to shop. Bubbles above their head indicate whether they'd like to trade in an item voucher which players exchange for cash or are in need of help with completing a collection. A mini-game begins where shop keepers must choose one of the 9 items listed to go with the customer's outfit. A correct guess is rewarded with Mall Dollars.
Many aspects of the game challenges players fashion knowledge. There are several other creative mini-games such as Fashion Show and Wheel of Fashion for players to test their luck. Complete the Daily Moxie Checkout List to increase your star rating and generate more sales. This feature functions like a quest system. Accomplish tasks like purchase 10 unique items in the store or change your makeup for moxie points. Go shopping at the mall for the latest trends and ideas. There are over 40 different stores. Buy shoes, dresses, tops, skirts, jackets, jeans, swimwear, and even lingerie. In the Mall World game users can create hundreds of different looks. Level up by shopping for yourself and for items to sell in the shop. Visit friends' boutiques and clean up after sloppy customers. Click to pick clothes off the floor. Players can also give neighbors' avatars a makeover. This feature is fun but tends to come off as spam when the finished look is posted into feeds.
User Interface/Controls (4 out of 5)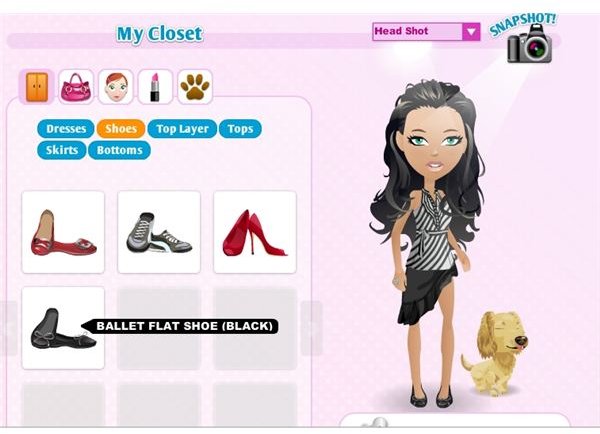 Although the game has a relatively large number of distinct elements embedded throughout the interface is still easy to use. Core icons such as the store, mall, catalog, and closet are located in the left bottom corner of the screen for quick access. Inventory, stockroom, furniture, and other tools are situated across the bottom of the screen. A neighbor tab conveniently displays or hides a user's friend list. Players simply click and drag clothes from their inventory to hang on racks. In the closet area players have a drop down menu for poses. Change views from full body to head shots in order to switch outfits and makeup. A snapshot icon allows users to take pictures of their new look instantly. Overall the game runs smooth with few errors.
Graphics (4 out of 5)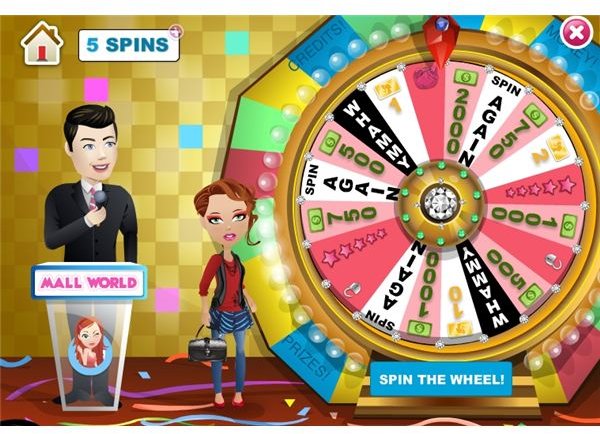 The graphics are quite impressive. The 2D animations transport players into a virtual shopping wonderland. There are over 40 different stores in the mall section. Browse premium to discount shops for the best deals. Similar to department stores in real life users can explore multiple floors. Players can purchase thousands of detailed clothing apparel from belted strapless dresses to signature MTV's Bieber Blazers. During Fashion Shows each player's avatar strut their stuff down the catwalk as a shadow figured audience watches in awe applauding. Camera flashes appear capturing the moment. There are also plenty of customization options. Change your avatar's appearance from eye color to mouth contour. Choose from dozens of hairstyles like the side swept bob, updo with curls, micro braids, or urban layered cut. Visit Inked and get a tattoo of a sparrow, diamond, star, skull, or butterflies on the body part of your choice. All of the avatars are strikingly beautiful resembling Bratz dolls. Their eyes blink realistically. Decorate your boutique with patterned wallpaper, florescent lighting, or marble floors. Add glass displays, touch screen registers, statures, and sleek shelving. Spruce up the place with a wide assortment of decorations. Dangling parlor chandeliers, oval rugs, and even graphic art hangings.
Sound (4 out of 5)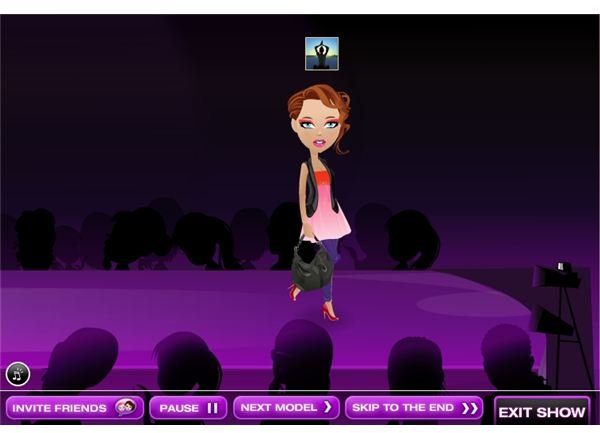 The musical score and sound effects are solid. A mellow yet funky upbeat tune plays as players shop and re-stock items in their boutique. There's no option to change tracks in the Mall World game. When owners enter their closet for a wardrobe change whimsical clicks sound off to signify perfection. Switching outfits, applying makeup, or adding new accessories prompt a ring tone of approval. Some of the mini-games like Dressing Room and the Wheel of Fashion have a few sound effects implemented as well. Players can hear chimes for correctly matching up an outfit or the turning of the wheel when it's spun. Each Fashion Show features a different techno soundtrack. The music adds a bit of authenticity to the game.
Overall Rating: (4 out of 5)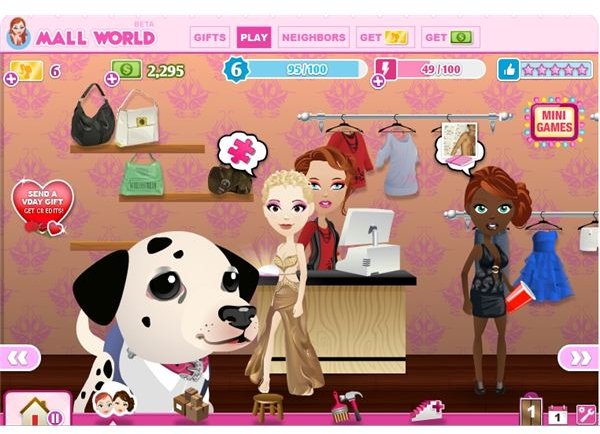 Mall World is an innovative fashion infused shopping spree game where players run their own boutique selling the latest in trends. Give customers makeovers. Play fun mini games. Participate in dozens of runway fashion shows to win free mall credits. Decorate and design your store with a variety of cool items. Adopt a pet. Visit friends' shops and help out. Compete against or assist friends in their shopping mall aspirations. Similar to games like It Girl or Sorority Life there's a nice combination of social features and avatar customization. This animated doll universe is fun and addictive. Any fan of fashion dress up games online will thoroughly enjoy this gem on Facebook.
References
Source: author's own experience.
All screenshots from Mall World