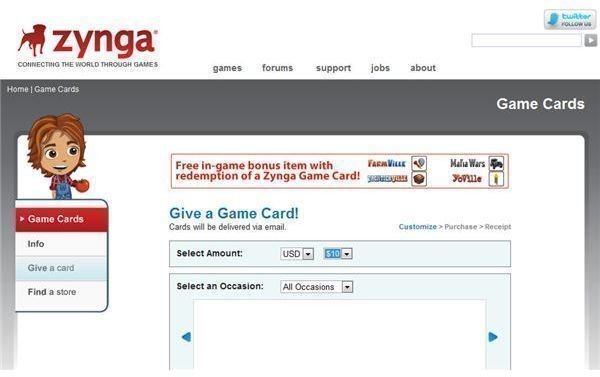 Zynga Games
Zynga games are hugely popular social networking websites such as Facebook and MySpace, but are also frequently played on mobile phone devices (such as the iPhone) as well.
Games that can be played on Facebook include: Blackjack, Café World, Farmville, Fashion Wars, FishVille, FrontierVille, Mafia Wars, PathWords, PetVille, Pirates, Poker Blitz, Scramble, Special Forces, Treasure Isle, Vampire Wars, WarStorm, WordTwist, YoVille, and Zynga Poker.
Games that can be played on MySpace include: Fashion Wars, Mafia Wars, Pirates, Special Forces, Vampire Wars, YoVille, and Zynga Poker.
Games that can be played on the Apple iPhone include: FarmVille, Live Poker, Mafia Wars, Scramble 2, Special Forces, and Vampire Bloodlust.
Games that can be played on Yahoo! include: FishVille, Mafia Wars, and Zynga Poker.
Zynga Game Cards
If you need a last minute gift or a fun stocking stuffer for the holidays, the Zynga game cards are a perfect fit for the social gamer.
These cards are offered for purchase in participating stores, such as: 7 Eleven, Best Buy, Game Stop, Target, Walmart, and Walgreens. They are also offered online from the Zynga store at: https://www.zynga.com/gamecards/give/. When purchasing online they can be mailed electronically to the recipient and paid for with a credit card. These can be sent on specified dates, so it will arrive when you want it to. Perfect for pre-holiday planning!
Note that if you buy a game card for FarmVille, it has to be used for FarmVille, same goes with any card that has just one game shown on it. If it has multiple games on it, it must be used for participating games including: FarmVille, Mafia Wars, YoVille, FrontierVille, Zynga Poker, Treasure Isle, Café World, PetVille, and FishVille.
What Zynga Game Cards Are Used For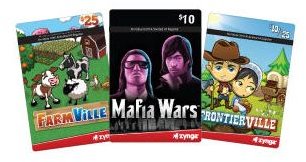 These cards are able to be exchanged for cash for the game that they play that is developed by Zynga (see games above). That cash is then used for whatever in game item that the player wants. This varies by game and can include many different things or upgrades to the game only available by the game card.
If you play Mafia Wars or FarmVille with your family member or friend that you want to gift something specific, use the zynga game cards yourself and then send out fun presents in game. To do this, go to the market area and select which item you want to buy for them, and send it. Not sure which item to gift? Ask them sometime which item they'd want if they could buy anything with Zynga cash. This will give you a pretty good idea to start with!
If you want to surprise them, give them something they would like based on their interests. For example, if your friend plays FarmVille and lives in or loves to visit New Orleans, LA, they would probably love some of the French Quarter buildings that are available in the market. If they love shopping and clothes, they would love the game card to buy new costumes and clothes for their Farmville avatar.