Disney's Mickey Mouse Preschool PC Games: An "Edutaining" Experience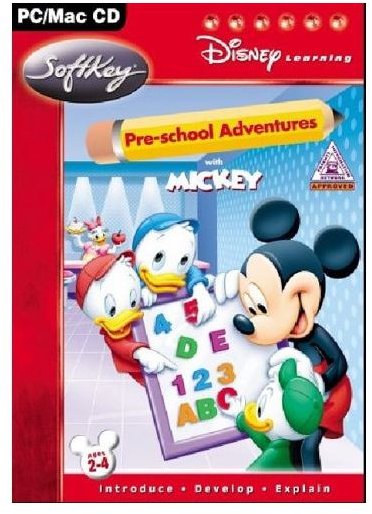 Disney Mickey Mouse Preschool PC Game
The Disney team has released yet another exciting educational experience, for young gamers. The Mickey Mouse and Friends game series introduce seven primary areas that will stimulate the childs learning and development. The areas include creative, cognitive, moral, social, physical, and thinking skills.
Mickey Mouse Preschool is made up of activities that reinforce self esteem by means of constant positive reinforcement with Mickey and his pals. Children are also learning their 123's, ABC's and colors and shapes.
While interacting with Mickey and his friends, kids are learning about 123's, ABC's, colors and shapes and other age appropriate skills. Disney's Mickey Mouse. Preschool is filled with activities that build self-confidence by means of continuous positive reinforcement from Mickey and his friends.
Mickey Mouse and Minnie are going for a drive in the country with Pluto, when they are suddenly short on gas. This is where we meet Goofy, and Daisy Duck who owns a diner nearby. The adventure begins. The gang is now here and ready to provide themed based activities for the young gamer. The player will need to fill Mickey's gas tank, which is where they will learn to count. A michevous game of 'knock the can' involving letters, color, shapes and recognition of numbers. Kids will also have a chance to create awesome driving machines, and a turn to drive behind the wheel, where they can reinforce the difference between left and right, up and down, loud and soft. There are follow up print activities found on placemats in Daisy's diner, when the youngster is off the computer.
Mickey Mouse's Preschool is designed to provide simple preschool learning fundamentals in a simple environment, that is conducive to learning. Kids will learn problem solving logic and they will practice short term memory interaction skills. Kids will learn to sharpen there skills with color mixing, recognizing patterns, counting, and knowing what is the same and what is different. Their vocabulary and listening skills, as well as art and music appreciation are their path to developing these abilities. The Disney Characters appeal to cross genders, which appeals to mostly boys. The great thing about Mickey Mouse preschool is that it is easy to play and easy to install, with a user friendly manual that comes with the cd roms.
Another popular release is Mickey Mouse Kindergarten. This game is primarily more entertaining than it is a learning tool, but it it holds the same character appeal. Mickey is once again the star of the show, as he heads to the city, as a news reporter. His job is to catch all of the interesting stories that have surfaced lately. The preschooler will reinforce counting skills and number recognition, as they teach Donald to dance the samba ! They will learn to make personality choices, when they are given the tasks of assigning a bellhop to a fiesty hotel guest. They will hone reading skills as they help a sleepwalking Goofy get back to his hotel room. They will play the traditional hide and seek game with a thief, and practice counting skills. Do yourself a favor and check out Disney's Mickey Mouse Preschool for the PC today !
Sources Cited:
[Disney Images](/tools/Image : http:/ca.images.search.yahoo.com/images/view?back=http%3A%2F%2Fca.images.search.yahoo.com%2Fsearch%2Fimages%3Fp%3Dmickey%2Bmouse%2Bpreschool%2Bgames%26ei%3DUTF-8%26fr%3Dyfp-t-715%26fr2%3Dtab-web&w=500&h=500&imgurl=i17.tinypic.com%2F6pp2rra.jpg&rurl=http%3A%2F%2Fwww.maxgrab.org%2Fshowthread.php%3Ft%3D74800&size=52k&name=6pp2rra+jpg&p=mickey+mouse+preschool+games&oid=730b0c296de554ea&fr2=tab-web&no=1&tt=14&sigr=11d6dchct&sigi=10rmk8nul&sigb=13gkq9n09&type=JPG)