Band Hero for the Nintendo DS Provides the a Wonderful Band Hero Song List for Everyone to Enjoy with it's Guitar Grip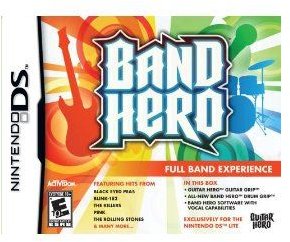 Become the Band's Hero
Band Hero is built on the premise that just because the Nintendo DS is portable, that doesn't mean you can't have the full band experience in the palm of your hand. So it's not just some cartridge plugged in that displays graphics and video game music; try cracking your knuckles and getting ready to perform like it's 2099.
Sure there's a wide variety of top 40 hits on the Band Hero song list. Sure, the songs are chosen for their affinity to playability with multiple instruments. And, WiFi is there to link up other players so you can be your own band and pick whether to play guitar or bass or drums or sing. But, what gives you power that you didn't have before is the actual controls that you'll be using, such as the guitar grip. Which get attached to the Nintendo DS so that you're rocking hard.
What's Hardware Got to Do with It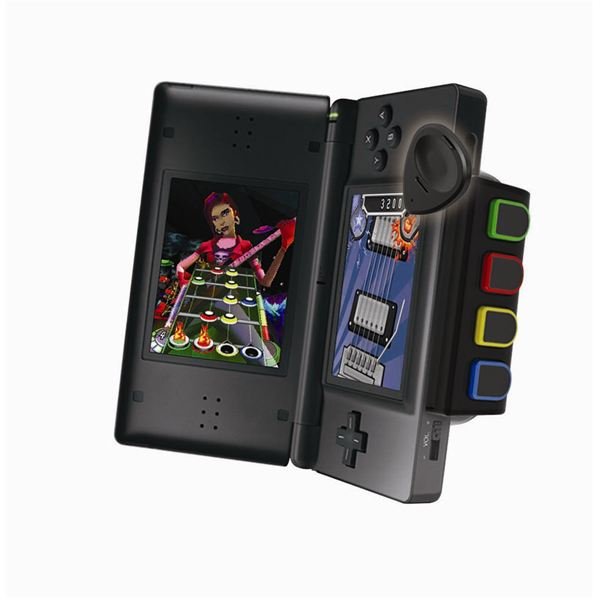 The Band Hero Bundle has the game cart, natch, but there's also hardware controls so you can shred a guitar or beat those skins senseless. The guitar grip appropriately enough clutches the Nintendo DS so that your holding it while working the buttons as the game takes off - can't you feel the beat? Of course you're not going to be using that Game Boy Advance slot while Band Hero's doing its thing, so no big surprise that the grip gains its power over the DS through the GB slot.
The drum kit for Band Hero is even cooler - the pads go over the controls and give your fingers the ability to turn into sticks hitting and keeping the beat going. It's resting on the D-Pad and face buttons but you knew that, right? I guess we're all pretty used to mashing those colored buttons from Guitar Hero already, but I got to say that having this kind of control right here in the hand works awfully well.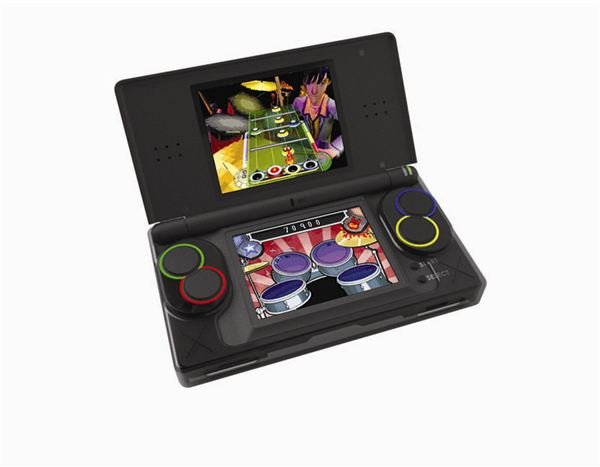 Cat Got Your Tongue?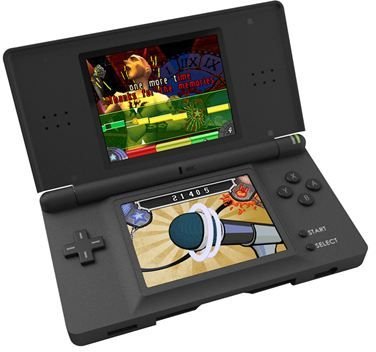 Band Hero also lets you sing your way to glory - that built-in Nintendo DS mike getting a real workout now. Lyrics scroll across the screen in that karaoke- way that's so appealing. Hey, it's better than starting to sing a lyric and ending up humming the chorus, right? At least I can carry the tune for the Rolling Stone's "Under My Thumb" without seeming too lame… And for sure it helps to get up close and personal with the microphone so it can really do my pipes justice - hah, more like it's safer to keep the audio from my mouth going fast into the DS and not the world at large…
It's a good mix of songs - there's classic guys like the Stones, Pretenders and Duran Duran, but also other folks that I'm less in touch with like Eagles of Death Metal and Vampire Weekend. It takes all kinds and tastes to make a song so it should be interesting to try and hit the right "notes" with those tunes I'm less (or totally) not familiar with.
Boy Band, Girl Band, Band Hero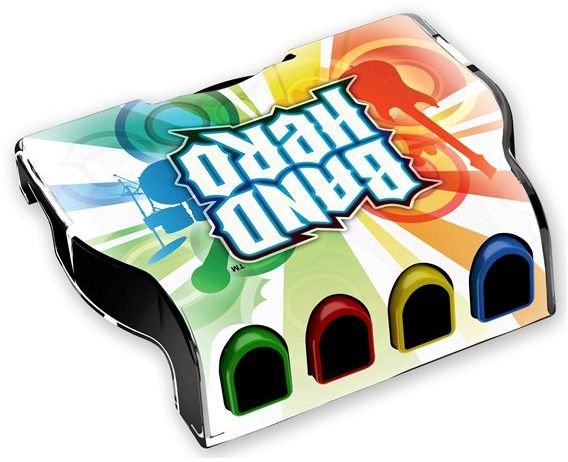 Once you've got your musical feet wet, it's time to start belting out those tunes. There's different ways to play - a quick play for fast fun, a career mode that will take you mucho time or multiplayer where up to 4 brave souls can join together.
So Lets Rock
Could it be lost in all the fun and action of Band Hero that the graphics are really impressive? Having the dual screen might mean a bit of head bobbing, but it also translates into a more immersive environment when playing. Bright colors are always good of course and BH is plenty heavy with them, but it don't get messy on the small screen. I think it's more fun playing on the DS than sitting down with a fat controller in my hand and the HDTV. I mean, I can keep it going while heading to the kitchen for a one-handed snack. Stiil, the fact that you can hook up with someone joining the band from a Wii is pretty cool.
Headphones are pretty much a requirement for listening, but you knew that right? Guess that's a gift for the rest of the family who might not appreciate the tunes (we won't go into whether they'll ever appreciate my vocals).
So give yourself the gift of pop music while exercising the fingers of your hand that haven't seen this much action since free beer night. Marshal out.
Want to Hear More?
If Band Hero has got your musical juices flowing then why not check out its big brother - the companion musical game Guitar Hero - to get to the front of the performance.
Guitar Hero World Tour for PS2
Guitar Hero content for the Wii
Guitar Hero: Metallica for Xbox 360
Guitar Hero Accessories