Treasure Isle Tricks, Tips, and Strategy – Guide to Zynga's Treasure Isle on Facebook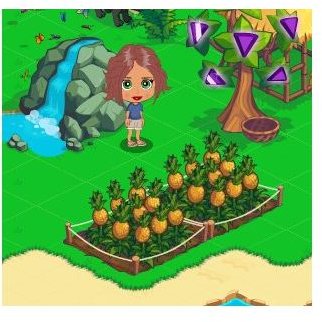 Treasure Isle Tricks and Tips
Facebook's Treasure Isle is one of the most recent releases from Zynga – the developer of many other popular social games, including Cafe World and Farmville.
In Treasure Isle, you set out to explore other islands looking for treasure, gold, and other random finds. You also have a home island, which you can decorate using gifts sent to you from other Treasure Isle friends or items bought from the Treasure Isle store.
In this strategy guide, we'll take a look at several tips and tricks you can use to level up faster and earn more gold.
Don't Forget to Get Bonuses from Your Home Island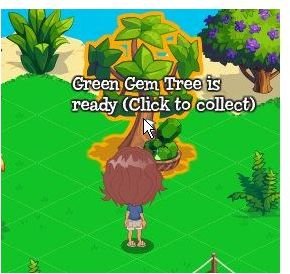 Although your home island is mainly a place for you to decorate with all sorts of items that you can buy from the store or that you receive as gifts, it's also a place where you can get several bonuses at least once a day.
When on your home island, make sure to check the following:
Harvest your gem tree for free gems that you can use to unlock tiki gates. When you harvest your gem tree, you'll also be able to share gems with friends.

Check the ocean around your island for a treasure chest. Clicking on this chest will give you free gold.

Plant and harvest fruit in your two garden plots. When you harvest fruit, it will move to your backpack and stay there until you use it or it expires. Using the fruit will give you more energy – so you'll be able to go dig for more treasure.
Use Your Energy Wisely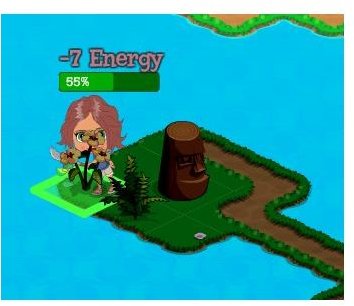 Try to get the most out of every energy point. Remember that your energy bar will fully reset each time you gain a level. So, if you are close to getting a new level, use your remaining energy wisely.
For instance, if you have 10 energy points left and you're only 1 XP point away from leveling, make sure that the next item you search is a rock or other square that will use up all of your remaining energy. This way you won't waste any of those 10 energy points when your energy bar refills due to the new level.
Visit Your Neighbors Everyday
There are several different bonuses that you can get from visiting your neighbors everyday:
Each day, you can help clean up each neighbor's island. By doing so, you'll receive free coins and XP.

When visiting your neighbor's island, make sure to click on their gem tree. You may be able to get a free gem.

Before leaving your neighbor's island, look out in the ocean for a treasure chest. Clicking on this treasure chest will give you a random bonus of free coins.
Check the My Neighbors Tab for Extra Islands to Visit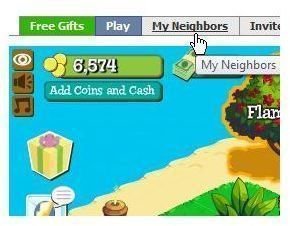 In addition to visiting your actual neighbors by clicking on their avatar at the bottom of the Treasure Isle screen, make sure you click on the My Neighbors tab for extra islands to visit. Even if one of your friends has not responded to a Neighbor request, you may still be able to visit their island and get bonuses from this tab.
At the top of the tab, look for a message like "So-and-so is currently away and crabs are crawling all over his island. Would you help scare them away?" Then, click on the Go to So-and-so's island button to visit the island. You'll be able to do the same things on that island as you would on any of the islands that belong to your actual neighbors.
This is a great way to pick up a little extra XP and coins – and maybe even a free gem as well.
Read on to the next page for other Treasure Isle tips, including how to get XP without using any energy so you can level up faster.
Maintain Your Wish List Often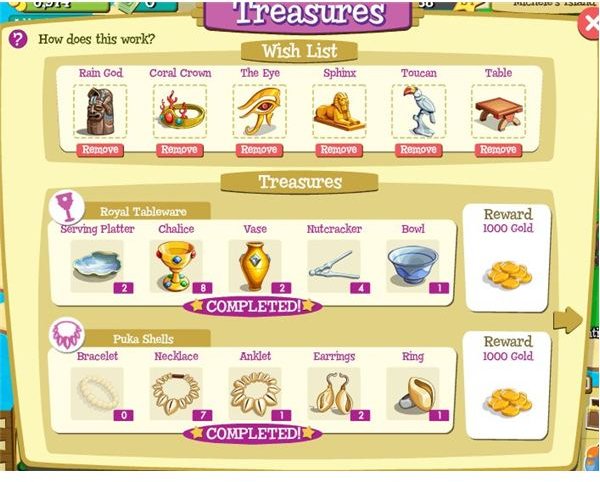 You can access your Wish List by clicking on the Treasures icon in the lower right-hand corner of your screen (the one that looks like a treasure chest). You can add up to six items to your Wish List – make sure it is full at all times!
If someone gives you an item from your Wish List or if you find one of the items while digging, it will automatically be removed from your list. So, it is a good idea to check your Wish List every time you play Treasure Isle to see if any spaces have become available. If they have, add new items to the list.
Trade Wish List Items with Your Neighbors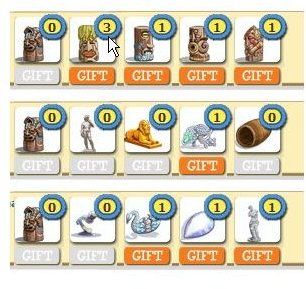 On the My Neighbors tab, you can see the Wish Lists for all of your neighbors. In the upper right corner of each Wish List item, you'll see a number with a blue circle around it. This tells you how many of those items you have in your possession.
If you have extra items, you can click the Gift button to send one of your spares to a neighbor. Not only is this a nice way to help your neighbor, but you may get lucky and your neighbor may reciprocate by sending you an item that you need to complete a collection.
Complete Collections and Finish Islands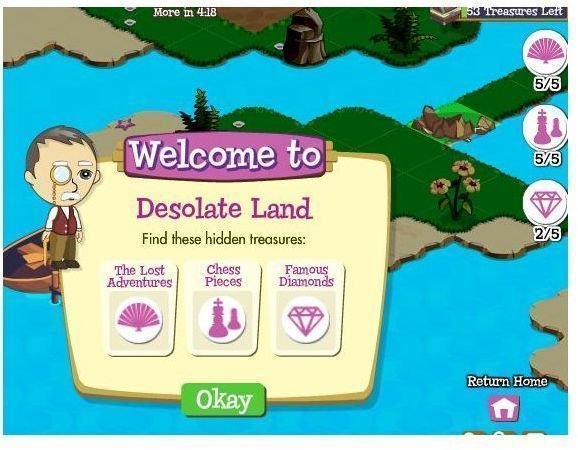 When trying to decide which island on your map that you want to explore next, you may want to narrow your choice down to those that contain treasure items for collections that you've almost completed. Each time you click on a different island, you'll see a pop-up that tells you which treasure collection items can be found on that island.
In addition, on the right side of the screen, you'll be able to see how many items you still need of each collection type available on that island. Each time you complete a collection, you'll earn bonuses that consist of free coins and XP. Some of these bonuses are quite large, so it's very worthwhile to focus on completing collections.
After finding all of the treasures you need on a particular island, it can be very tempting to leave that island and go to a new one that still has treasures to claim. However, this isn't always the best course of action.
In addition to getting bonuses for completing treasure collections, you also get bonuses for completing an entire island – and many of those bonuses are fairly high. In addition, there are lots of other things you can get besides treasure that you can find by digging and exploring each square on the island. These include gold, fruit, free gems, and even Treasure Isle cash.
Close to Leveling, but Have No Energy Left?
One of the things that can be very frustrating when playing Treasure Isle is that you can get very close to moving up to the next level, but you have no energy left. With each new level, your energy bar refills itself completely. So, if you could just get a few more XP points, you'd have that new level and a full bar of energy to use for more island exploring.
There are actually a few ways that you can get XP without using energy in Treasure Isle – and without spending any of your Treasure Isle cash.
Double-check to make sure that you've visited the islands of all of your neighbors that day. Visiting each island will give you a small amount of XP once per day.

If you have gems in your backpack, go to random islands and start unlocking tiki gates. It doesn't take any energy to unlock a tiki gate – only gems. However, unlocking a gate will give you some XP.

If you have a lot of gold, look on other islands for rocks to blow up and bugs to kill. Again, blowing up rocks and killing bugs doesn't take any energy, but it does give you XP. The bad part about this strategy is that it can get expensive (in terms of gold, not Treasure Isle cash) since you do have to buy the dynamite to blow up the rocks or the bug killer to get rid of the bugs.
This post is part of the series: Treasure Isle Strategies and Tips
Learn how to get additional energy, free gems, and more in this collection of Treasure Isle tips and tricks. This three-part Treasure Isle Strategy guide shows how you can advance quickly in Zynga's latest Facebook game without buying Treasure Isle cash or using any cheats.