How to Get Gems on Treasure Isle for Unlocking Tiki Gates with Blue, Red, Orange, Purple, and Green Gems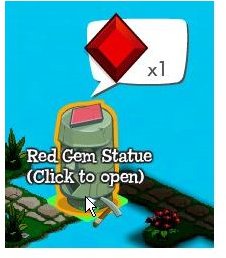 Finding Treasure Isle Gems
Next to energy packs, gems are the most sought after commodities on Facebook's Treasure Isle. There are five different color gems – Blue, Red, Orange, Purple, and Red – and these gems are used to get past tiki gates when exploring islands.
When using a combination of gems on a tiki gate, you'll receive 5 XP without using any energy. So, if you need a few XP to get your next level, this is a great way to get those points. For more tips on how to get XP without using energy, see our Treasure Island Strategy Guide.
Gem Tree on Your Home Island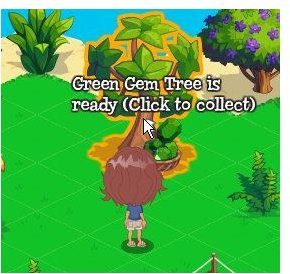 One of the items that will be present on your home island when you first start playing Treasure Isle is a gem tree. This gem tree will produce a particular color gem, and that color will never change. Each day, you'll be able to harvest your gem tree and collect one gem for yourself. You'll also be able to share gems from that harvest with friends.
Getting Gems from Exploring Islands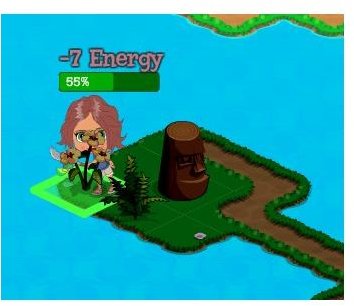 It's also possible to find gems in Treasure Isle when digging or searching squares while exploring islands on your map. This is a fairly random way to get gems, but it is a nice bonus when you do find them. Additionally, if you find a stash of gems, you'll be offered the chance to share them with friends.
If you're really hard up for gems, you may want to take the time to scroll back through your Facebook feed to see if any of your friends have posted a link to get gems – either from harvesting the gem tree on their home island or from finding a stash when exploring.
Visit Neighbor's Gem Tree
One of the quickest and easiest ways to get a lot of gems on Treasure Isle is to visit every neighbor's island once a day. When on their islands, click on the gem tree there. If they've harvested their tree in the last 24 hours and you haven't already gotten a gem from them during that time frame, you'll be able to get one right then. Because of this, it's a good idea to have as many neighbors as possible.
My Neighbors Tab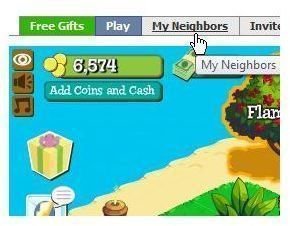 You can use the information on the My Neighbors tab to get free gems – even from people who aren't your neighbor. When you click on the My Neighbors tab located above the Treasure Isle gameplay window, you may see the option to visit the islands of other Facebook friends who have not accepted your neighbor invitation yet.
If you do see this option, definitely take it! Once on that person's island, you'll have the option to do any of the things you would on an official neighbor's island – including getting a gem from their gem tree.
Mystery Gift Box
Gems can also be found in mystery gift boxes. So, if you're not sure what type of gift to send your friends, send a mystery box and hopefully, they'll return the favor. Even if you don't get a gem from the mystery gift, you could some other fun item to use when decorating your home island or you may even be lucky enough to get Treasure Isle cash.
Buying from the Treasure Isle Store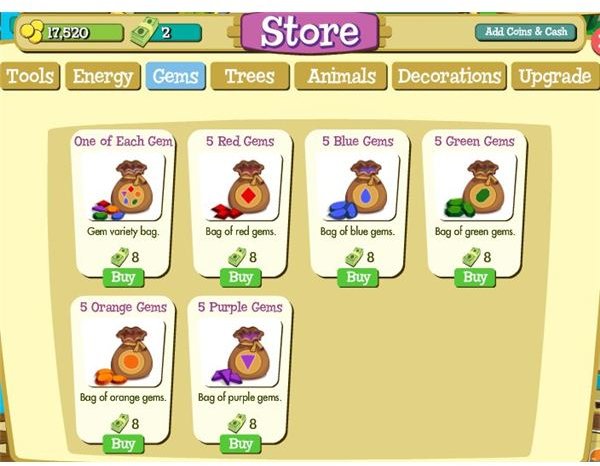 If all else fails and you have some spare Treasure Isle cash, you can buy a bag of gems at the Treasure Isle store.
This store is accessible from your home island – just click on the store icon found in the lower right corner of the screen.
This can be a pretty expensive option, though, since Treasure Isle cash is hard to come by and a bag of 5 gems costs 8 cash.
This post is part of the series: Treasure Isle Strategies and Tips
Learn how to get additional energy, free gems, and more in this collection of Treasure Isle tips and tricks. This three-part Treasure Isle Strategy guide shows how you can advance quickly in Zynga's latest Facebook game without buying Treasure Isle cash or using any cheats.