Miniclip.com Review - The Best Site for Free Flash Games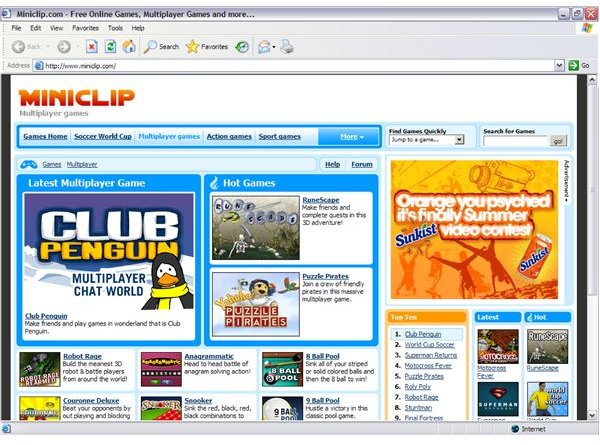 Miniclip.com - The Hub for Flash Game Lovers (4 out of 5)
Addictive Flash games are becoming a popular choice among kids and adults. These games appeal to users due to their entertainment content and catchiness. If you like to play free Flash games over the internet, make sure you include Miniclip.com in your favorites list.
Miniclip.com is directory of free online and downloadable games. It is a London based gaming site founded by Rob Small in 2001. It has dominated online gaming due to its simple, catchy and fun web-based games. Multiplayer games like RuneScape and Club Penguin are quite popular among online gamers. One can find lots of free games to download by accessing the download section. This review highlights the important aspects of Miniclip.com.
Quality (4 out of 5)
Miniclip offers the best Flash games that are absolutely free to download. The games load faster and are of very good quality. There are no buffering delays for longer clips and players can download games that require minimum hard drive space. Miniclip always updates its categories with new games every month. If you wish to have regular alerts on new games, you can download a free toolbar. The toolbar helps you access exclusive games and also alerts you about any new game releases on Miniclip.com.
Action and Adventure Games (5 out of 5)
With over 500 free games, Miniclip.com is the most popular gaming site on the internet. Whether you are an MMO addict or a plain lover of puzzle games, this site fulfills all your gaming needs. The best part of Miniclip is its variety and that catches every user's attention. All you need is to sign up for free in order to access Miniclip games. Games are categorized into puzzles, sports, action and adventure and shoot 'em up, so it is easy for gamers to browse games of their choice. When you visit Miniclip.com, check out the top 10 games and look at the list of games on the "hot" category.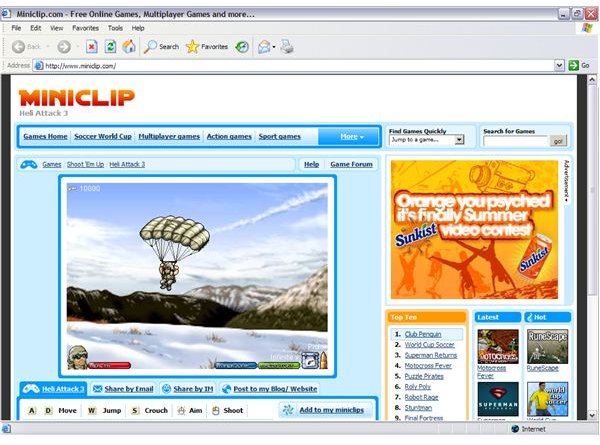 Miniclip has a wide variety of action and adventure games. This section has more than 200 games including the popular Commando series, Stunt pilot, Final Ninja and Canyon defense. Most games resemble comic book style of artwork with some 3D effects. If you love sports, then head straight for the sports category which has some cool games like Table Tennis, Quick Fire Pool Skyboard, Basketball Slam and much more. Most of you would love to play games in the shoot 'em up category. Games like Heli Attack, Final Fortress, and Canyon Shooter are all FPS kind of games but with a blend of 2D and 3D graphics.
Multiplayer Games (5 out of 5)
Multiplayer games like RuneScape, Power Soccer, Club Penguin, Family Feud, and Puzzle Pirates are popular Miniclip online games. Club Penguin and RuneScape are the most popular multiplayer games. RuneScape is an adventure RPG in a massive 3D world. Players can sign up for free and embark on quests, interact with other players, or just explore the vast 3D world. Club Penguin is an interactive game where users play the role of penguins. There are a variety of emotes and virtual coins. Players can buy clothing and accessories for their penguins by spending virtual coins. Users need to sign up to play this free online Miniclip game.
Conclusion
Miniclip online games are interactive, exciting and appeal to all ages. The games are adware and spyware free and are quite addictive. Most of the games are easy to play. You will also find a help section on the bottom right corner or each online game.
Miniclip.com is truly one of the largest gaming portals for non-stop online and downloadable games.
Screenshots courtesy: www.Miniclip.com