The Top 7 Free Online Pokemon Games for Kids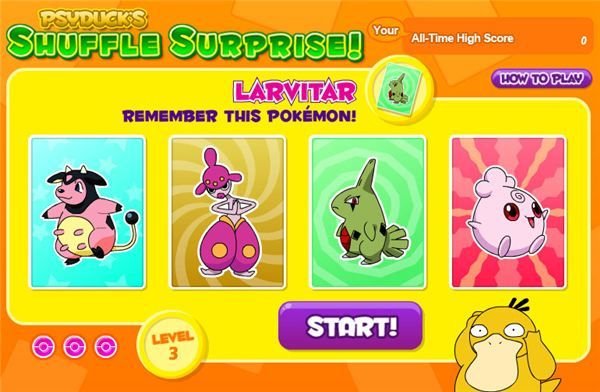 It is quite impossible to imagine how a simple insect collecting hobby could have inspired such a huge media franchise in Japan. Well, that's how the Pokemon universe evolved. Created by Satoshi Tajiri, Pokemon was first introduced to the masses not as a television series, but a video game called "Pocket Monsters". It was released for Game Boyin the mid-90s and soon became popular as one big franchise, spawning numerous cartoon serials, merchandises and, of course new video games.
The media franchise became quite popular online when MMOs and Pokemon flash online games began grabbing eyeballs. MMOs like Pokemon Indigo and Volcano are some of the best free massively multiplayer games for kids and teenagers. There were also a good variety of puzzle-based games designed exclusively for kids. Some of these games are reviewed below. They are fun to play and best of all, they are free. (Links to these games are at the bottom of the article, in the references section)
Psyduck's Shuffle Surprise
Shuffle Surprise tests your observational skills. All you have to do is click on the Start button and four face-up cards will flip over and shuffle. You will have to keep track of the Pokémon card that matches with the one shown at the top-right corner of the screen. Once the shuffling ends, click on the face-down card. If you've kept track of the card all along the shuffling process, you will easily find it and the game will move forward to the next level.
At every level, the shuffling process speeds up, making it difficult for players to hunt down their card. The higher the level, the faster the shuffling will take place. You will have to watch carefully and click on the right Pokémon card to earn points and go to the next level. Just make sure not to pick up the wrong card, else you will lose one of the Poke Balls and if you lose all, then you'll have to start again.
Psyduck's Shuffle Surprise has plenty of colorful and cute Pokémon cards to track. The visuals are bright and pleasing to the eye. The game has an easy learning curve and so is suitable for kids.
Pokémon Tick Tock Walk
Tick Tock Walk has fun challenging levels that test your logic. The objective is to guide cute little Poketoys to the exit doors by placing "Super Blocks" on empty spaces. There will be keys and other goodies to collect, so make sure you use the right block to help them reach their goal.
In Tick Tock Walk, there will be different types of Super Blocks, including Jump Block, Obstacle Block, Slow Down Block, Speed Up Block and Warp Block. You will have to place the right block on the empty space quickly before the toy Pokémon trips over it and falls down (the toy won't wait for you and continue strolling the platform).
The objective is to collect coins, keys and head towards the exit door before the timer runs out. You will also have bonus Blocks to grab. These "Fire", "Water" and "Grass" blocks increase or decrease the time, so be careful while choosing these blocks. There will also be random stars on your way, which you can collect to increase the timer. Tick Tock Walk is addicting and a fun brain teaser for all ages.
Pokémon: Towering legends
This is a unique mouse-based puzzle game that tests how fast you can collect all crystals within the time limit. Although it does not have any Pokemon characters, it surely is an addicting puzzle game for kids. In each level, you will find red, blue, green color crystals scattered here and there. You will have to create a tower of same-colored crystals by placing the mouse pointer over colored crystals.
When you have stacked up a good number of crystals, press the left mouse button to blow them up. The more you stack up and blow, the more points you earn. However, you will need to collect, make a tower and blow them up before the timer goes off and only then you can reach the next level. You will also have to be careful not to hit other crystals while stacking up crystals. Doing so will scatter all your stacked up crystals and you will have to start all over again.
Tepig's Tasty Treat Toaster
Tepig's Tasty Treat Toaster is a delicious match-3 type of a puzzle game that allows players to shoot down orbs and match three or more identical balls to convert them to his favorite foods. The game blends the popular puzzle game with the Pokémon theme pretty well. You will have to click to throw tasty orbs, which stick to other balls and if three or more matching orbs match, they get cleared, feeding Tepig with his favorite food. Make sure all orbs match before the timer reaches zero! If you cannot clear off all orbs or if any orb touches the ground, then it's game over!
Pokémon: Breakdown Blast
Breakdown Blast is an excellent Pokemon-themed puzzle game. Your goal is to click on a colored tile to make the adjacent same-colored tiles vanish. The more tiles go away, the more points you earn. But this has to be done cleverly to ensure no tiles remain in the end.
Things can get difficult as you progress through levels. While levels 1-5 are easy, levels 6-10 and 11-15 can be extremely difficult to play. The final levels of Pokemon Breakdown Blast, called heat bricks, require excellent strategy and observation. These levels will have "burning" tiles which will make it difficult for you to recognize same colored ones. The game gets addicting and challenging at the end and is one of the best online Pokemon games for kids.
Jumpluff's Sky High Glide
Sky High Glide is a fun Pokémon flash game. The objective of this game is to guide Jumpluff in the sky by moving your mouse up and down and remain over the tree line for a longer time. There will clouds acting as obstacles to your skyward journey, stealing Jumpluff's spores. You will have to avoid these clouds and guide this cute little monster to safety.
To make this Pokemonster fly faster, click the left mouse button, but each click will empty your spore. Of course you can replenish its spores by collecting them on your way, but just make sure you spend them at the right time, especially when the wind is favorable for gliding. You will have friendly winds coming to your rescue, making your journey safe and quick, but avoid opposing winds at any cost. Jumpluff's Sky High Glide can be quite interesting once you find out how to make its glide over the tree line for a longer time.
Pikachu Magic Eggs
Pokemon Magic Eggs adds a fun twist to old school Arkanoid games. You will have to launch the Poke Ball off Pikachu's cute little hands and hit the eggs to hatch chicks. You will also have to collect those chicks to score points. The game proceeds to the next level once all eggs are hatched. Just like Arkanoid, you will have to prevent the ball from hitting the ground. You will have to be observant and swift while playing Magic Eggs. The game can get quite challenging once you advance to difficult levels. I am quite sure that Magic Eggs must be the funnest Pokemon flash online games among kids because of Pikachu.
References
This post is part of the series: The Best Online Games Featuring Your Favorite Cartoon Characters
Your favorite cartoon characters are now online. And the best part is that you can step into their shoes and play a variety of action and adventure games online. Here are some of the best online Flash games featuring your favorite Tom and Jerry, Mickey Mouse and Bugs Bunny cartoon characters.